Studying for a dream career, cementing friendships and enjoying the fun and new experiences that define students' years at university can also come with tough times and mental health support can play a key role as students navigate through this major life transition.
Students at the University of Saskatchewan (USask) who may need additional support as they move through their academic careers will benefit from the impact of local philanthropists who have recognized the importance of mental health and made significant donations to enable the university to expand the Student Affairs Outreach and the Student Wellness Centre teams and increase programming.
The Gitzel family's gift of $1-million to establish the Gitzel Family Fund for Mental Health, as part of USask's Be What the World Needs campaign, provides additional funding for counsellors, group therapy delivery and peer-health programming, says Jocelyn Orb, director of the Student Wellness Centre.
Ms. Orb says between 7,000 and 8,000 students a year access support from the centre for a range of mental health challenges from anxiety and depression to very complex mental illnesses.
"But most often the issue they're struggling with is the stress of a major life transition," says Ms. Orb, adding the centre's family physicians, nurse practitioners and psychiatry support manage most of the students' mental health concerns at the centre but can also facilitate rapid care at the nearest emergency room at Royal University Hospital.
Ms. Orb says the Gitzel family's donation is helping the Wellness Centre "fill the gap" between funding from the Ministry of Health for core health services and the university's own funding.
"The counselling team and much of the mental health supports come from the university, but as everyone knows, funding from government agencies has decreased over the years or stayed the same while demand has increased, so it's created a gap," she says.
With the money from the Gitzel Family Fund, the Wellness Centre has been able to hire more clinicians.
"That's what university students are asking for – support from professionals when they need it," adds Ms. Orb.
Considering the average age of university students – between 18 and 25 years old – these are important times in their lives, she says.
"If we can intervene and either increase their capacity to cope with stress, give them some tools that they can use later in their life, or actually intervene in a complex mental illness, it's often that time where we can really make a significant impact in the rest of a person's life. So, as much as we want to intervene to have students be successful academically, it's a really important time to protect their mental health lifelong," says Ms. Orb.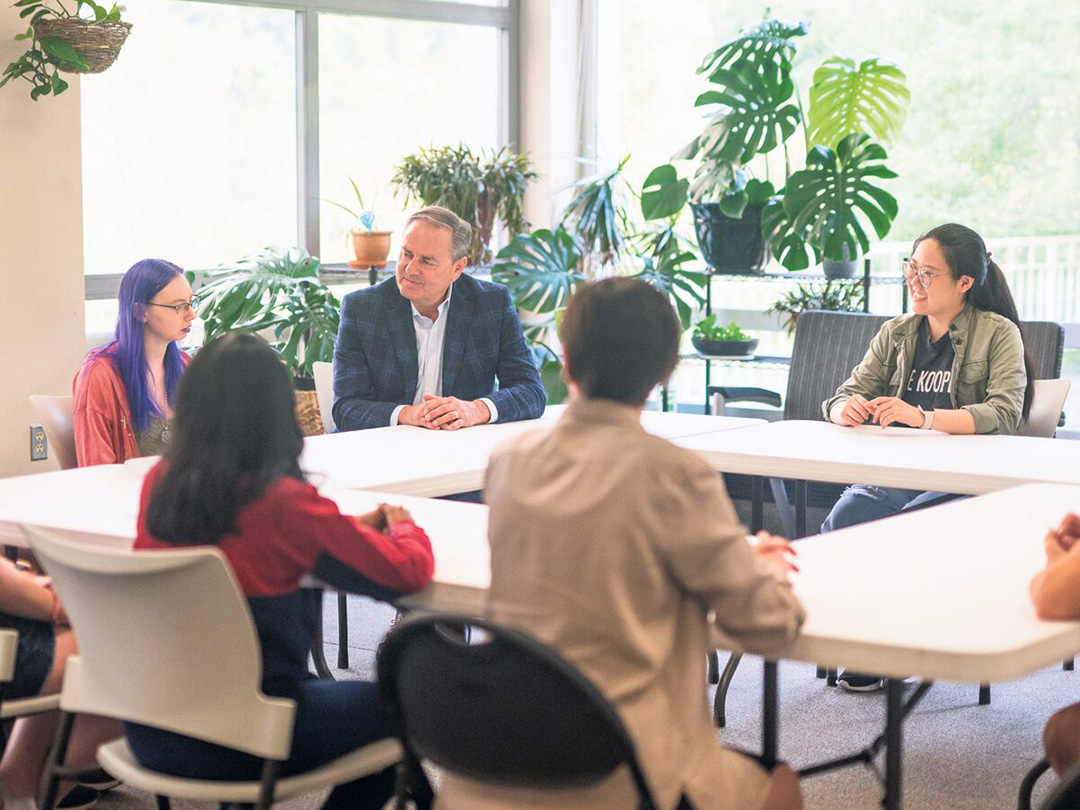 Support from philanthropists Ron and Jane Graham, the most generous alumni donors in the university's history, funds two student support and outreach coordinator positions in the College of Engineering and Huskie Athletics.
The two coordinators – social workers – who are embedded in the colleges, add a valuable component to the Student Affairs and Outreach team by increasing visibility and providing timely and accessible mental health assessment and therapy, says Tracy Spencer, director, Student Affairs and Outreach.
"The Grahams' support allows us to really increase our touch and capacity and provide meaningful connections with students and the supports they need," she says.
"This increased capacity allows us to work with more students to provide them with additional life and coping skills, not only to help them manage through university, but also as they progress in their careers," says Ms. Spencer. "We can do this and expand the services we offer students because of people like the Grahams who donate to our program."
The Grahams' funding also enabled Student Affairs and Outreach to host prevention workshops such as Mental Health First Aid that helps participants increase their knowledge of the signs, symptoms and risk factors of several mental health illnesses; and a suicide alertness training workshop, LivingWorks safeTALK.
"Donor support is so pivotal in helping students, because if we can provide that support while they're moving through their academic career, we're hopeful that with the new skills they have learned, they'll [graduate] and be successful," adds Ms. Spencer.
The Gitzel's family's gift has also encouraged another donor to contribute to mental health services at USask, says Ms. Orb. "We appreciate the generosity of the people in Saskatchewan. It's such a wonderful community to be a part of and to feel like your work is being supported."