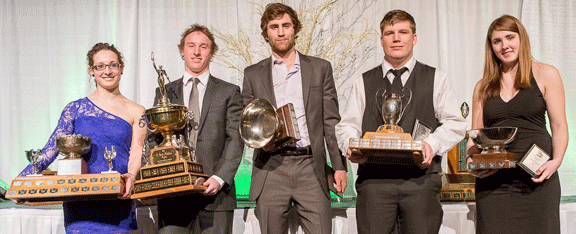 Pitkethly, a College of Kinesiology student, rebounded from an injury to claim silver at the Canada West wrestling championship in the 59-kg class, and to earn the Mary Ethel Cartwright Trophy for female athlete of the year. The native of MacKenzie, B.C. also won a silver medal at the CIS championships this season, her third straight national podium finish.
Hillis will go down in the record books as one of the best Huskie football receivers of all time. The third-year business student led the Canada West in receptions per game, receiving yards per game, total yards and total receptions. His 57 catches in the season, and 14 during a game against UBC, broke Huskie records and earned him the E. Kent Phillips Trophy for male athlete of the year.
At the Salute event, Huskie Athletics handed out five other major awards.
Hockey players swept the rookie of the year awards with Jimmy Bubnick, an engineering student, taking home the Howard Nixon Trophy for male rookie of the year after finishing the season among the top offensive players for his team. Goaltender Cassidy Hendricks was handed the Patricia Lawson Trophy for female rookie of the year. The arts and science student from Vancouver started 25 games in the 2012-13 season, the most of any rookie goaltender in the CIS, and recorded a conference best three shutouts.
Wrestling captain Natasha Kramble, who graduated with a kinesiology degree with great distinction in 2012, was the winner of the Valerie Girsberger Trophy as the top upper year female all-around athlete. The men's version of the trophy – the Rusty McDonald Cup – went to urban planning student and wrestler Landon Squires.
Kramble found herself on the Canada West podium in four of her seasons with the Huskies and won three CIS bronze medals. Squires is equally as accomplished, having won Canada West gold in the 90-kg weight class in 2011, 2012 and 2013.
The Colb McEwon Trophy for coach of the year went to men's volleyball coach Brian Gavlas. In his 20th season with the team, Gavlas led the Huskies to a 15-7 CIS season in which they finished third after winning 12 of their final 14 matches.
Huskie Athletics also presented the Dr. Walter Hader Student Trainer of the Year Award to men's hockey trainers Scott Cyr and Kaden Johnson.
For more on the award winners, visit the
Huskies website
.