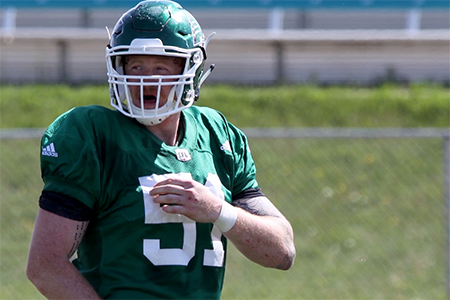 The two former members of the U of S Huskies football team are enjoying a little home-field advantage with Roughriders training camp based out of the Huskies' facilities at Griffiths Stadium for the fourth straight year. In addition to the familiar surroundings, there are familiar faces at training camp, with U of S coaches lending a helping hand and former Huskie teammates supporting from the sidelines during practice.
"Definitely it's a big comfort level," said Agbaje, a 6-foot-4, 290-pound defensive tackle who signed a free-agent contract with the Roughriders last year after a superb 2014 season with the Huskies. "I know what kind of footwear to wear on the turf and I know the locker room and the stadium and I have some friends out here, guys on the Huskies cheering me on and former coaches here. So it is definitely comfortable for me here."
Steinhauer is also enjoying being back on campus, where the Huskies organization played a pivotal role in preparing him for pro football.
"It's great to come back to see some familiar faces, see some former coaches and some friends come out to practice and things like that, and obviously the facilities are first-class, so it is nice to be here again," said Steinhauer, a 6-foot-3, 245-pound special teams standout who turned pro after being selected by the Roughriders in the fourth round (40th overall) of the 2013 Canadian Football League draft.
"The Huskies have some of the best coaches and they were phenomenal. So I came up to the CFL with a good tool box and a lot of the basics down. I had to refine stuff and I had to get a little bit bigger and there is a larger mental aspect to the game, but those guys really got us ready. They are phenomenal coaches."
This year, there is a new crop of coaches to impress at Rider camp for Steinhauer and Agbaje. Head coach and general manager Chris Jones has brought his own staff with him as the Jones era begins in Riderville. For Agbaje and Steinhauer—who was limited to only three games in 2015 due to a season-ending knee injury—that means proving themselves all over again.
"This year with my health issues in the past few years and with the whole new regime, I am treating it like I am a rookie again," said Steinhauer, a 25-year-old Moose Jaw native who has been a jack-of-all trades in training camp, working special teams on kickoff returns and as a long snapper, on the defensive line and now on offence at fullback/tight end for the first time in his career. "I have made my living so far on special teams in the first couple of years, so I am hoping to get back to that and help out any way that I can. And definitely I am here to play wherever they want me to play."
For his part, Agbaje has worked out on the offensive line in camp as well as in his regular defensive line role.
"When Coach Jones said I was going to play some O-line, I was excited and I just wanted to show him that I could play offence and defence and show my versatility," said Agbaje, a 26-year-old Edmonton native. "I will even run down on kickoffs if I have to. Defensive line, offensive line, fullback, tight end, whatever you can do to make the coaches happy. I have to prove something again to make this team … and it's just a dream come true to be playing for the Saskatchewan Roughriders."
Agbaje and Steinhauer could see their first action of the pre-season on Saturday night when the Roughriders play host to the B.C. Lions at Mosaic Stadium.
---
Huskie Highlights
Former U of S men's volleyball player Gavin Schmitt is going to the Olympics are helping Canada qualify for the Summer Games in Rio de Janeiro in August. Schmitt, a 6-foot-10 middle blocker from Saskatoon, helped Canada qualify for the Olympics for the first time in 24 years. The 30-year-old Schmitt played for the Huskies in 2005-06 before beginning his pro volleyball career overseas …
Schmitt is the fourth former Huskie athlete going to the Olympics, along with wrestler Jillian Gallays, shot putter Taryn Suttie and wheelchair basketball athlete Erica Gavel.
U of S women's basketball coach Lisa Thomaidis will also be going to the Olympics as head coach of Canada's women's team, which currently has 24 players on the roster including CIS all-Canadian Laura Dally of the Huskies. Dally is battling for one of 12 roster spots on the Olympic team and is overseas this week suiting up for Canada in a five-game exhibition series in France and Spain. The 23-year-old Dally was named the Canada West conference's most outstanding player and the U of S female athlete of the year after leading the Huskies to their first national championship title in March.