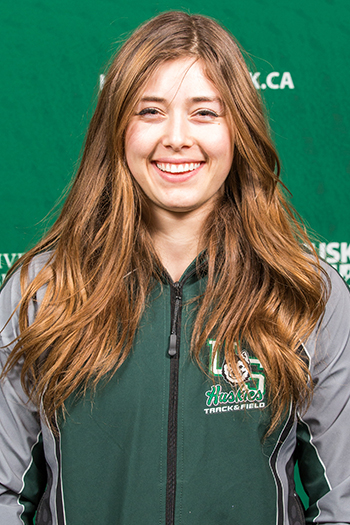 Each year, hundreds of student-athletes like Kohl Bauml and Jessica Buettner successfully balance athletics and academics at the University of Saskatchewan (U of S), earning accolades in both. In the 2015-16 season, 40 per cent of all Huskie athletes, managers and trainers made the All-Academic Team, signifying student-athletes who posted academic averages of at least 74.5 per cent while completing 18 or more credit units.
Bauml and Buettner took it one step further by being named Canadian Interuniversity Sport (CIS) Academic All-Canadians—two of 81 Huskie student-athletes who posted grades of better than 80 per cent—while also making their mark as elite athletes.
Bauml's brilliant season on the ice—one of six first-year players across the country named to the prestigious CIS All-Rookie Team—was matched by his work in the classroom as the Edwards School of Business student posted an 82 per cent average while taking a full course load of 24 credit units. For Bauml, balancing school and sports, on the ice six days a week, was his priority coming to the U of S.
"Obviously coming into school, being a student was definitely first on my mind and hockey was a close second," said the 21-year-old from Saskatoon, who led all rookies in scoring in the Canada West Universities Athletic Association (CWUAA) with 12 goals and 33 points in 28 games and was named rookie of the year. "To be able to excel in both studies and hockey was something that I kind of set a goal for myself. And it's nice to see all the hard work, on the ice and in the classroom, paying off."
Buettner is also firmly focused on her studies in her third year of pharmacy, posting an average of 84.4 per cent while completing a challenging course load of 32 credit units in 2015-16. She successfully juggled that workload with a busy training schedule that helped her track down a silver medal in shot put at the 2016 CWUAA track and field championships and earn a trip to nationals. For Buettner, it's all about managing your time for training around lectures and labs and picking personal priorities.
"For sure it's challenging and it takes a lot of planning and communication with teachers and coaches, but I find that student-athletes tend to be very driven in whatever they choose to do," said Buettner, a 21-year-old originally from Prince Albert whose family now lives in Saskatoon. "We're all here because of school, but at the same time we are here because we love our sport as well. I couldn't ask for anything better."
Buettner and Bauml are prime examples of the kinds of student-athletes that the Huskie Athletics program prides itself on producing. Case in point was the Huskies women's basketball team which won the CIS championship while also having six of the 12 players on the team named to the Huskie All-Academic Team, including national tournament MVP Dalyce Emmerson.
The U of S student-athletes must meet academic standards to remain eligible to compete each season, making them among the most dedicated students on campus.
"I am extremely proud of all of our athletes in their academic pursuits," said Huskie athletic director Basil Hughton, noting that each of the 15 Huskie teams featured All-Academic Team members. "It's great to be able to recognize those 40 per cent, those top-enders who are honoured officially. But I believe that all of our student-athletes strive very hard to be the best students they can be and do a very good job of it."
With heavy training and travel schedules requiring major time commitments each week, Huskie teams regularly set up study sessions for student-athletes.
"On the road, we always have a room set up for homework and usually guys are doing some sort of work in the room or on the bus ride," said Bauml. "It's about being disciplined and committed to both aspects of being a student-athlete, in school and on the ice. That's something that (coach) Dave (Adolph) talks about: 'You are a student-athlete, and remember, student is first.' We're not here just to play hockey, we're here to get a degree."
This year, Bauml has set his sights on completing an enhanced course-load of 27 credit units in his business studies, while also helping the Huskies get back to nationals for a second straight season.
"That is a good goal for our group again," said Bauml. "We brought in a lot of new guys who are good hockey players and our returning group of players know what it takes to win and be successful. So I think that combination will be a recipe for a pretty good year."
For her part, Buettner wants to complete her four-year pharmacy degree while turning her shot put silver medal into gold at the CWUAA track and field championships and earn a return trip to nationals. Buettner kept busy in the off-season by competing in power-lifting, setting a new junior world record in her weight class with a remarkable 202-kilogram deadlift at the world championships in Texas. She credits her work with the Huskie track and field team for her success in that sport.
"My weight training from being on the track team and throwing shot put and weight throw has made me a way better athlete than I would have ever expected at this point," she said. "So when I did well at worlds, I think it was a testament to that training. And for the next two years, I am going to focus on being a member of the Huskies track and field team first. It's great to be a part of it."