For the fifth straight year, the Canadian Football League club is holding its three-week training camp at Griffiths Stadium in PotashCorp Park. More than 100 Roughriders players, coaches and staff will make the U of S Huskies football clubhouse and field their new home and Marquis Hall their headquarters for team meals throughout camp until June 17.
"It's a good thing for the university," said new Huskies head coach Scott Flory, who spent 15 seasons in the CFL before returning to the U of S. "This is a good setup. I have been to training camps in a number of different places and this is a really good setup for them."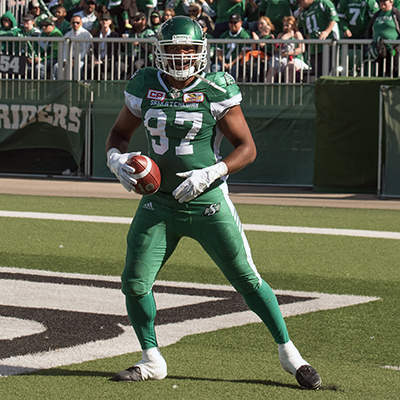 Flory said Roughriders camp will also be a great opportunity for his new-look coaching staff to soak up the experience, observing different drills and systems on the field and attending team meetings and sessions in the clubhouse.
"The Roughriders have graciously allowed us to observe and sit in on meetings and stuff, so we will have guys throughout camp being in and around all the time," said Flory. "We've got seven guys on the (Huskies coaching) staff that either played or coached in the CFL, so for those guys it will be rekindling relationships and seeing guys again. But for other guys who haven't been exposed to it, it will be a great experience to see how camp is run. 
"Not that I run camp much differently, but just to see the speed and the tempo at which the athletes the perform and also the detail in the meetings and just getting exposed to some new drills, some new ideas, and that kind of exposure, it helps our guys."
Roughriders camp will be a homecoming of sorts for former Huskie Ivan Brown, a veteran defensive lineman from Regina who played three seasons at the U of S from 2006-2008 before beginning his professional career after being drafted in the fourth round of the 2009 CFL draft by the Montreal Alouettes.
Meanwhile, four members of last year's Huskies team are also attending CFL camps this year. Offensive lineman Evan Johnson (drafted ninth overall by the Ottawa Redblacks), receiver Julan Lynch (second-round pick of the Calgary Stampeders) and receiver Mitch Hillis (eighth-round selection by the B.C. Lions) all signed their first pro contracts after being selected in this year's CFL draft. In addition, third-year Huskies quarterback Kyle Siemens is taking part in Toronto Argonauts camp, part of the development program in which all CFL teams bring Canadian Interuniversity Sport quarterbacks to training camp. 
For the complete Roughriders camp schedule, visit: http://www.riderville.com/2017-coors-light-training-camp/