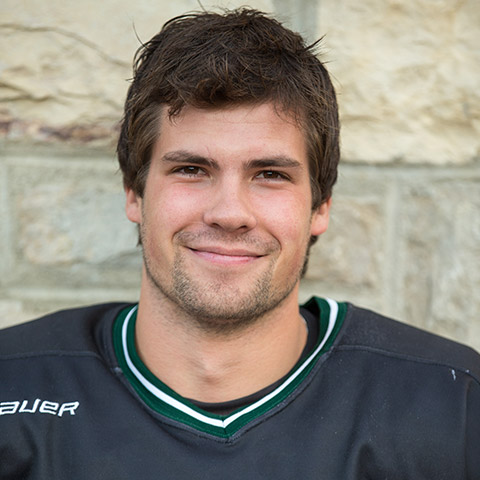 It's one of the many tributes to the late University of Saskatchewan Huskies men's hockey player, who lost his battle with testicular cancer in 2015. As the Huskies play their final season in the arena, a local business is making sure that Smuk's legacy lives on when the team begins a new chapter and moves into Merlis Belsher Place next year.
Inland Steel Products, a scrap metal recycling company servicing Saskatchewan, has contributed $150,000 to the Home Ice campaign to create Smuker's Lounge in Merlis Belsher Place, a gathering spot for players, alumni and friends of Smuk's to reminisce while cheering on the Huskies.
Inland Steel Products' Matt Ditlove said the family-owned business was eager to make a substantial investment back into the community to commemorate its 50th year of operation, and saw an opportunity to honour a family friend at the same time.
"He was one of my closest friends and I wanted to make sure he was never forgotten and always remembered," Ditlove said. "So myself and my family thought this was a good way to give back, not only to the community that we do business in and operate in, but to make sure his spirit is never forgotten."
Ditlove said his family is glad to be contributing towards a new facility for the Huskies, as Smuk had often said that a new arena was long overdue.
"He was definitely passionate about getting a new arena for the Huskies and I think he would have been heavily involved in this Home Ice campaign if he was around," Ditlove said. "So the fact that the lounge is getting built here would have made him pretty proud."
After Smuk's passing, the players' lounge in Rutherford Rink was renamed Smuker's Lounge in his honour, and has been a central gathering point for old friends and alumni. Smuk's mother, Darla Smuk, said the family was overwhelmed with emotion when they learned that Smuker's Lounge would be incorporated into the new arena, and thinks it's a wonderful way to remember her son.
"Cody always liked hosting the team and wanted everyone to have fun," she said. "To me Smuker's Lounge represents him hosting his friends and family; a place where they can come together, share a drink, share stories, think of Cody and remember his laugh. It was quite contagious and one of many things we miss the most."
She said while it's bittersweet that the Huskies will no longer be playing in Rutherford Rink—a place that holds many special memories for the family—she feels her son would have been thrilled that the Huskies will have a new home.
"I know it meant a lot to Cody to be a part of the Huskies program. He was always very proud to wear the Huskie jersey and do his very best for the team," she said. "His memory will live on in the new Huskie facility and we can't thank Matt and his family enough for their kindness and generosity now, and during Cody's battle with cancer. It means the world to us."


Roxanne McHattie is a development communications specialist in University Relations.