After a year away from the team while adjusting to the demanding course load in his first year in the College of Medicine, the talented goalkeeper and future physician has returned for his final season of eligibility. After losing last year's goalkeepers—starter Patrick Pranger returned to Austria after one year as an exchange student, while fourth-year backup Kyle Moore graduated and moved on to do his master's—Buckley's return has been key for the Huskies, serving as a team leader while successfully balancing athletics and academics.
"We are busy pretty much every day during the season, training or playing or travelling, but I've been able to work my schedule around with our coaches," said Buckley, who is on pace to graduate with a Doctor of Medicine in 2021. "Huskie Athletics has been really great with this and the College of Medicine has also been helping out as much as they can.
"Personally, it's just a matter of making the most of my time. Time management is something that I learned as an undergrad while competing with the Huskies and it really helped me in first-year medicine and it's a big key in being able to do what I want to do this term."
Buckley has helped put the Huskies in playoff contention, while also serving as a role model in the classroom.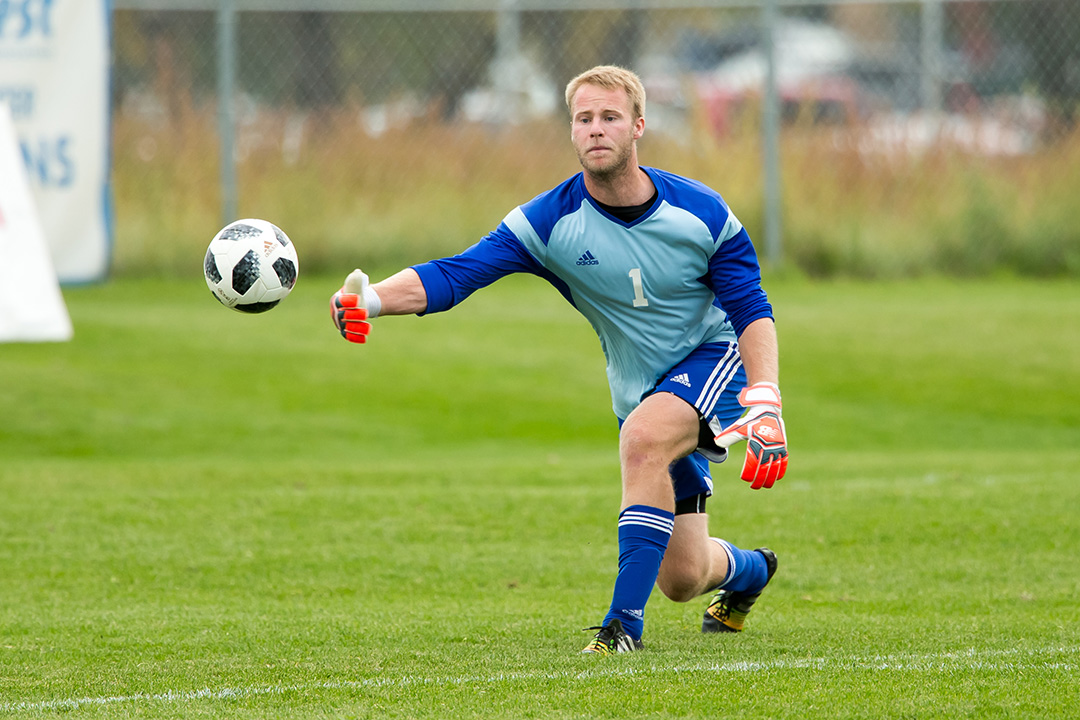 "When you have a young person like Greg in his second year of medicine, which is obviously a massive load academically, and see him able to commit to an athletic goal as well, it really shows the character and ability that he has," said Huskies head coach Bryce Chapman. "We have 10 first-year players this year, and when they see what his schedule is like and how he can manage it and balance it, it's a great example for our players. Greg is a great ambassador for our program."
A four-time U Sports Academic All-Canadian (for academic averages over 80 per cent), Buckley said the teamwork and work ethic he developed as a student-athlete helped prepare him for medical school.
"I think athletics has helped me develop as a person and has really transferred over to the world of medicine, in terms of the work ethic and staying positive and being able to work with other people because I am always working with different groups all the time," said Buckley, who earned a Bachelor of Science in Physiology and Pharmacology before moving on to med school. "Soccer is a big team sport, so there is definitely a lot of things that have transferred over now that I am in medicine."
On the field, the 23-year-old from Saskatoon is now in the top two in multiple career categories for goalkeepers, including games started, minutes played and most saves, as well as third in shutouts and wins.
"He is very close to a number of Huskie (goal)keeper records, which is not his priority. He just wants to put us in playoff position. But it does show what he has done for our program," said Chapman.
After beginning his Huskies career with back-to-back trips to nationals in 2013 and 2014, Buckley hopes to cap his career by leading the team to another shot at a title.                          
"In my first two years, we made it to nationals two years in a row, which was a really neat experience and that is certainly what the goal is now," said Buckley. "But there are lots of things that you have to do as a team to get there, and that's my focus right now."
From saving goals to saving lives, Buckley is focused on the task at hand.
"I don't know if I would be trusted to save someone's life yet," he said, with a grin. "But give me a few years."