Nogier and Sinoski are two of the hundreds of University of Saskatchewan Huskie student-athletes who successfully balance academics and athletics, earning national recognition for their efforts.
"We're student-athletes, not athlete-students," said Nogier, a third-year forward on the Huskie women's hockey team who posted a remarkable 95 per cent average in physiology and pharmacology in 2017/18. "Education has always been my priority because in the end that is what I am going to be doing in my life, and being able to play hockey is a big bonus. I take a lot of pride in being able to succeed in both."
"We know we are here to be students first and athletes second," added Sinoski, a fourth-year member of the Huskie men's volleyball team, who posted an 80 per cent average in his education classes to join Nogier in being named U Sports Academic All-Canadians this year. "I am blessed to have a really good support system—with my mom and my aunts—to be academically focused. It's a big workload, so it's rewarding to be named an Academic All-Canadian."
A total of 175 U of S student-athletes, trainers and managers (43 per cent of all members of the program) have earned Huskie Athletics All-Academic Team status for posting grades of better than 74.5 per cent while completing full course loads of 24 credit units. Both Sinoski and Nogier took it a step further by also being named national Academic All-Canadians, for averaging at least 80 per cent.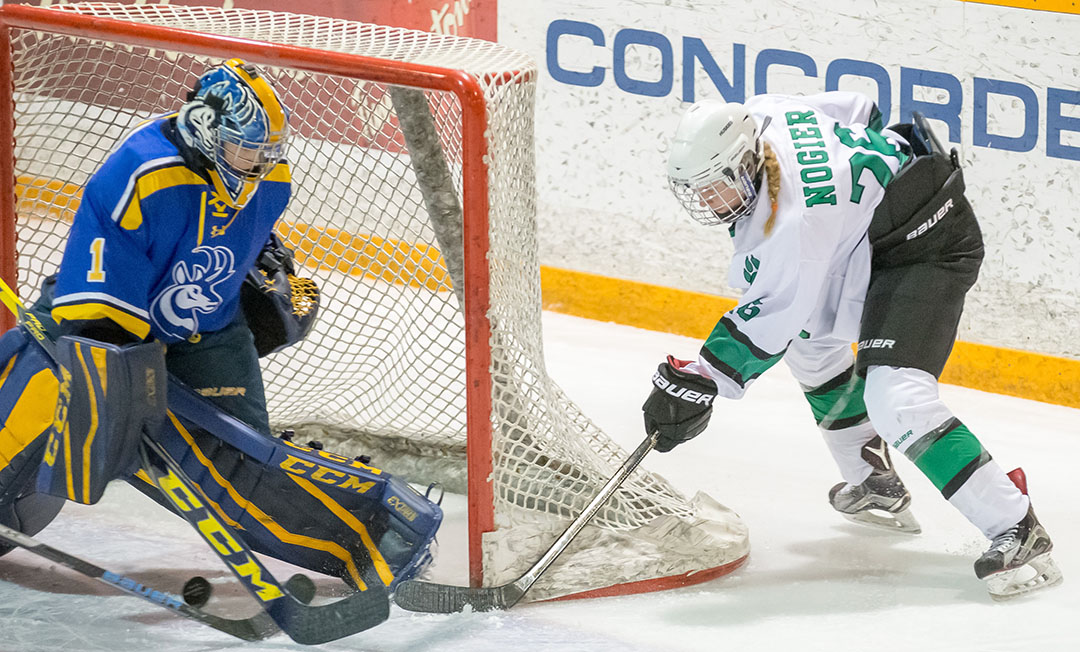 In addition to full-time classes, Huskie student-athletes put in just as much time training each week, with daily practices, video sessions, weight-room workouts, road trips and games. Huskie student-athletes must also meet minimum academic standards to remain eligible to compete, making them among the most dedicated students on campus.
"It is important that we have the opportunity to take a step back from the playing field and truly appreciate and acknowledge the amount of time, work and dedication that is put in by these athletes to achieve excellence in their studies, alongside athletics," said Chief Athletics Officer Shawn Burt.
For Nogier, who plans to pursue optometry after completing her undergraduate degree, posting an elite grade point average while playing university hockey requires mastering the art of multi-tasking.
"I take a full course load with labs, so I put in 12 hours at school every day with classes and practices, and then another couple of hours at home to get homework done," said Nogier, whose father Patrick played for the Huskie men's hockey team while her brother Nelson is a draft pick of the NHL's Winnipeg Jets. "Time management is a huge thing to be successful in both academics and athletics and I am proud to be a role model for the rookie players and show them that you can do it if you have the right mindset and motivation."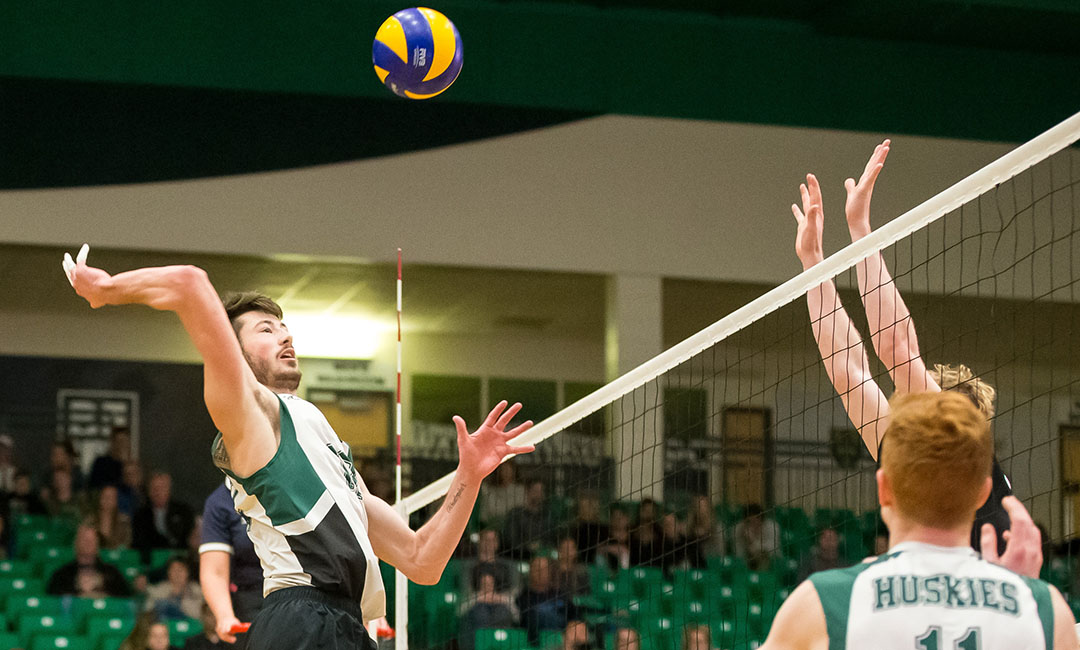 Like Nogier, Sinoski spends plenty of time doing homework on team road trips, with study hall sessions also set up by new coach Nathan Bennett.
"Nathan has really emphasized that we are students first and athletes second, so we have set a goal this year to maintain an 80 average overall as a team and we are determined to do it," said the 6-foot-8 Sinoski, who also received top marks as a player last season by leading the team in blocks and aces.
While he hopes to play professional volleyball after earning his education degree, Sinoski is focused long-term on returning home to work as a teacher in Prince Albert. A Métis student, Sinoski is following in his family footsteps by studying in the Saskatchewan Urban Native Teacher Education Program (SUNTEP).
"My mom and two of my aunties are graduates, so I have a lot of teachers in my family and SUNTEP is a really prestigious program," said Sinoski, whose aunt Heather Stalwick is a former member of the Huskie women's basketball team. "I think being a male Métis educator is important. I want to teach in the school system in P.A. and be a positive male role model for students."