A leader on and off the court and a highly regarded role model for his work in the classroom, Barker's team-first approach has helped the high-scoring Huskies chase a playoff spot in the  Canada West conference while he completes his kinesiology degree at the University of Saskatchewan. On a team that features all-star calibre athletes like Lawrence Moore, JT Robinson and Chan De Ciman, Barker has brought determined defence, a rebounding presence and veteran leadership that has also been key to the Huskies' success.
"Lawrence, JT and Chan, those guys deserve the spotlight, they are amazing athletes," said Barker, a 6-foot-6, 225-pound post player, who is currently recovering from an injury that took him out of the lineup in November. "I just care about winning and whatever I can do to help. I really try to just lead by example and hopefully my actions speak for itself and just set a good example to follow."
Barker's approach has helped the Huskies' youngsters adjust to playing in the competitive Canada West conference, and the difficult demands of being a full-time student-athlete. Barker led the Huskies in grade point average last season when he was named an Academic All-Canadian after posting an average of 82 per cent while completing a full course load of 24 credit units. Barker said he is proud to balance his academic achievements with his athletic accomplishments and show that you can succeed on the court and in the classroom.
"I finally found the groove of how to study properly and manage basketball and my time," said Barker. "And I take pride in my studies as much as my basketball."
In addition to battling opponent's biggest players, Barker has also battled through injuries throughout his career, including an abdominal issue that he is recovering from.
"He's a warrior, he really is, and he has had to play through some pretty significant injuries," said Huskies head coach Barry Rawlyk. "He lays it all out there and has a few battle wounds to show for it, for sure. He just has that kind of heart and has given the program everything and we certainly respect him for that. He probably doesn't get the recognition that he should."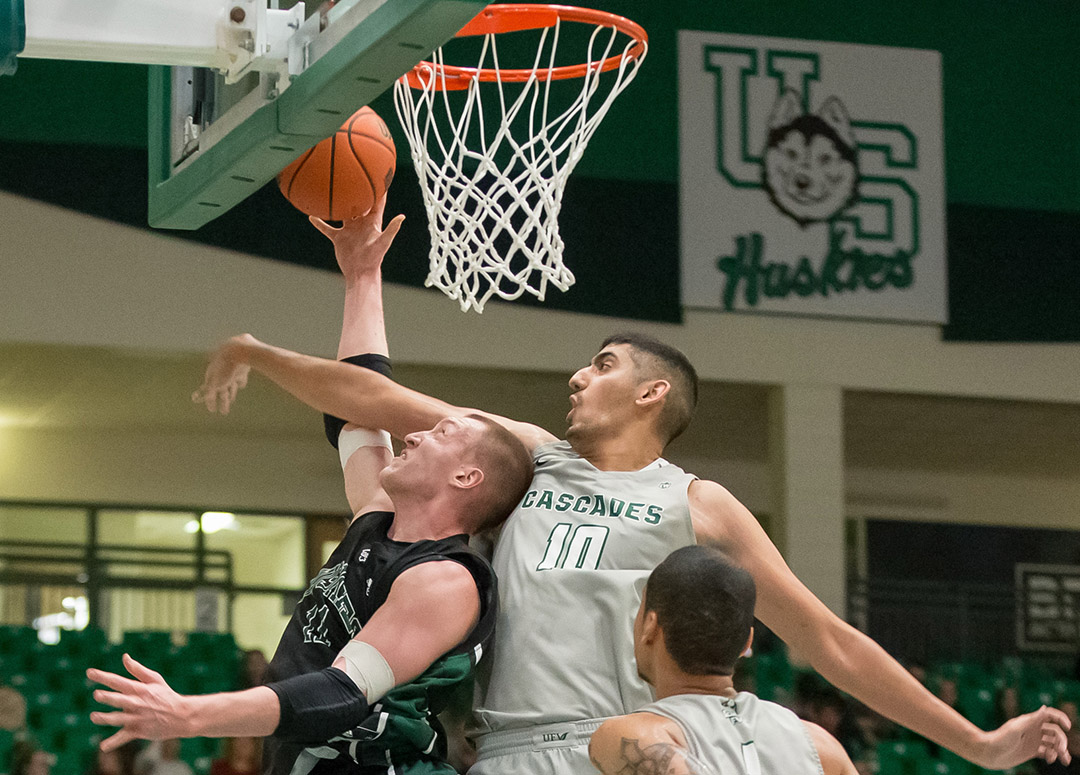 With or without him in the lineup, Barker has become a role model on a young Huskies squad that features eight newcomers.
"He's a team-first guy and it speaks to his character and the type of person that he is," said Rawlyk. "He is very unselfish and he is a guy who is highly respected in the locker room. He has a way of talking to the guys that they feel very comfortable and he can provide some leadership for them and has done an exceptional job with that."
In addition to his role as a mentor for the young players on the Huskies roster, Barker is also contributing in the community, volunteering his time in Saskatoon schools.
"I'm on the Huskie Athletic Council, so we do school visits every second week," said Barker, whose father J.P. Barker played volleyball for the Huskies and for the junior national team, while his cousin Dylan Barker was an All-Canadian Huskie football player and went on to be selected first overall in the 2008 CFL draft by the Hamilton Tiger-Cats. "We go to schools around the city and spend time with students. We will help them with school work, or their phys ed class, whatever they are working on, just spend time with the kids and help out."
On the court, Barker hopes to help the Huskies in their playoff push by getting back to full strength to complete his final season of university basketball. As his Huskies career winds down, Barker is also looking to the future, as he considers career options. Not surprisingly, Barker is focused on helping others, as a therapist or as a first-responder.
"I was thinking of pursuing my master's degree in occupational therapy, but I have been kind of leaning towards firefighting now," said Barker. "My brother (Jonathan) is a firefighter and the way he talks about it has kind of persuaded me to consider it. I just want to do something where I can help people."