The 23-year-old completed his fifth and final year with the University of Saskatchewan Huskies in 2018 in award-winning fashion by being named a Canada West conference all-star and a second-team all-Canadian for his superb season on the field, and honoured as an Academic All-Canadian for his outstanding work in the classroom. In November, the 6-foot-5, 250-pound defensive end helped the Huskies capture their first Hardy Cup league championship since 2006, while also completing his Bachelor of Education degree in December.
"There was no better way to finish my Huskies career," said Koronkiewicz, who led the league in quarterback sacks with seven in eight games and added three more sacks in three playoff games. "We hadn't won a Hardy Cup since 2006 and I was able to accomplish that with my teammates and it was a fantastic experience and I loved every moment of it."
After originally hoping to sign a contract with a Canadian Football League team after graduating, Koronkiewicz has wasted little time in kicking off his teaching career, signing a contract with an elementary school in Regina to finish the school year. He has quickly found that his lifelong love of football has been matched by his newfound passion for teaching.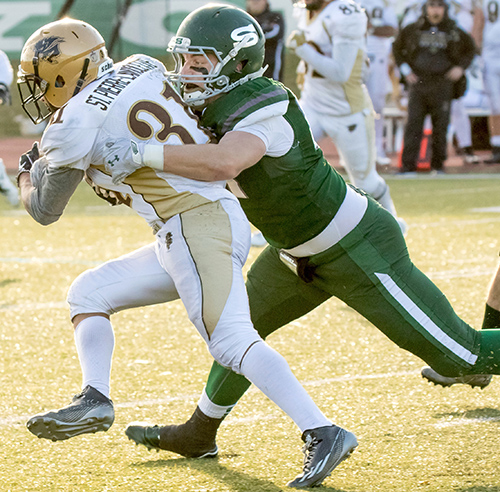 "I love it because the kids bring so much energy to the classroom and it just makes it so much easier to be a teacher because they are excited to learn and they love their teacher and they love being at school," said Koronkiewicz, who is now working in a structured learning classroom at Regina's George Lee School, after previously serving as a substitute teacher and working with at-risk youth for the Ranch Ehrlo Society. "They are so passionate about learning and that makes me even more passionate about being a teacher."
Like many students who make the adjustment from high school to university, Koronkiewicz admits he had to learn how to study before learning how to teach. Balancing athletics and academics proved challenging at first, but Koronkiewicz found a way to excel in both, earning all-star status in football and All-Academic honours in his studies for averaging better than 80 per cent while completing a full course load in the College of Education.
"In the first couple of years, I have to say I struggled a little bit," said Koronkiewicz, who served as a kindergarten student-teacher in the 2018 fall semester while finishing his final year of football. "It's a lot of time management and that was one of my weaknesses entering university. But I got the hang of it and I was able to finish my last two years as an Academic All-Canadian, so that was great. I started focusing more on school and not just football, because I knew football was not going to last forever. Overall, university was a great experience and I loved my time as a Huskie student-athlete."
After closing out his career in November when the Huskies' thrilling playoff run ended in the national semifinals, 2019 has also been a year to remember for Koronkiewicz. In addition to landing his first teaching contract, Koronkiewicz and his fiancée Tayler Dreger—high school sweethearts who came to Saskatoon to attend university together—have bought their first home in Regina and celebrated the birth of their baby boy Cohen on April 26.
"It's a big change, but it's a good change," said Koronkiewicz, who also made the final home game of his career all the more memorable when he returned a fumble for his first career touchdown at Griffiths Stadium in October. "Obviously I miss football and it is one of my passions and I hope to coach football in the future. But after my fiancée and I both graduated in December with our education degrees, we moved back home to Regina and we have family here, so it has made the transition a lot easier. And with starting teaching, buying a house and having a baby, it's an exciting time."
Koronkiewicz and his fiancée plan to return to campus in June to celebrate USask spring convocation and stroll across the stage at Merlis Belsher Place to officially accept their education degrees.
"This was a journey we took together, so we definitely want to walk across the stage and complete it," he said.