And after completing a remarkable record-setting track and field career during her five years at the University of Saskatchewan, Julie Labach hopes to be the next Huskie athlete to compete for Canada.
"I would say for most athletes, the Olympics is the ultimate goal, and it would be really special, definitely," said Labach, a 22-year-old homegrown star from Saskatoon. "I haven't had the opportunity to be on the national team yet, so that is the next big goal."
Labach, who was named Huskie Athletics female athlete of the year in both 2019 and 2018, capped her U Sports career in award-winning fashion this year, setting two Huskie records and racing into the national spotlight by being named female track athlete of the year in Canadian university sports.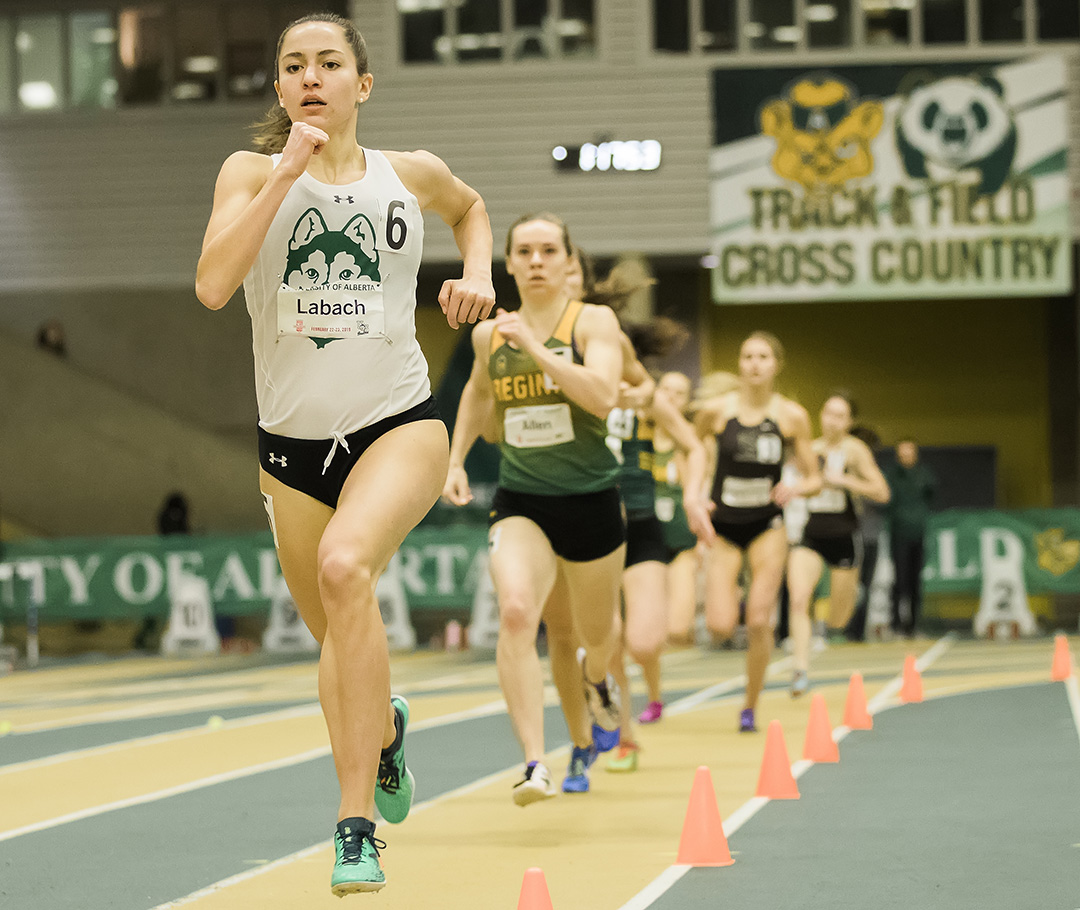 "It was such a lovely way to end off my last year and I definitely didn't expect to win the U Sports award, so that was really special," said Labach, who set Huskie records in the 600 metres (a record that had stood since 1984) and the 1,000 metres, after winning the gold medal in the 600m at nationals and earning silver medals in the 1,000m and 4x400m relay.
"Julie is definitely our best ever in middle distance events," said Huskies track and field coach Jason Reindl, who was named Canada West coach of the year after USask captured both the women's and men's team titles. "For her to end her Huskie career as the track athlete of the year in the country, and to have set a number of records, it's quite remarkable. Student-athletes like her don't come around very often."
Labach's triumphs on the track have been matched by award-winning academic achievements. Labach was named an Academic All-Canadian (for an academic average of better than 80 per cent while completing a full course load) in each of her first four years, while competing for the Huskies in both track and women's soccer—suiting up with her sister Ally.
Labach completed her Bachelor of Commerce degree in the Edwards School of Business on the Dean's Honour Roll last spring with a superb 89 per cent academic average, and is now in law school at USask, hoping to earn her fifth straight Academic All-Canadian award this year.
"Definitely it's always a goal of mine," she said. "School always comes first and if I ever felt like my grades were being compromised, that was when it was time to step away and focus on academics first. It's definitely busy and requires lots of time management. But when I am in school, I really love what I am doing, and when I am at track I really love what I am doing as well. So, when you enjoy it, it doesn't feel like work."
In one of her interesting academic projects, Labach took part in the 2018 Undergraduate Project Symposium hosted by the University of Saskatchewan Students' Union, placing second with her study of how American President Donald Trump's tweets affect the stock market.
"It was part of my honours project in behavioural finance, so it was a very interesting topic," she said. "There was so much data to study, in the future it could make a really interesting master's or PhD project."
Reindl said Labach's commitment to both academic and athletic achievement—juggling a full class schedule with training six days a week—made her the ideal role model for her young Huskie teammates.
"Being able to balance all those time-consuming elements just shows the quality of person that she is," he said. "Julie has found a way to do it throughout her career and she is a prime example that you can be successful in every aspect of your student-athlete career here."
So, what's next for Labach? She wants to earn a law degree and practice corporate/commercial law one day, as well as compete internationally in track. She is a candidate to represent Canada in the Summer Universiade from July 3-14 in Naples, Italy, and to race in the Pan American Games starting July 26 in Lima, Peru. Labach also hopes to make the national team for the world track and field championships that open Sept. 27 in Doha, Qatar, to set up a possible run to the 2020 Summer Olympics in Tokyo.
"It will be a busy summer if all goes well," she said. "But I am really looking forward to it."
Huskie honours
Other Huskie year-end award winners were: men's hockey goalie Taran Kozun (Male Athlete of the Year); quarterback Kyle Siemens (All-Around Male Athlete); wrestler Logan Sloan (Male Rookie of the Year); soccer midfielder Payton Izsak (Female Rookie of the Year); Labach (All-Around Female Athlete); wrestling coach Daniel Olver (Coach of the Year); and top student trainers Brianna Antonichuk (women's soccer) and Melinda Ardagh (women's basketball).