The third-year defenceman and Edwards School of Business student earned a reputation as a dominant defender and team leader during his time in the Western Hockey League (WHL) and now in the Canada West conference. Leading the team's defencemen with a superb +18 plus/ minus rating (the Huskies scored 18 more even-strength goals than they gave up with him on the ice), Harmsworth is the backbone of the blue-line and one of the keys to the Huskies' success in a record-setting season in which they rattled off 13-game and 10-game winning streaks.
"It's been a phenomenal season," said Harmsworth, who chipped in offensively with two goals and nine points in 28 games for the Huskies (25-3-0), who are ranked third in the country and set a team record with 25 wins this season. "We lost some key guys from last year who were leaders of the team, but I think we transitioned really well. I can't ever remember winning that many games in a row and it really built our confidence this year."
The first-place Huskies fell to the Alberta Golden Bears in the league final, but have earned their fourth straight trip to the national championship, March 14-17 in Lethbridge, Alta. Having the chance to bring the championship trophy back to campus in the Huskies' first year in state-of-the-art Merlis Belsher Place would be the perfect finish to a superb season.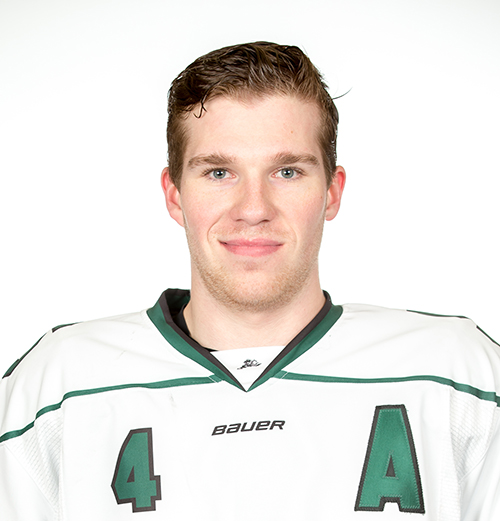 "It's definitely a motivator and I think we know that any time we get to nationals, we have a legit chance to win it," said Harmsworth. "To win it would be something to say thanks to all the supporters who helped get the new rink built, all the alumni who support us. The alumni are very important to our team and to win it for them would be great. The only other time the university won nationals was when (coach) Dave (Adolph) was on the team (in 1983), so to win it again would be something."
In addition to being an elite player, Harmsworth has excelled in the classroom, earning the nod as an Academic All-Canadian for posting an average of better than 80 per cent while completing a full course load of 24 credit units. Harmsworth went a step further last season, taking nine classes for a total of 27 credit units while averaging 81 per cent in his second-year business courses.
"(Being named an Academic All-Canadian) was a goal that I set," said Harmsworth, who balances classes with passes, skating six days a week with the Huskies. "Being dedicated in the classroom is something my parents always stressed, and my sister is an engineer so I always try to keep up with her. In my first two years on the team I roomed with (Kendall) McFaull and (Jordan) Fransoo on the road and McFaull was in engineering and Fransoo was in agriculture, so they are both pretty smart guys. And when they went to study, I went with them, so that helped build good habits."
Adolph said Harmsworth's leadership on and off the ice made him one of the Huskies' top recruits.
"He was captain of the Calgary Hitmen for a reason and he is an alternate captain for our team for a reason," said Adolph, who was named Canada West coach of the year. "He is the voice of reason for our team. He's very determined and he checks all the boxes as a student-athlete. He was a popular recruit, no question about that. Obviously, he had the entrance average to get into any school he wanted, so he had a few choices and we certainly wanted him. He is a very important part of our team."
For Harmsworth, it was an easy decision to return home to Saskatoon to attend USask and suit up for the Huskies after completing his junior hockey career in Calgary.
"I knew there were always going to be opportunities to play pro, and I wanted to get my degree first," said Harmsworth. "I actually committed to the U of S before the (WHL) playoffs when I was 20, and I just knew where I wanted to go. I had some offers from other schools, but coming home and being with friends and family and playing for the Huskies was the deciding factor."
Harmsworth will graduate in two years with a commerce degree and either pursue professional hockey or enter the world of business.
"There might be pro opportunities, and I definitely want to work in the accounting field at some point, but I'm not sure if I want to do big business or small business or work privately," she said. "I still have a couple more years before I have to decide, so I am just going to enjoy my time here with the Huskies."
Defenceman Leah Bohlken and goalie Jessica Vance of the USask women's hockey team, and former Huskies captain Kaitlin Willoughby are playing for Team Canada at the FISU World University Games from March 2-12 in Krasnoyarsk, Russia.
Huskies head coach Jason Reindl was named coach of the year after USask athletes swept the men's and women's team titles at the Canada West track and field championships in Edmonton, Feb. 22-23. USask's Julianne Labach was named Canada West female track athlete of the year, while Kieran Johnston earned male field athlete of the year honours. The Huskies are now competing in nationals in Winnipeg this week.
USask's Logan Sloan was named rookie of the year while Huskies coach Daniel Olver was honoured as women's coach of the year at the national wrestling championships in Calgary, Feb. 22-23. The Huskies team placed second overall.
Head coach Lisa Thomaidis' Canada West champion Huskie women's basketball team is competing in the national championship in Toronto this week. Last week, Huskies guard Sabine Dukate was named the Canada West player of the year, while teammate Summer Masikewich was selected as the league's top defensive player.