The third-year College of Education student at the University of Saskatchewan (USask) had a breakthrough year in 2019, winning gold in the Canada West conference finals in Abbotsford, B.C., and silver at U Sports nationals in Calgary in February, as well as bronze at the junior world championships overseas in Estonia in August.
From a raw, hard-working kid who began training with Huskie Athletics wrestlers on weekend trips to Saskatoon back when he was in Grade 10, Lee has developed into one of the country's top young wrestlers, and is quick to share the credit with his coaches and teammates.
"The Huskie program is a big part of the reason why I am the wrestler I am today," said Lee, a 5-foot-11, 205-pound powerhouse, whose summer training took him across Europe from Italy to Romania to Estonia. "I think the Huskies have one of the best wrestling programs in the country and we are constantly improving our program, so I am very proud to be a Huskie."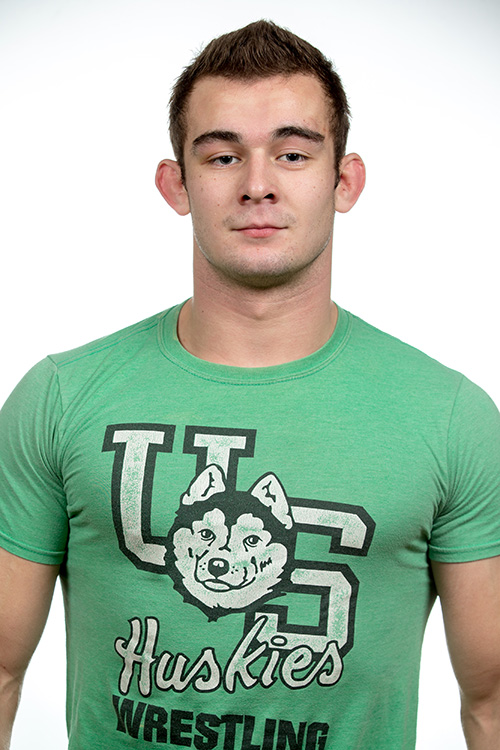 Huskies head coach Daniel Olver has been proud to watch Lee's rapid rise up the ranks of Canada's top young wrestlers and his development into a world medallist.
"What Hunter has achieved is huge and it's been great to watch," said Olver. "Hunter knew what he had available to him in the north and what he needed to seek out. He knew he could control his workout program, his time on the mat with his brother, saying yes to any training opportunities that came his way, and most importantly, his work ethic. So, it was awesome to see him really focus and be committed to that journey to winning a junior worlds medal."
Lee has now set his sights on turning silver into gold at the next U Sports nationals, and going for gold in the Olympics one day. That day may come sooner than later, with Lee gearing up for the national team trials in December, hoping to represent Canada in the 2020 Summer Olympics in Tokyo.
"After placing fourth in senior nationals, it felt like making it to the Olympics was a little further away," he said. "But I improved quite a bit over the summer and finished third at junior worlds and I think that put me right back in the mix to compete for a spot in the Olympics."
Lee has received plenty of help from Huskie coaches and teammates with his training in the gym, as well as academic support from the university for his studies in the classroom. Hunter, who is Métis, is in the Saskatchewan Urban Native Teacher Education Program working towards an education degree.
"It's a good program and they help out a lot and the teachers really want you to succeed," said Lee, who turns 20 on Oct. 31. "School has always been kind of a struggle to keep my grades up, but we have good student advisors and tutors who help us out."
For his part, Lee is also giving back to the community by working with young wrestlers at Huskie Athletics camps.
"He is really good at connecting with youth wrestlers and obviously that works well if you want to be a teacher," said Olver. "He volunteers his time and is one of those guys who has that ability to connect and model positive things that youth should be doing."
As an Indigenous wrestler from a small northern community who worked hard to develop into a national-team athlete, Lee knows he is a role model for the next generation.
"I don't really think about it a lot, but I understand I would be a role model to the young kids that I've coached who might look up to me," said Lee, whose younger brother Carson is also a member of the Huskies wrestling team. "It doesn't matter where you come from. You just have to want it and train hard enough to get it."