The Edwards School of Business student and Huskie men's volleyball all-star is once again holding court as one of the top players in the country while also taking care of business in the classroom, successfully combining his fascination with finance and his passion for volleyball.
"It's definitely great being a Huskie student-athlete and I am definitely proud to wear the jersey," said Mortensen, who is in his fourth year in his Bachelor of Commerce program. "We are here for both school and sports, and I really enjoy being here at the University of Saskatchewan. And it is great to have the opportunity to represent the university every weekend."
The 6-foot-7, 200-pound power hitter from Swift Current has helped the Huskies serve notice they plan to be in the playoff mix this season under new head coach Sean McKay.
"We definitely have the talent and we have definitely been progressing," said Mortensen. "Our goal is to host a playoff game, which means we would finish in the top four in the conference, which is something we haven't done in a while and would be great for the program. And I think if we are playing are best volleyball by the end of the year, I think we will have a chance to make it to nationals."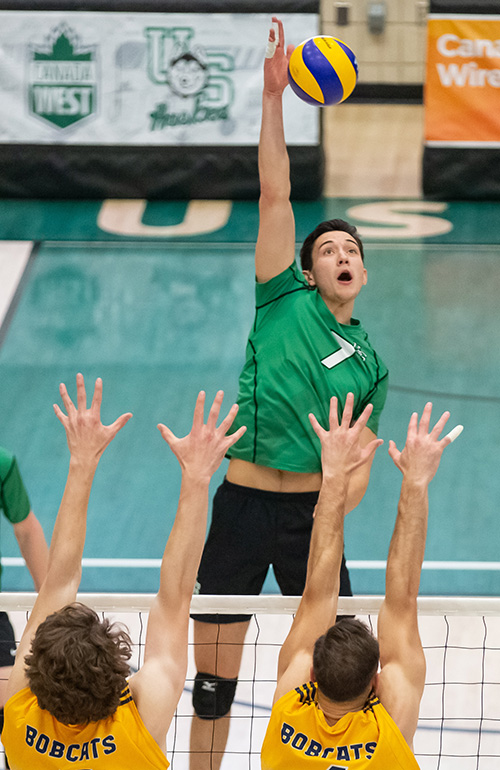 Mortensen's success in both academics and athletics is testament to his commitment on and off the court, juggling classes and passes, and books and blocks, excelling in both parts of the student-athlete equation. Selected as a Canada West conference second-team all-star player, Mortensen was also named an Academic All-Canadian for earning an average of 82 per cent while completing a full course load of 24 credit units in 2018/19.
"For sure it was super being named an Academic All-Canadian," said Mortensen, who juggles six days a week of volleyball practices, games and travel, with attending full-time classes five days of the week. "It's a huge honour. And excelling in school, especially in Edwards, which is a fairly tough program with my finance degree, it's great when your work pays off. You definitely have to focus on getting your schoolwork done before and after practice. So, you do have to make some sacrifices in the social aspect, but it is definitely worth it."
On the court, Mortensen was named the men's volleyball rookie of the year in the country in 2018, and continued his rapid rise in U Sports in 2019 when he was picked for the national men's B team that competed in the Pan American Cup in Mexico in June and also selected to represent Canada at the World University Games in Italy in July. Facing the best young university-aged players on the planet, Mortensen stepped into the international spotlight and led the Canadian team in both kills (70) and blocks (14) at the World Universiade.
"I was speechless going into that first game, wearing that Canadian jersey," said Mortensen. "Making the team and going through that whole process was pretty special. Being able to represent your country on the international stage for the first time and having those memories forever is pretty cool."
Mortensen is once again putting up all-star numbers this season in the Canada West conference, currently among the league leaders in points and kills on a Huskies team that is on the rise. While he is pondering possible professional volleyball opportunities overseas after he graduates in 2021, the 21-year-old Mortensen is also anxious to follow in his parents' footsteps and put his business degree to good use.
"My dad was a finance major here at the university too, and my family has a farm and they deal a lot with the finance side of things, so I think running my own business is something I would be interested in at some point," he said. "I think our Edwards professors do a great job of preparing us for working in business, so I think I will have lots of opportunities to choose from in the future."
USask's Nelson Lokombo was named U Sports football defensive player of the year at the annual Vanier Cup awards on Nov. 21 in Quebec City. The third-year defensive back, who had four interceptions and returned two for touchdowns and racked up 23.5 tackles, was also one of five Huskies named first-team All-Canadians, joining record-setting running back Adam Machart—the runner-up to Western University quarterback Chris Merchant for the Hec Crighton Trophy as player of the year—along with offensive linemen Connor Berglof and Mattland Riley and defensive tackle Evan Machibroda.
Three former Huskie football players—offensive lineman Patrick Neufeld, long snapper Chad Rempel and defensive back Dexter Janke (injured)—were members of the CFL's Winnipeg Blue Bombers, who captured the Grey Cup on Nov. 24 in Calgary.