The third-year goaltender with the Canada West champion Huskie men's hockey team had a season for the ages, named both the conference and national goaltender of the year and player of the year, in a season that ended with the national championship cancelled, and classes and exams completed online due to the world-wide coronavirus pandemic. Kozun capped off the season by being named Huskie Athletics male athlete of the year, wrapping up a year he will never forget.
"It was a great year, but kind of a crazy year," said Kozun, a College of Arts and Science student from Nipawin, Sask. "It didn't start off the way we wanted to as a team, but we ended up having a really good run at the end of the season and then to lose at nationals and then the tournament not even finishing was a crazy way to end the year."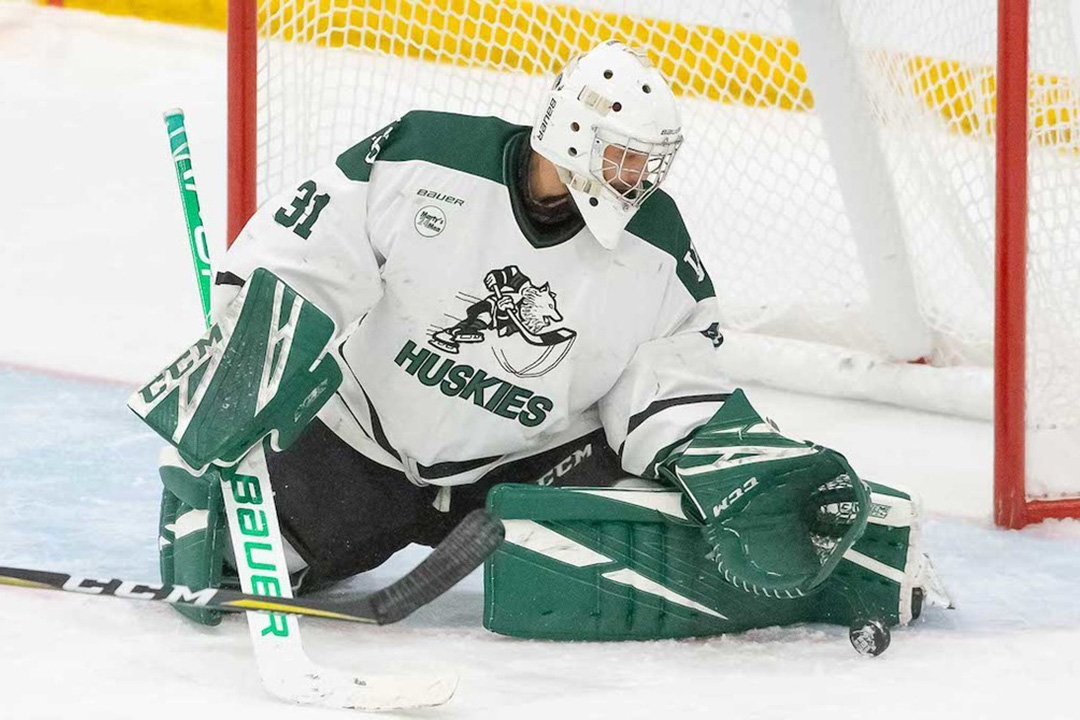 Kozun was named the national goaltender and player of the year the night before the No.2-ranked Huskies were upset 3-2 by the Western Mustangs in their opening game at the U Sports championship in Halifax on March 12, with the entire tournament cancelled shortly after due to coronavirus concerns. It was a stunning end to a brilliant year for Kozun, who was the first to win both national goaltender of the year and player of the year awards in the same season.
"It was a huge honour," he said. "When you go into a season, you set goals and to be able to reach them, a lot of things have to go right throughout the year. It's been a crazy year, but it's been great."
The former Western Hockey League all-star led the Canada West conference in every major category, recording a remarkable 1.87 goals-against average, .931 save percentage, 17 wins, five shutouts, and even scored a goal. Kozun, who has the most shutouts in Huskie history, became only the second goalie in Canada West history to score when he fired the puck the length of the ice in a 3-0 shutout victory over the Calgary Dinos on Jan. 18.
"Scoring a goal was one thing I never thought I would be able to do again after I switched to goalie when I was 12," said Kozun. "It was kind of a life-long dream. Looking back, I think I am more excited about it now than I was then."
Kozun is now concentrating on completing his final exams online, after the university shut down in-person classes and exams due to the coronavirus.
"It's definitely different, but you just have to make the best of it," said Kozun, who plans to pick a major for his bachelor's degree over the summer.
While Huskie student-athletes weren't able to celebrate their year-end awards together as usual, Kozun said it was great to see the success that the other teams and athletes enjoyed this season, from Huskie women's basketball winning nationals, to Michelle Harrison's record-setting performance in track and field.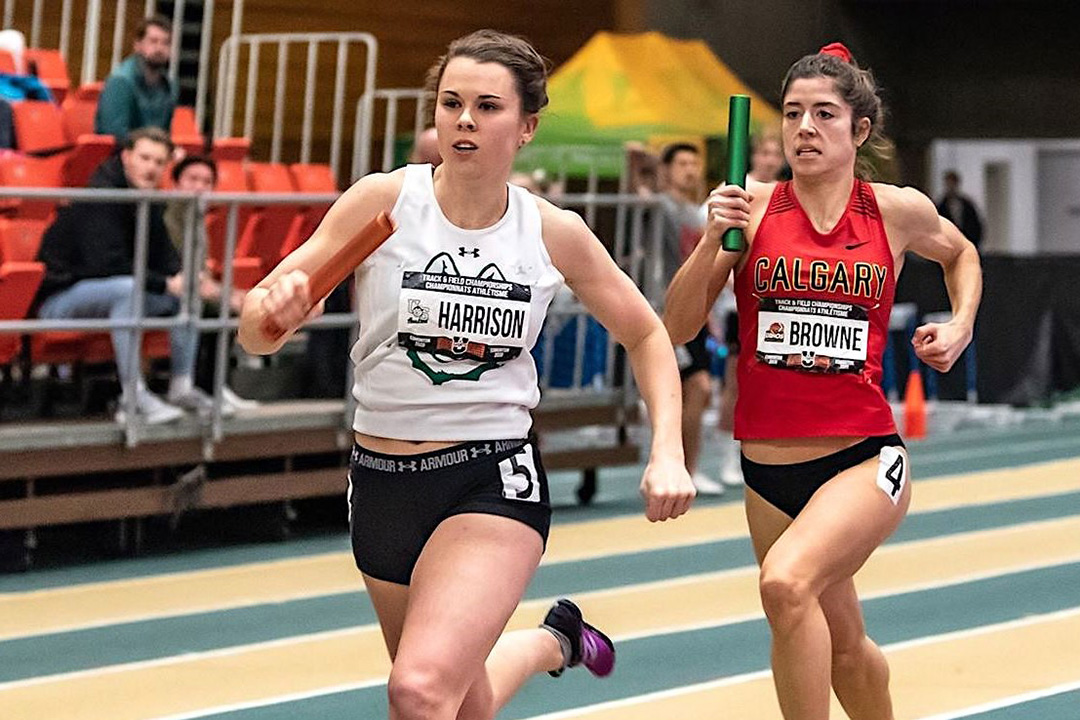 "We don't get to see the other teams that often since we are playing most weekends, but you just try to follow them and cheer them on as best you can," he said. "It was great to see a lot of Huskies have great seasons."
For her part, Harrison wrapped up her fifth and final year as a Huskie student-athlete by setting new conference and national records in the 60-metre hurdles. Named Canada West and U Sports female track athlete of the year, Harrison also earned the Huskies award for female athlete of the year.
"It was a really good way to finish my fifth year as a Huskie," said Harrison, a home-grown Saskatoon student-athlete who was featured in January's edition of On Campus News. "I had a time goal in mind this year and I was able to achieve that at the U Sports championships, so I am proud of the progress that I made this season."
Ranked fourth in the country in the 100m hurdles, Harrison is a strong candidate to compete for Canada in the next Summer Olympics, which have been pushed back to 2021. For now, Harrison is focused on writing her final exams online to complete her Bachelor of Science degree.
"I was in two online classes anyways, so those haven't changed," said Harrison, who was named an Academic All-Canadian for her academic achievements. "It is just writing exams online rather than in person, so it's not the worst thing. I'm ready." 
Huskie Highlights
Other year-end award winners are: Halle Krynowsky, soccer (female rookie of the year); Carson Lee, wrestling (male rookie of the year); Megan Ahlstrom, basketball (all-around female athlete); Evan Machibroda, football (all-around male athlete); and Lisa Thomaidis, women's basketball (coach of the year).
Huskies men's basketball guards Chan De Ciman and Alex Dewar were both selected by the league champion Saskatchewan Rattlers in the Canadian Elite Basketball League U Sports Draft on March 26.
The annual Dogs Breakfast Huskie football scholarship fundraiser that was scheduled for April 30 has been postponed to Sept. 3.