While 2020 will be forever remembered for the global pandemic, it has still been quite the year for Emmarae Dale, a former Huskie Athletics track and field student-athlete who celebrated the completion of her Bachelor of Science in Kinesiology degree in June's University of Saskatchewan (USask) virtual convocation. Now, the USask alumna has gone from class deadlines to making headlines by joining the national champion Saskatoon Hilltops, believed to be the first female player ever in the Canadian Junior Football League.
"It is pretty overwhelming just knowing the impact that it is having because I did not really expect it at all," said Dale, who joined the Hilltops when practices resumed in September. "I just felt like another kid wanting to play football and then it turned into this huge thing, so it is starting to sink in now. It is cool knowing that this may be creating opportunities for young girls everywhere, so it is pretty surreal."
While attending USask and competing for the Huskies, Dale helped lead the Saskatoon Valkyries to a pair of Western Women's Canadian Football League championship titles in 2016 and 2019. Moving up to Canada's premier junior football league—and playing the linebacker position no less—is a whole new ball game.
"Going from women to men it is definitely more physical, and the physicality aspect was something I was mentally preparing for," said Dale. "As a kinesiology graduate, I am not unaware of the differences in strength and especially at linebacker, I knew I would have to buckle down on every play. It is kind of the same in both men's and women's football, you are always going to have to be physical as a linebacker, but it is definitely an adjustment."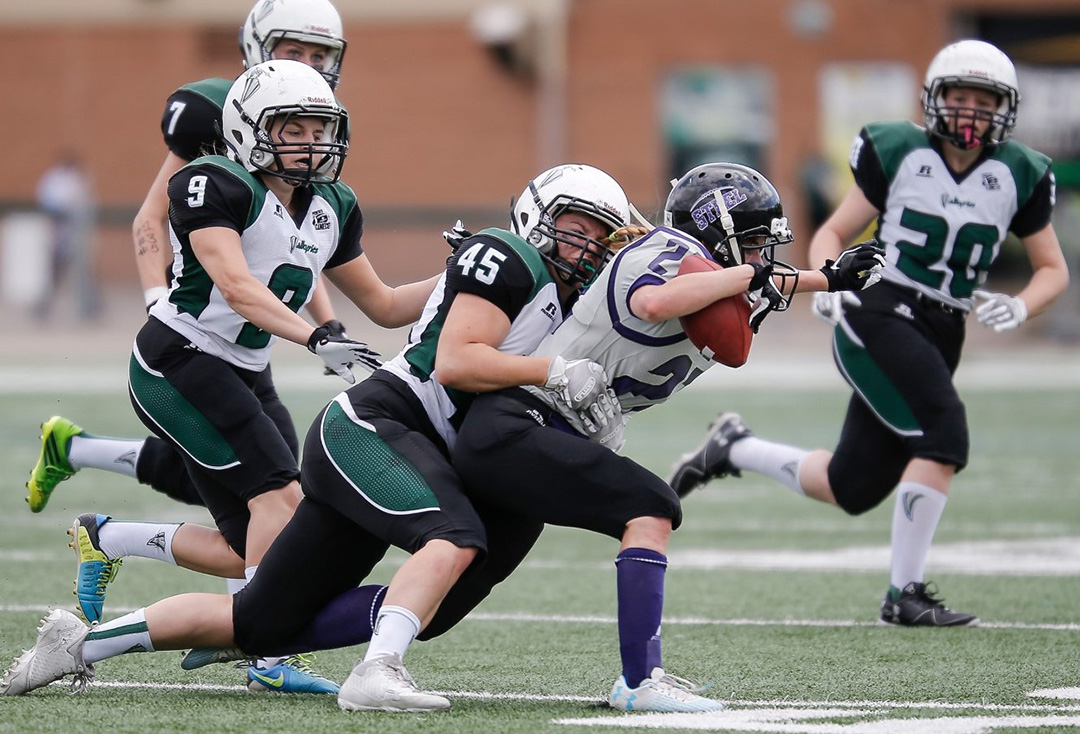 Dale has found her training regimen as a Huskie student-athlete helped set the stage for tackling this new challenge.
"It is obviously a completely different sport than football, but in terms of training, that is something that definitely helped set me up for success," said Dale, who closed out her Huskies career by competing in weight throw and shot put at the Canada West championships in Saskatoon in February and U Sports nationals in Edmonton in March.
"I was lifting (weights) close to five times a week and it was pretty similar to football training in terms of being a power athlete and there is definitely a correlation there," said Dale, who also learned a thing or two watching her older brother Donovan earn All-Canadian honours while playing Huskie football.
"He has been very supportive throughout the whole thing and just wants me to keep my head on straight and he understands what it takes to be a really good defensive player, so he has definitely helped me. Just watching him play throughout the years, I have learned a lot about what it takes to be a great football player."
Emmarae, whose brother Fabian played Huskie men's soccer, now works at Ignite Athletics fitness and personal training facility in Saskatoon, after completing her bachelor's degree in June.
"It was definitely a pretty proud moment just knowing that all the blood, sweat and tears with studying and training, it all kind of came together in the end," she said. "Looking back at my time in university, I definitely would do it all over again. I earned my degree and I have three Canada West team titles under my belt, so I am proud to have been a part of the legacy of the Huskies track team and looking forward to what the future holds."