"It was definitely my best decision of my life," said Dukate, the reigning Canada West player of the year and a U Sports All-Canadian—denoting the top five players in the country. "Pursuing a degree and playing a game that you love, and having such a great coach and team, it helps you become a better person. I feel like I have grown here so much as a person and as a student and an athlete, so it has definitely been a great experience."
A College of Arts and Science psychology student at the University of Saskatchewan (USask), Dukate will graduate as the top three-point shooter in the history of the Huskies program. The 5-foot-9 guard has overcome personal challenges and injuries—including undergoing shoulder surgery the day after the national championship game in 2018—to set Huskie records for most three-pointers made in a season (67) and career (260), as well as finishing in the top five in career points, assists and minutes played.
"Definitely coming here, I never thought I would ever be on the list, so that is such a big honour for me," said Dukate, who started in kinesiology before changing colleges to study psychology. "I have been lucky to have played with so many great players here and for such a great coach."
Huskies head coach Lisa Thomaidis—who also leads Canada's Olympic-bound women's basketball team—said Dukate ranks among the top players that she has coached in her 21 seasons at USask.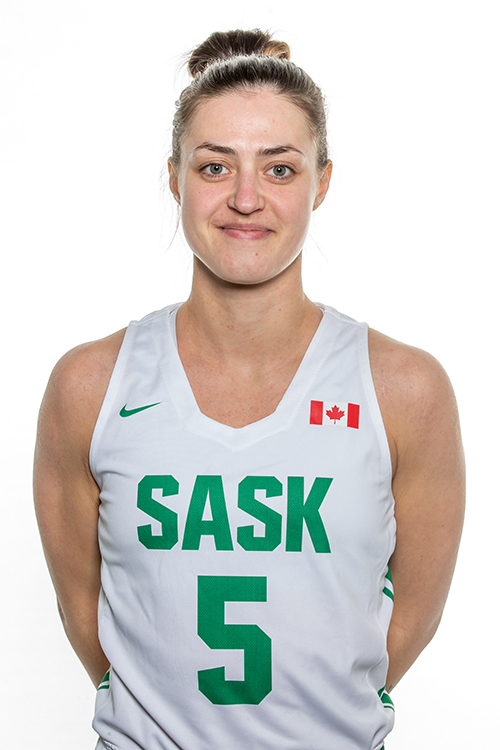 "Sabine has been such an amazing story," said Thomaidis. "Her journey coming to Canada, getting into school, adjusting to life in a foreign country, studying in a foreign language, the injuries she's had to play through and overcome, her success on the basketball court and impact on the success of our program … the list goes on and on. There is just so much that we are so proud of her for. Her growth as a person is probably the most impressive thing for me. I really can't believe it's been five years already. When I think about the person that she's become, she really has come a long way."
Canada has become home for Dukate over the past five years and she is hoping to stay after she graduates in December.
"I want to get my permanent residency and I would love to be a counsellor," said Dukate, who speaks five languages: English, German, Latvian, Lithuanian and Russian. "When I changed to psychology, that was around the time that I was seeing (a counsellor), so that was a big impact on me. Knowing how much a counsellor can help you, it really impressed me. I would really like to work as a counsellor in the future."
For now, Dukate and her teammates are focused on winning their fourth conference title and second national championship in five years, after being ranked No.1 in the country for most of the season, and winning their first 15 straight games to clinch a playoff berth. As the Huskies prepare for the playoffs, Dukate may have the opportunity to close out her career the way it started—as a national champion.
"I feel like that would be just a remarkable way to finish," said Dukate, who had 22 points and seven rebounds as a rookie in the championship game in 2016 to help the Huskies win their first national title. "When I came here, I didn't realize how hard you have to work to be the national champion. And having that experience in my first year was amazing and finishing on that note again would be great."
Taran Kozun became the first Huskies goalie—and just the second in Canada West history—to score a goal during a 4-0 victory over the Calgary Dinos on Jan. 18. Kozun, the 2018-19 U Sports goalie of the year, also notched back-to-back shutouts to sweep the series.
Huskies women's hockey netminder Jessica Vance also earned back-to-back shutouts that weekend to move into second all-time in the conference record books with 20 career shutouts.
Huskies men's basketball coach Barry Rawlyk was named general manager of the Saskatchewan Rattlers of the Canadian Elite Basketball League on Jan. 9. Meanwhile, Huskies assistant coach Chad Jacobson was announced as the new head coach of the Rattlers on Jan. 29. Both remain in their roles with the Huskies as they lead the Rattlers in the spring/summer season that begins May 14.
The university has announced it is replacing the artificial turf in Griffiths Stadium this spring. The $3-million project is expected to be completed by September.