The 21-year-old U Sports All-Canadian defensive back with the University of Saskatchewan Huskies football team is ranked 14th overall in the CFL Scouting Bureau's Top 20 list of the top prospects for the 2021 CFL draft.
"Obviously when you make the list, it's a great accomplishment and I am proud of that," said Lokombo, who became only the second player in Huskies history to be named the top defensive player in Canadian university football in 2019 in just his third season. "It was pretty cool to see and I am hoping that I can move a little higher up the list, but it's good to see where they have you ranked amongst some of Canada's best prospects. The University of Saskatchewan and playing with the Huskies have been amazing, so I am hoping to build on that and see where it takes me."
Lokombo looks poised to join his older brother Bo—a member of the Toronto Argos—in the CFL in the next year or two. But he is also determined to finish what he started at USask, currently taking a mix of second and third-year courses as he works towards completing a four-year Bachelor of Science in Kinesiology.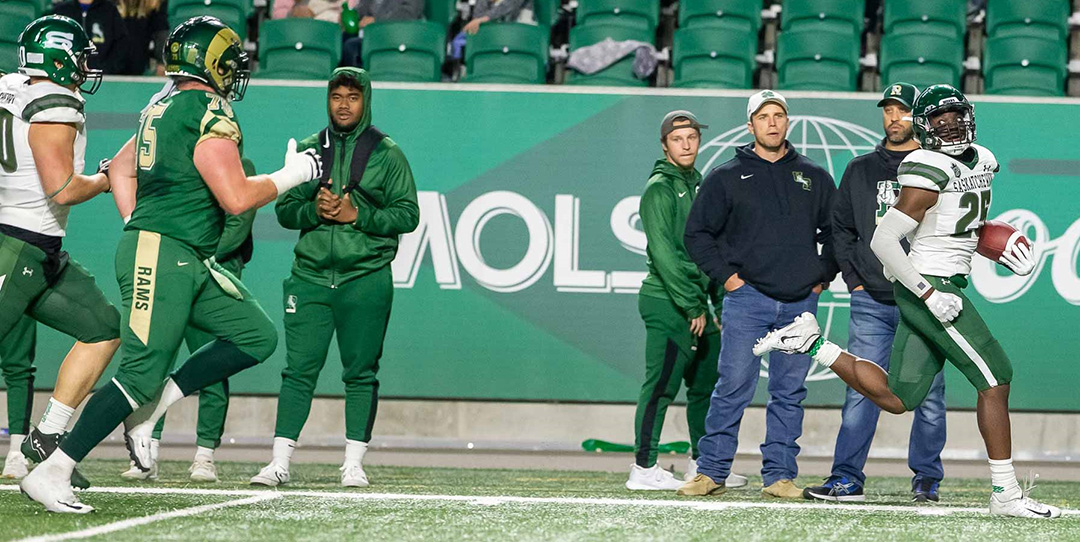 "I wanted to go into kinesiology because my goal has always been to become a physiotherapist, so that is something I want to do after playing professional football," said Lokombo, who studied in the College of Arts and Science for before transferring into kinesiology last year. "When I committed to the University of Saskatchewan, getting an education was just as important as football. It's something that I have talked about with my mom a lot and no matter what happens (in the CFL), I want to continue to get my degree for sure."
For now, Lokombo is studying remotely, taking online kinesiology classes and training back home in Abbotsford, B.C., with his older brother, now a six-year CFL veteran. It was a difficult decision for Lokombo not to return to Saskatoon to rejoin his Huskie teammates, many of whom have been taking part in limited fall practices—following health and safety guidelines—after the 2020 season was cancelled due to the ongoing pandemic.
"It was very disheartening to learn that we couldn't play this year. COVID really changed everything," said Lokombo, who has been keeping in touch with some of his Huskie coaches and teammates, even watching video of practice from afar. "You miss your teammates and coaches. But for me, this was also a good opportunity to be with my family this year and still go to school online and to have the chance to train with my brother and learn from him to prepare for the CFL."
After setting a Huskie record in 2019 by amassing 197 return yards on four interceptions—including running two back for touchdowns—Lokombo has shown he is a prime prospect to play professionally, according to Huskies head coach Scott Flory. Interestingly, Lokombo was Flory's first official recruit when he was hired in 2017.
"Upon being named head coach of the program, one of my biggest priorities was finding elite talent for our coaches to develop," said Flory, who played 15 seasons in the CFL prior to becoming a coach. "In my opinion, Nelson was one of the best athletes I had come across and after we spoke for the first time, I was immediately impressed by him.
"I could see his ability to play from his film, but it is all the intangibles that make him the premier football player that he is. He's a phenomenal teammate and leader for us. It's not easy to be a professional athlete, but I know Nelson has what it takes to succeed at the next level. What he showed in 2019 by winning the Presidents' Trophy, as the best defensive player in the country, is only the tip of the iceberg. I couldn't be more proud to have him with our program."
While he is anxious to return to the football field in 2021, for now Lokombo is focusing on his off-season workouts and his online classes, having quickly adjusted to remote learning this term.
"I've been in a few online classes before, so this is OK for me," he said. "The one challenge with online classes is you just have to stay on top of your work, or else you can fall back because everything is done on your own time. But right now, it is going pretty good for me.
"As for next year, we will have to see what happens with the CFL and with university sports. Right now I am not worried about it, but playing in the CFL has definitely been a goal of mine, so it would be nice to have that opportunity in the future." 
On Oct. 15, the Canada West conference cancelled men's and women's basketball, hockey, volleyball and wrestling seasons for 2020-21, with a decision on track and field pending. Back on June 8, the conference cancelled all fall term sports, including football and soccer. While league play and national championships will not be held, Canada West schools were approved to explore local exhibition games, while observing COVID-19 health and safety guidelines.