The reigning U Sports 60-metre hurdles national champion and pride of the Huskie Athletics track and field team is looking to finish her fifth and final year with a flourish by successfully defending her Canada West conference and Canadian university championship titles on her way to qualifying for the Olympic Games in Tokyo, from July 31 to August 9.
"It would be a great way to end my career as a Huskie if I can repeat at both the Canada West and U Sports championships this year," said Harrison, a Bachelor of Science student at the University of Saskatchewan (USask). "The Olympics is my No.1 goal for this year and I am hoping to use the university season as a stepping stone towards achieving that."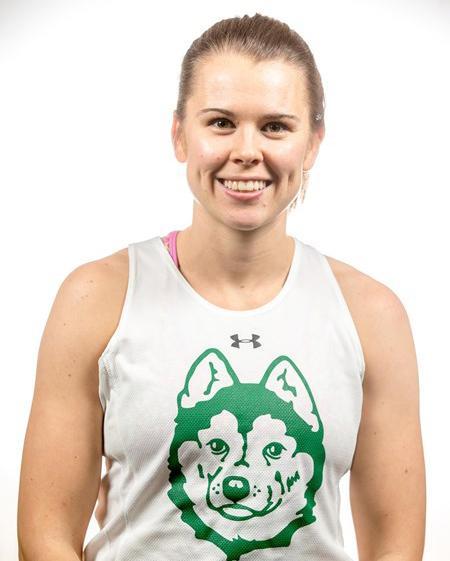 Just how close is Harrison to becoming an Olympian? She needs to trim less than three-tenths of a second off of her best time of 13.13 seconds in the 100m hurdles to automatically qualify for the Summer Games, and be ranked in the top three in the country (she is currently fourth) or the top 40 in the world (currently 51st). Huskies head coach Jason Reindl is confident Harrison can do just that.
"She was third at the (2019 Athletics Canada) national championships in the summer and she was able to beat two of the athletes who are currently ranked just ahead of her, so she is right there," said Reindl.
Harrison has overcome a few hurdles in the past, but is now back on track as she finishes the final semester of her bachelor's degree and completes her Huskies career. A former national under-18 and Canada Summer Games 100m hurdles champion, Harrison accepted a full-ride scholarship to Rice University out of high school, but battled injuries and illness and returned to Saskatoon to come to USask and has never looked back.
"Coming back, I have had a way more positive experience here and I am way happier here," said Harrison, a 27-year-old from Saskatoon. "This is my home base and the support of my Huskies teammates and my coach is just great. I would never have been able to get to where I am today without them."
Harrison studied nursing before choosing to major in health studies. Along the way, she learned how to successfully balance academics and athletics, earning Academic All-Canadian status in 2019 for averaging 85 per cent while taking a full course load.
"It was definitely something I was proud of, just knowing that all the work and the hours that I put into both track and school pays off," said Harrison. "I definitely think I have grown a lot as a student over the years."
Harrison's efforts in class and in competition have made her an excellent example to follow for her younger Huskie teammates, according to her coach.
"Any time you get an individual who can combine all the pieces of being a student-athlete, they are definitely a role model for the new athletes on the team," said Reindl. "It really resonates with the reality of what we are trying to do as a program."
Having another Huskie become an Olympian would also be a major accomplishment for the program. Harrison has until June 29 to qualify for the Olympics, culminating in this year's Canadian championships and Olympic team trials from June 25-28 in Montreal. But first, she is determined to go out as a champion to close out her university career, with the Huskies scheduled to host the Canada West championships on Feb. 21-22 in Saskatoon, before nationals in Edmonton from March 5-7.
"It will be really nice to compete at home," said Harrison. "And both our men's and women's teams are defending champions for Canada West, so it would be nice to repeat that this year in front of a home crowd."
Harrison is hoping a memorable final season with the Huskies helps set her up for her run to the Olympics, as she chases a dream that she has held since the first time she stepped onto the track.
"It would mean everything," said Harrison. "For all my hard work to pay off and get where I have been aiming for all these years and to be able to represent Canada and support my community and country, that would be pretty special."