Instead, with the CFL season delayed due to the coronavirus pandemic, the two graduating members of the University of Saskatchewan Huskies football team are patiently playing the waiting game in Saskatoon before kicking off their pro careers.
"It's a strange situation, but you just have to wait and try to prepare the best that you can," said Machibroda, a dominant defensive lineman and 2019 Edmonton Eskimos draft pick who completed his fifth and final season with the Huskies by being named a U Sports All-Canadian and honoured as the most outstanding lineman in the Canada West conference. "No one could have predicted the shutdown of all professional sports, so I'm just waiting on that call to tell me when training camp starts."
"All you can do is stay ready and stay prepared," said Whiting, one of the top linebackers in the league this season and a draft pick of the Montreal Alouettes last year. "All you can do is to stay ready and stay prepared, so I am definitely going to use the extra time to get my body right and be in the best shape of my life for camp."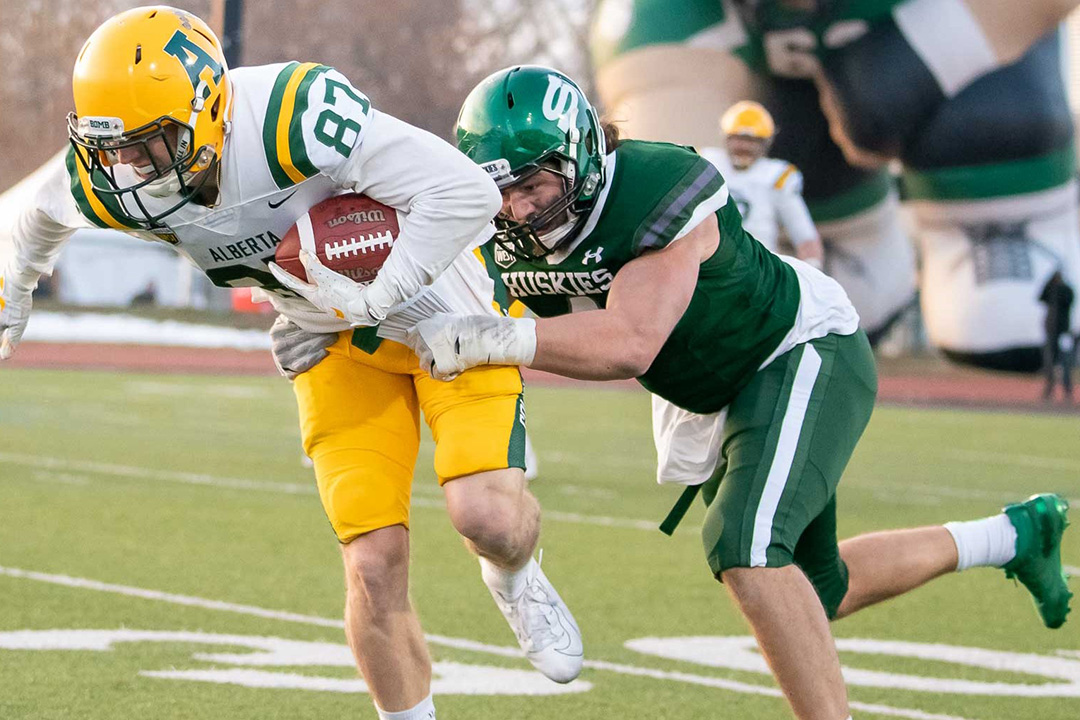 While there are no Spring Convocation ceremonies to attend, due to the COVID-19 outbreak, Machibroda and Whiting are both celebrating earning their bachelor's degrees, after finishing their final online exams. A two-time All-Canadian who could have turned pro last year, the 6-foot-3, 280-pound Machibroda made a point of returning to USask to complete his engineering degree while playing his fifth and final season with the Huskies and leading the Canada West conference in quarterback sacks with five in eight games.
"My final semester was pretty good," said Machibroda, who earned second-team Huskie All-Academic status in 2019 for posting an average of better than 75 per cent while completing a full course load of 24 credit units. "I loaded up on classes at the front end of my academic career, so it's been a little easier than most engineering students in my final semester.
"But like everyone else, we had to prepare for those online exams this year, so that was a little bit different. I am happy to have finished my degree. That was the plan coming back. You can't play football all of your life, so it's good to have that backup plan."
Machibroda signed his first CFL contract with the Eskimos in January, a two-year deal plus an option, while Whiting signed with the Alouettes last spring and attended training camp before being returned for his final year of eligibility with the Huskies. The 6-foot-3, 225-pound Whiting excelled on the field—finishing sixth in the league in tackles with 50 in eight games—as well as in the classroom, earning Academic All-Canadian honours in 2019 for averaging better than 80 per cent in his education courses while taking a full 24 credit units.
Whiting was actually completing his student-teaching practicum in Saskatoon when the pandemic hit.
"I was teaching at Walter Murray (Collegiate) when all of this happened and the schools were closed," he said. "As soon as students were sent home, the university sent home all of the field placement practicums too, so I just finished up the final paperwork on that and then had one final exam online.
"So it's nice to finish my education degree and it's the summation of all of the work that you have done over the past five years. I have my degree and I am debt free, so I am definitely in a very fortunate position and now I can just concentrate on playing football for as long as I can."
Of course, when that begins is still up in the air. In the meantime, both Whiting and Machibroda are working hard in home-based workouts, in preparation for their first seasons in the CFL.
"I am just looking forward to getting back on the field, so whenever this is over, it's just going to make me want it and appreciate it more," said Machibroda, who was recently named Huskie Athletics all-around male athlete of the year for 2019/20. "It was great to play five seasons with the Huskies and I am just looking forward to better things to come." 
It was a huge night for Huskie football on April 30 as five USask players were selected in the CFL draft. All-Canadian offensive lineman
Matt Riley
of Melfort led the way, drafted in the first round (seventh overall) by the Saskatchewan Roughriders. He was followed by Huskies defensive end
Nicholas Dheilly
of Regina (fifth round, Winnipeg Blue Bombers), receiver
Sam Baker
of Esterhazy (sixth round, Toronto Argos), offensive lineman
Nick Summach
of Saskatoon (seventh round, Edmonton Eskimos), and slotback
Colton Klassen
of Saskatoon (eighth round, Montreal Alouettes).