Tanner Lishchynsky checks all of the aforementioned boxes.
The 25-year-old defenceman from Saskatoon is captain of a University of Saskatchewan men's hockey team that was once again one of the best in the country this season, ranked No.2 in the nation. On a team stocked with former junior hockey captains and natural leaders, Lishchynsky largely leads by example, on and off the ice.
"There have been some great Huskie captains before me, so it is a great honour to have my name alongside them," said Lishchynsky, who served as captain of the Kootenay Ice in the Western Hockey League prior to being recruited by the Huskies. "A lot of our guys have been captains before for their junior teams and they don't need much leading … It is just about motivating more than anything. I just like to lead by example. These guys know what to do."
Indeed. Following an injury-riddled start to the season in which they lost their first four straight games, the Huskies battled back to finish with the second-best record in the Canada West conference at 22-4-2, and rolled into the playoffs riding an impressive 11-game winning streak on their way to winning the conference title and clinching a fourth straight berth in the national championship.
"We had kind of a rough start, going 0-4 in our first four games, so we had to figure some things out after that," said Lishchynsky. "But once we got guys back from injuries and started playing together as a team, we got better and better and just kept it going."
Huskies head coach Dave Adolph credits leaders like Lishchynsky for their role in the turnaround.
"There is no give-up in that kid, ever," said Adolph, the all-time leader in career coaching victories in U Sports history. "Tanner has earned everything he has ever received in his whole life, that's just the way he is. He is blue-collar, hard-working, academically gifted and has earned his spot on every team he has played on."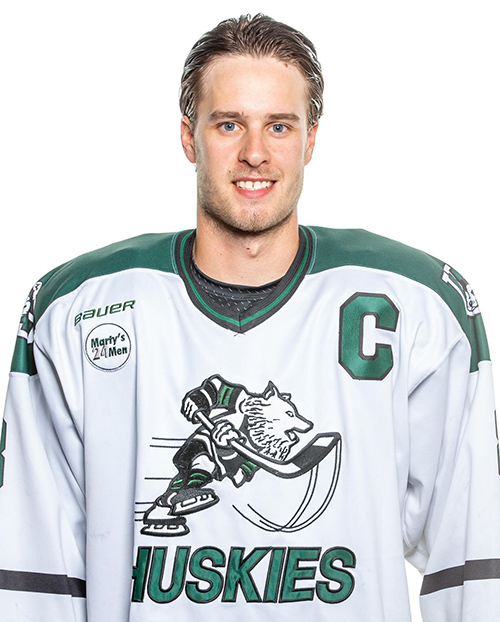 Lishchynsky's contributions aren't limited to his efforts on the ice. A Huskie All-Academic Team honouree for his work in the classroom in each of his first three years studying agriculture economics at USask, Lishchynsky also volunteers his time in the community, coaching youngsters in the Kinsmen Inner City Hockey League, as well as serving as a KidSport ambassador along with fellow Huskies Katriana Philipenko of the women's basketball team, football player Yol Piok and wrestler George Ren.
"I think that's a big part of being captain and being a part of the Huskies," said Lishchynsky. "We are all role models for younger kids and we know all the great things that hockey has done for us, so I think it is important to help kids experience that. Through KidSport and with the Kinsmen Inner City Hockey League, it's great to help kids learn about hockey and have fun doing it. I think it is really important to help kids that didn't have the kind of chances that I had growing up."
"He has been doing that his whole life," added Adolph. "These kids that come out of the Western Hockey League, they give up so much of their time for the community and it is second nature and Tanner is just one of the prime examples."
On the ice, Lishchynsky is a dedicated defender and a backbone of the blue-line on a team stocked with offensive weapons and great goaltending, as they headed to the University Cup national championship, March 12-15 in Halifax. The Huskies fell 3-2 to the Western Mustangs in their opening game, with the national championship cancelled after the opening day of games due to concerns over the COVID-19 outbreak.
"Winning a national championship is always the goal," said Lishchynsky, prior to heading to the University Cup. "You never know what will happen when you get to nationals. But the guys are all dialed in and we have great goaltending as usual, our forwards have been good and our 'D' is solid. So, we will see what happens."
Read more: Late rally falls short for Huskies in U Cup Quarter-final
The Huskies clinched their 11th Canada West conference title by beating the UBC Thunderbirds 3-1 on Feb. 29 in front of a standing-room-only crowd of 2,667 at Merlis Belsher Place.
Huskies goalie Taran Kozun was named U Sports and Canada West player of the year and goaltender of the year and an All-Canadian, while forward Levi Cable was named most sportsmanlike player by both U Sports and Canada West. Fellow Huskie forward Jared Dmytriw made the national all-rookie team and was also named Canada West rookie of the year.
USask's Karson Lehner and Michelle Harrison set records in the 300m and 60m hurdles while being named Canada West male and female track athletes of the year, with the Huskies women's team winning its third straight conference title on Feb. 22 at the Saskatoon Field House. The Huskies moved on to the U Sports championships March 5-7 in Edmonton, where Harrison and Lehner were named national track athletes of the year. Harrison also set a new national record in the 60m hurdles, while USask's Landon Gill garnered gold in the men's heptathlon.
Huskies Alexandra Schell, Logan Sloan, Hunter Lee and U Sports rookie of the year Carson Lee all won gold medals, while Daniel Olver was named women's coach of the year at the national wrestling championships in St. Catharines, Ont., on Feb. 22. The Huskie men's wrestling team also won the conference team title on Feb. 9 in Calgary.
Huskie Emily Koshinsky was named a Canada West first-team women's volleyball all-star.
USask women's hockey defenceman Leah Bohlken was also named a first-team conference all-star.