But coronavirus changed all that, causing the postponement of the Tokyo Summer Olympics (originally scheduled for July 31-Aug. 9, 2020) until 2021, and delaying—possibly cancelling—the 2020/21 university basketball season.
"Certainly it was disappointing when (the Olympics) were postponed, since we had built a lot of momentum and we had a great run through the Olympic qualifying and we were looking forward to going to Tokyo and capitalizing on that," said Thomaidis, who helped guide Canada's recent rise in the rankings up to fourth in the world.
"Now, we have to change course and focus on 2021 and our players and staff are going to have to be flexible and innovative to continue to grow and improve, even if we can't be on the court together face-to-face. So we are focusing on doing some things virtually. Like everyone, we are having Zoom meetings, doing what we can to be prepared for next year."
While the Olympics are on hold until next summer, whether or not there will be condensed Canada West university basketball, volleyball and hockey seasons remains unclear, with a decision expected before Oct. 8. However, with fall sports already cancelled and no two-term sports scheduled to start until January at the earliest, the 2020/21 season with certainly be unlike any other for Huskie student-athletes.
"I think it will feel quite a bit different once we approach the fall," said Thomaidis, who has guided the Huskies to two national titles and four conference championships in the past five years. "What student-athletes would normally be doing with their schedules and routines and day-to-day life is going to feel quite a bit different, so we will have to settle into a new normal."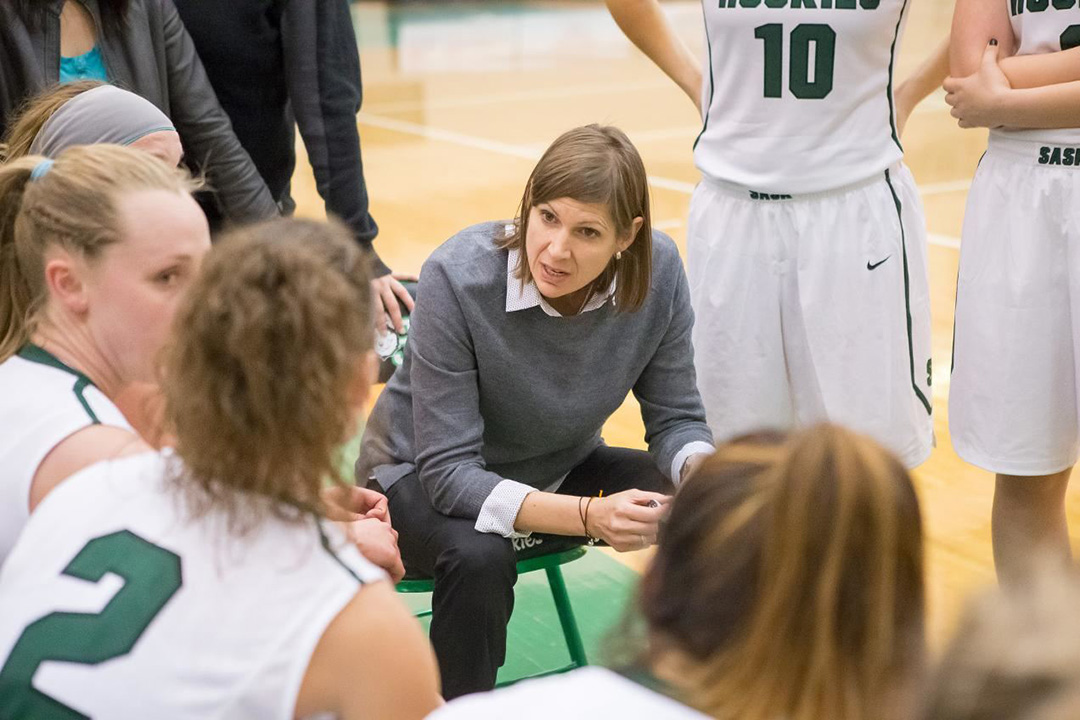 What has been normal for Thomaidis over the past eight years has been pulling double duty as Huskies and national team head coach, successfully juggling the demands of both roles to lead both teams to new heights. Thomaidis took over as Huskies head coach back in 1998 at the age of 26 and has turned what was once a struggling program into a national powerhouse. She also joined the national team as an assistant in 2002 before adding head coaching duties to her Huskies' role in 2013.
"It has been difficult, but it has been my normal for so many years that it is kind of what you do: you finish off the Huskies season and get a month break and then you get ready to head into national team season," said Thomaidis, who has also had to deal with losing both of her parents to cancer, her father in October and her mother in February just weeks before the Huskies captured the U Sports national championship.
The pandemic-postponement of the Olympics gave Thomaidis a rare summer off to reconnect with family and friends, and time to grieve and reflect, following the emotional extremes she experienced in 2019/20.
"In a strange way, the change of pace has helped me on a personal level, to be able to be close to family and friends and have a pause mentally and psychologically," she said. "It has been good for me to take a step back and to do some things that I haven't had the opportunity to do for so many years."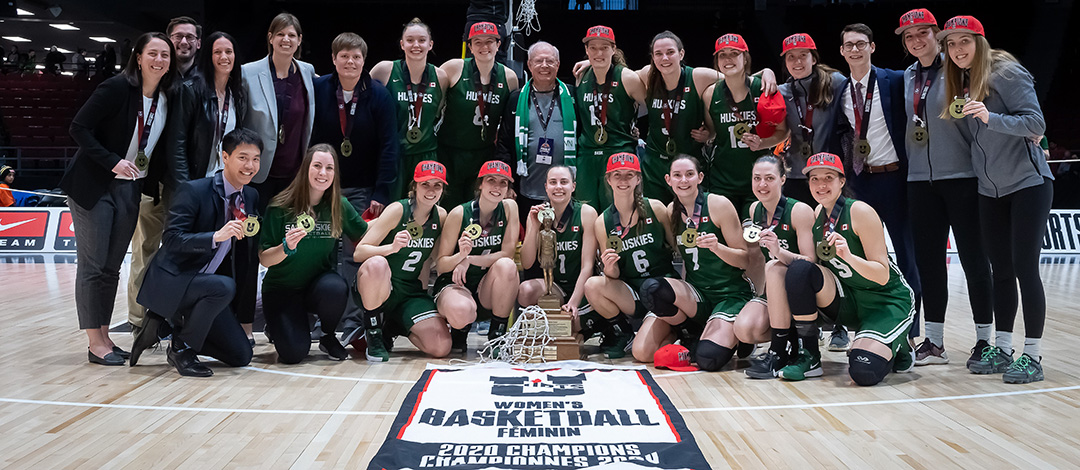 Now, as she turns her focus on the future, Thomaidis is hoping her Huskies will have the chance to defend their national title next spring.
"We have a strong returning core and they certainly want to be able to compete again for that championship and everything changed course with this new reality," said Thomaidis, whose team has graduated Megan Ahlstrom, Vera Crooks and Sabine Dukate, the MVP of the national championship game. "We want what is going to be best for them in their academic pursuits and as athletes, even playing a shortened season.
"So we are committed to bringing our athletes back this fall and we want to provide as normal of an environment as possible for them to be here around their teammates—socially distanced of course—and provide what we can in terms of training. Whether that is just strength and conditioning, or if they can get in the gym and shoot on their own, or if we progress to being able to have small group workouts, we will see."
While there is a moratorium on in-person recruiting, Thomaidis has received commitments from three talented young rookies in junior national team prospect Tea DeMong of Alberta and Saskatchewan provincial team standouts Gage Grassick and Courtney Primeau, whose mother played for the Huskies.
For now, Huskie players and coaches are patiently waiting to see if the shortened season will go ahead.
"Like everyone, Canada West is just waiting as long as we can to make a decision," said Thomaidis. "No one is going to put the health of student-athletes at risk, so it's a waiting game right now."