The 22-year-old Huskie Athletics standout and University of Saskatchewan (USask) computer science student from Prince Albert shattered a 35-year-old record set by former Olympian and USask alumnus Cyprian Enweani, and went on to be named both Canada West conference and U Sports national male track athlete of the year. Lehner's record run in the 300 metres had positioned him as a candidate for the Canadian Olympic team trials in June that were postponed due to the global pandemic.
"I was going to go, before the world changed," he said. "Everyone's goal is to be in the Olympics as a track athlete, and as time went on throughout the season and I was putting up these results, it became more of a possibility. So, it's definitely a little disappointing that everything changed and the Olympics were postponed, but there are plenty of people with more serious things to worry about in the world right now."
Indeed. While his national team hopes were put on hold, Lehner had plenty to celebrate this season, starting with his record-setting run in the Canada West conference championships at the Saskatoon Field House on Feb. 21. Lehner raced across the finish line in 33.07 seconds to break Enweani's former Huskies and Canada West 300m record of 33.50 seconds set in 1985, three years before he represented Canada in the 1988 Summer Olympics in Seoul, South Korea.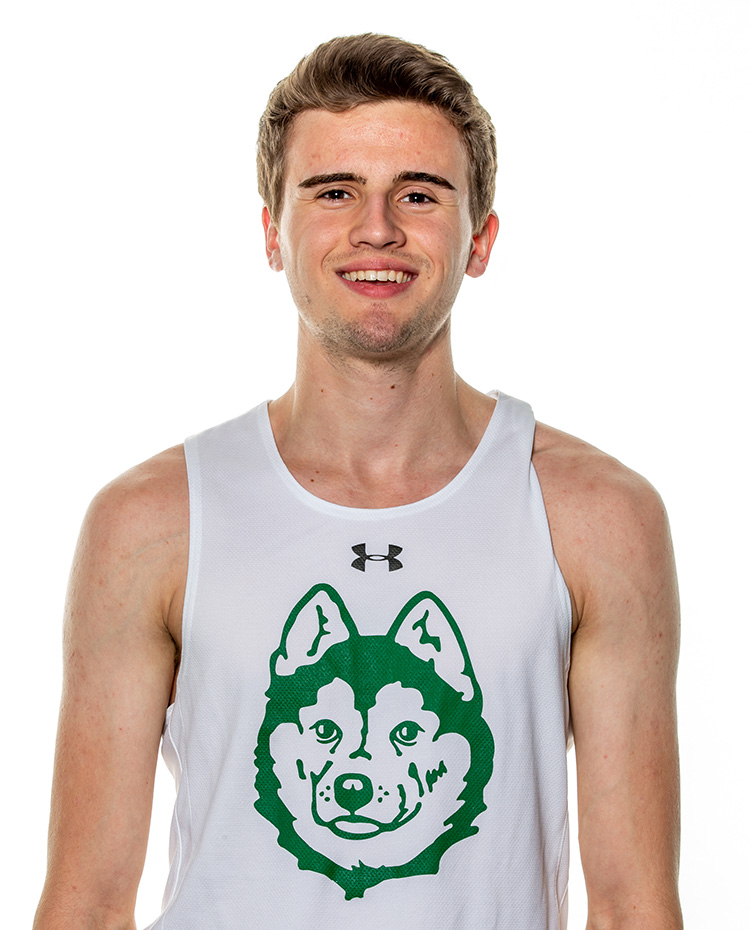 "I remember crossing the finish line during that race and seeing the time pop up on the clock and I was so happy, because that was the goal that I was working towards," said Lehner, who also earned a silver medal in the 60m at the championships. "I was extremely humbled, just to be mentioned in the same sentence as Cyprian. He was such a phenomenal athlete, so it is pretty cool."
Lehner went on to earn three medals at U Sports nationals in Edmonton, placing second in the 300m (33.31 seconds) and third in the 60m, as well as earning a silver medal as part of the Huskies 4x200m relay team, after being named national male track athlete of the year.
"Karson's times, medals, and awards this year are the result of lots of work and as a program we are extremely proud of all that he achieved, because it hasn't been easy for him," said Huskies track and field coach Jason Reindl. "He has had his share of injuries over the years, but with the help of personal coach Todd Johnston, he was able to stay healthy and put together a tremendous season of success where Karson became the first male track and field athlete to win a national athlete of the year award.
"Karson's performances this year have placed him amongst the best in nation and the world and he has a realistic opportunity of representing Canada in future international events, including the Olympic Games."
Lehner wrapped up the 2019/20 academic year the way all USask students did, by writing his final exams online after the university moved to remote delivery of courses in March and final exams in April.
"It was a bit of a change of pace for myself, as I'm sure it was for all of the other students," said Lehner, who started his academic career in engineering before transferring to computer science. "But my professors were really good at getting us everything we needed and communicating the course content to us and I could do it all in the comfort of my own home, so it wasn't too bad. I spend most of my days behind a laptop anyways, so it wasn't a major change."
What has changed is Lehner's expectations as he prepares for his fourth year of Huskie eligibility, with thoughts of taking a run at a spot on the Canadian team for the next Summer Olympics in Tokyo, now scheduled for 2021—pandemic permitting.
"That is written on my wall as my goal," he said. "I just have to work that much harder next year to make it happen."
Huskie Notes
USask men's hockey goalie Taran Kozun of Nipawin was one of four finalists for the U Sports Lieutenant Governor Athletic Awards, honouring the nation's top male and female student-athletes. Kozun became the sixth Huskie in school history to be named Canada West male athlete of the year after his record-setting season.
The Canada West conference will make a final decision by July 15 on whether cross-country championships will be held this fall, with football and soccer already cancelled for 2020. A decision on whether hockey, volleyball and basketball can begin in January of 2021 will be made by October 8.
Huskie wrestlers Berit Johnson, Carson Lee, Hunter Lee and Logan Sloan have all been named to Wrestling Canada's NextGen program for 2020/21, a program designed to train future Olympians.
Due to the ongoing pandemic, the Huskie Football Foundation's annual Dogs' Breakfast spring fundraiser has been cancelled until 2021.