The 6-foot-3, 300-pound All-Canadian offensive lineman with the University of Saskatchewan Huskies completed a lifelong dream when he was selected in the first round (seventh overall) by the Saskatchewan Roughriders in the CFL draft on April 30. In June, the 23-year-old from Melfort also officially received his mechanical engineering degree, albeit remotely due to the ongoing pandemic. For Riley, it was still a moment to celebrate, the culmination of five years of dedication on the field and in the classroom.
"I was obviously really excited to be drafted by the Riders, and it was a tremendous honour," said Riley. "I loved my time at university and playing for the Huskies and I wouldn't be where I am without them. When you join the Huskies, you have a dream of playing professional football, but the odds are so slim.
"So my biggest focus coming into university was getting a degree in something that I wanted to do, that had a career path with lots of options, so engineering was a great choice. It was hard playing football and studying engineering at the same time, but it definitely paid off in the end."
Indeed. After earning his Bachelor of Science in Engineering (with distinction), Riley quickly put his degree to use, working as a project manager for a general contractor before beginning a design engineering position with a local agricultural manufacturer, while training for a CFL season that never came.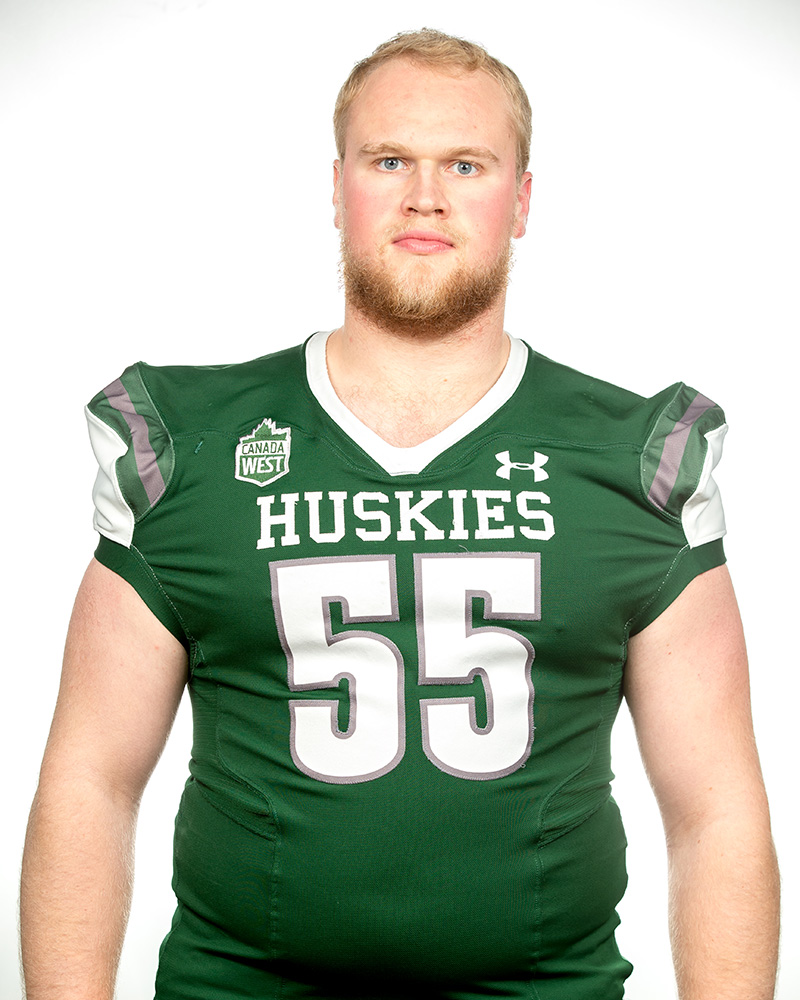 He's not exactly living a Charles Dickens novel, but 2020 has indeed been the best of times and the worst of times for Riley. A week after USask's virtual convocation ceremony on June 1, the Canada West conference and the U Sports national governing body announced the cancellation of first-semester sports, wiping out a potential fifth and final season of Huskies football for Riley. On Aug. 17, the news just got worse, as the CFL announced it would not play in 2020, ending Riley's hopes of turning pro this year.
"Hearing that the U Sports season was cancelled and then the CFL season was cancelled, too, it was pretty tough," said Riley. "I don't think it has fully set in yet, the reality of not playing football. This will be the first year I won't be playing football in 10 years, so it will just be weird having a fall without football."
While the pandemic has postponed his professional debut, Huskies head coach Scott Flory is confident Riley is destined for a great career in the CFL.
"Mattland is a fantastic person, leader and football player for us, and he deserved to be a first-round CFL selection," said Flory, who played 15 seasons in the CFL prior to beginning his coaching career with the Huskies. "I have no doubt he will have a long professional career. I doubt he will be back with us in 2021, even though he has eligibility remaining, as we assume he will be a Saskatchewan Roughrider at that point. Until then, as with all our players, we'll forge on and do our best to continue to develop our team over these tough times."
For his part, Riley is also refocusing on his development to prepare for what would be his first Roughriders training camp in 2021.
"Without there being a season, having all that time off will be tough," said Riley, who helped the Huskies win the Hardy Cup in 2018 and ended his Huskies career by being named a first-team All-Canadian in 2019, signifying the top 24 players in the country. "But I am looking forward to focusing on training and I think it is just going to be about setting up little milestones and really focusing on the reason why I am training."
In the meantime, he is enjoying working in the engineering field and spending more time with his wife Allison, celebrating their first anniversary earlier this year.
"It's been tough planning for the future with all the uncertainly surrounding COVID, because it's not just me, it's my wife too, who is affected," said Riley. "I imagine a lot of other CFL players feel the same frustration. Like a lot of people, because of COVID, we are just trying to figure out our plan as we go. But hopefully this time next year, I will be playing for the Roughriders."