The 22-year-old from Weyburn is working 12-hour shifts in Saskatoon's Jim Pattison Children's Hospital while taking her first year of the Master of Nursing program at the University of Saskatchewan (USask), all while training largely on her own for the promise of a post-pandemic resumption of Huskie hockey in 2021/22.
But for the four-time U Sports Academic All-Canadian (awarded for earning an average of more than 80 per cent while taking full course loads) the passion to play her fifth and final season of eligibility with the Huskie women's hockey team is worth the wait.
"It is definitely quite busy, but there is just something about finishing my fifth year as a Huskie that is a huge deal to me, and to be able to do that would be pretty special," said Bourassa, who graduated with her Bachelor of Nursing degree in June of 2020 before entering the master's program. "I am just really excited for next year—if we do have a season—getting back to the routine with my teammates.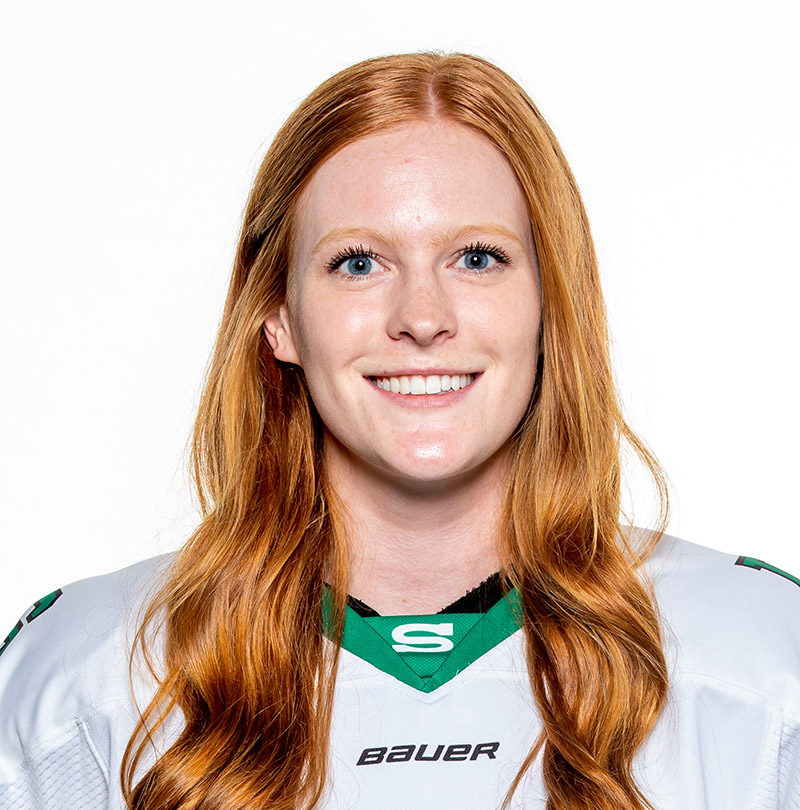 "One of the things that I miss most is just being able to go to the rink, between practices, or after practice or before practice, just hanging out with everyone at the rink. I really miss that."
In an interesting twist this year, Bourassa has indeed returned to the rink—USask's state-of-the-art Merlis Belsher Place—albeit in a new role as her hockey and health-care worlds collide. With Huskie Athletics on hold, the multipurpose facility was temporarily transformed by the Saskatchewan Health Authority into a potential field hospital, and now houses a mass immunization clinic during the ongoing pandemic. Swapping her hockey gear for personal protective equipment, Bourassa is helping deliver vaccinations as a registered nurse, in the home of the Huskies.
"They were looking for nurses to pick up shifts immunizing, so I picked up a few shifts at Merlis Belsher Place and it was mind-blowing to go in there and see what it looked like," said Bourassa. "The woman running the clinic while I was orientating asked if I needed a tour, and I said 'I don't really need one, this was my home before you guys moved in!'"
Playing her fourth season of Huskie hockey in the first year for Merlis Belsher Place in 2019/20 was the highlight of Bourassa's career so far. The 5-foot-8 forward led her team in scoring with 12 goals and 19 points in 28 games for the third-place Huskies (17-10-3-3) and was named a Canada West conference all-star for the first time.
"My last season was probably my favourite year as a Huskie athlete, and moving into Merlis Belsher Place was one of the most surreal experiences and one of the best things to happen as a Huskie," she said. "We just appreciate that building so much. And I just had a lot of confidence in my fourth year and I was really excited to keep that going into my fifth and final year. I felt like I was really missing out on something big here, so that is why I am determined to come back for my fifth year. I don't know how it is going to look, but I hope it is going to be a good one."
As she continues her graduate program studies and prepares for a hopeful return to the ice with the Huskies, Bourassa is also looking forward to the future, and a rewarding career in nursing. After spending the past year working with children, Bourassa knows she has found her calling in pediatrics.
"I love it at the Children's Hospital," said Bourassa. "I just feel so much more comfortable and confident as a nurse and I feel so much more independent than I was a year ago. There have been a few experiences that have really given me a different outlook on life. Seeing how those kids fight through some of the stuff that they go through, it is amazing to me. You see some kids at their worst, but when you actually nurse them back to health and see them doing better, that is truly something that I love to experience. I couldn't imagine working anywhere else right now."