It was the last time that a Huskie Athletics team played in an official game. Lishchynsky never imagined that it would also prove to be last time he would don a Huskie hockey jersey for the University of Saskatchewan (USask).           
"I never would have thought that would have been the end of it," said Lishchynsky, who had planned to play his fifth and final season of eligibility in 2020/21, before the season was cancelled due to the ongoing global health crisis. "I thought I would have one more year left, but it just goes to show you that you can't take anything for granted in life. It was disappointing, but you have no control over it, and there are obviously a lot worse things going on in the world than not being able to play hockey. So you have to be grateful for what you can still do, for the people in your life, and for the opportunities that you still have."

When the Huskies do finally return to action, Lishchynsky will be cheering them on with the other fans in the stands, rather than wearing the captain's 'C' on the ice, as he prepares to graduate this spring with a Bachelor of Science in Agribusiness.
"(2020/21) was going to be my last year of hockey no matter what, because I will be done school this spring and moving on to starting my career," said the 26-year-old defenceman from Saskatoon. "That's the good thing about this Ag degree is that you can go in different ways and go into different industries, so there's lots of possibilities."
While remote learning has proven to be more of a challenge as he completes his final year of studies online, Lishchynsky's academic average has remained in the same 75-80 per cent range that earned him Huskie All-Academic Team honours in each of his four seasons as a Huskie student-athlete. Always as dedicated in the classroom as he was on the ice, Lishchynsky takes pride in his academic achievements over the years and is looking forward to celebrating completing his USask degree.
"A lot of student-athletes have that dedication to put in the work, but it's nice to get that (All-Academic Team) recognition," he said. "It's an accomplishment that you are definitely proud of."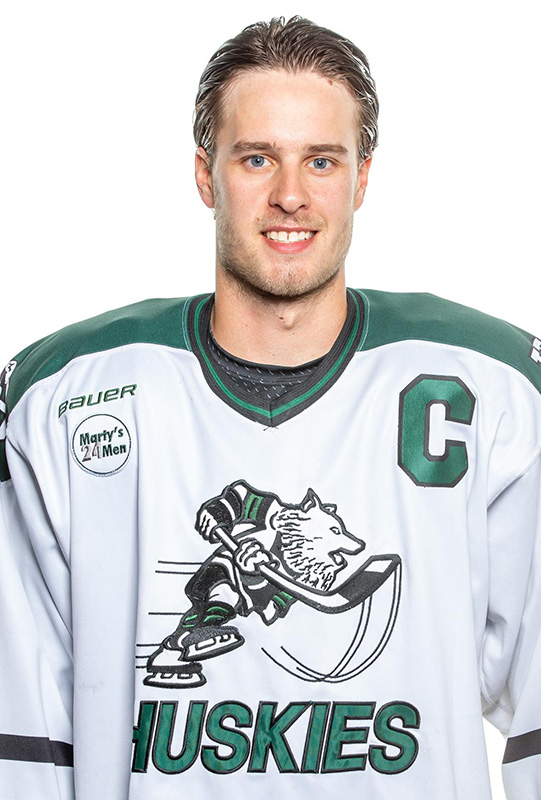 Lishchynsky is also honoured to have had the opportunity to compete in the U Sports championship every year of his Huskie career, highlighted by clinching his fourth trip to nationals when the Huskies won the 2020 Canada West conference title on home ice in front of a standing-room-only crowd at Merlis Belsher Place.
"That was pretty memorable," said Lishchynsky. "I had a great four years and I am really grateful for the opportunities that I have had and all of the people that I have met and how much the university and Huskie Athletics has set me up for life after hockey. I have a lot to be grateful for and a lot of great memories."
While his Huskies career comes to a close, Lishchynsky plans to remain involved in hockey. A former Huskie KidSport ambassador, Lishchynsky has been a long-time volunteer in the community, coaching youngsters in the Kinsmen Inner City Hockey League.
"I am going to try to keep involved in hockey, whether it is playing senior hockey or coaching and helping kids, I will be staying in the game for sure," said Lishchynsky. "I try to do as much as I can to give back to the community because I know how much hockey has given to me."