But perhaps the honour Maya Gabruch is most proud of is being named an Academic All-Canadian for the fourth straight year in her student-athlete career at the University of Saskatchewan (USask).
"Definitely for me, school comes first," said Gabruch, who led the Huskies women's soccer team in scoring with nine goals in 14 games in 2019 and posted an academic average of 90 per cent to help lead a record class of 178 outstanding Huskies athletes who earned All-Academic recognition in 2019/20. "I didn't come to university just for soccer, but it has definitely been a great bonus being able to play for the Huskies."
Unfortunately for the Huskies, the global pandemic in 2020 did something that Canada West opponents couldn't do in 2019—find a way to stop Gabruch from scoring. The decision to cancel university sports across the country left Gabruch facing the possibility of not playing her fifth and final year of Huskie soccer.
"I remember when it was first announced, we were kind of all in shock and so disappointed," said Gabruch, a 22-year-old striker from Saskatoon. "But now we have definitely had time to accept it, and everyone is hoping to all play together again next season. So we will see what happens."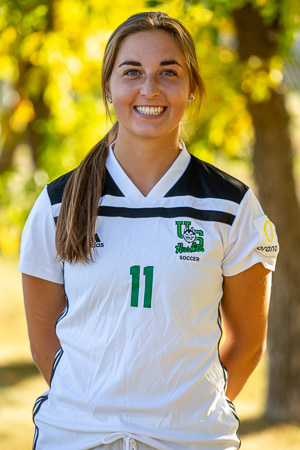 For Gabruch, playing that fifth season in the fall would create a whole new challenge. On track to graduate with her Bachelor of Science in Kinesiology in spring of 2021, Gabruch has applied to get into medical school in USask's College of Medicine in the fall of 2021. While she has proven more than capable of balancing academics and athletics and excelling in both, medical school would be a completely different challenge.
However, Gabruch has spoken with her coaches about ways to help her balance a difficult first year in medical school with a demanding training and competition schedule as an elite Huskie student-athlete.
"My coaches and I have talked about all of the options and they say that they would be very accommodating if I did get in and chose to do both," said Gabruch, who has written her Medical College Admission Test (MCAT) and expects to learn in February whether she will advance to the interview stage of the admission process. "It would definitely have to take a lot of compromise to make it work, but I would certainly like to try, if I get the opportunity."
In the meantime, Gabruch has relished the opportunity to spend some time training with her teammates once again, from limited outdoor practices in the fall to physically distanced indoor workouts with masks in small groups of student-athletes, as they work to stay sharp for the hopeful resumption of competition in the fall.
"The most difficult thing is not seeing my teammates, so it has been great to be able to get together, even in small groups, to train," she said. "It looks like pretty much everybody is going to be back, and we will also have the 2020 recruits and the 2021 recruits, so that will just make our team that much better."
Gabruch is one of five players with a fifth year of eligibility remaining, with all five hoping to play their final season.
"She is planning on playing her fifth year as of right now, so all has stayed status quo," said Huskies head coach Jerson Barandica-Hamilton, who is hoping to have Gabruch back to help build on the team's impressive 8-2-4 record in 2019. "She did write her MCAT back in late September … but she is focused on training and bettering herself for the immediate future and will decide once she has more certainty if she gets into medicine or not."
In the meantime, Gabruch is working on completing her kinesiology degree and continuing to prepare for a possible final season and potentially for medical school. But the one thing that is certain is just how much she has enjoyed being a Huskie student-athlete.
"I remember absolutely loving it in my first year and every year it has gotten better," she said. "It has been a great experience."