The University of Saskatchewan (USask) kinesiology student and Huskie football All-Canadian was selected second overall by the Saskatchewan Roughriders in the May 4 Canadian Football League (CFL) draft on a night he won't forget.
"It was just very exciting, and definitely a nice night with my family," said Lokombo, who was named the U Sports defensive player of the year in 2019. "I know fans in Sask are definitely going to be happy with a university kid staying in the province. So I am excited to get going."
Lokombo is one of four Huskies to be selected either first or second overall in the modern history of the CFL draft, joining Ben Heenan (first overall in 2012), Dylan Barker (first overall in 2008) and Dan Farthing (second overall in 1991).
Lokombo was the first of three Huskies drafted this year, along with offensive lineman Connor Berglof, a College of Arts and Science student selected in the third round by the Ottawa Redblacks, and safety Josh Hagerty, an Edwards School of Business student picked in the sixth round by the Toronto Argonauts.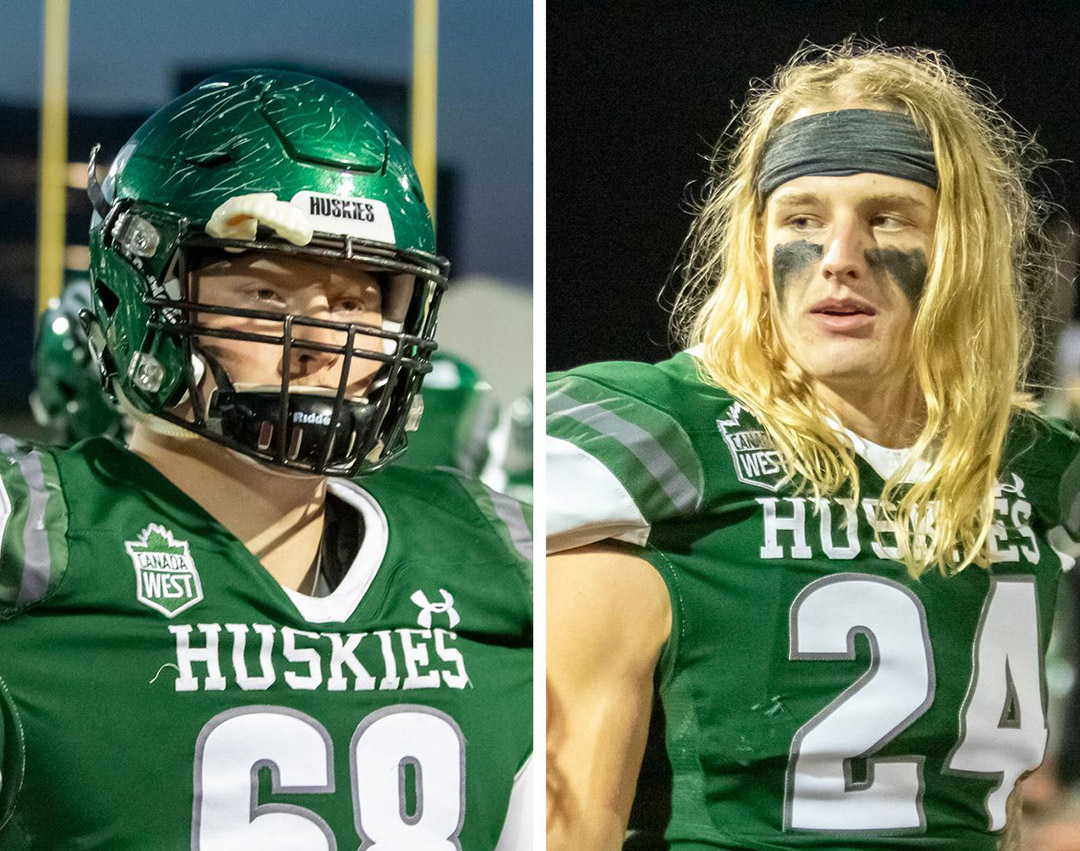 "Often we throw around a lot of superlatives about athletes, like tough, resilient and smart, but that absolutely does describe these guys. Having their 2020 season taken away from them and missing out on an opportunity to really shine has been tough," Huskies head coach Scott Flory stated. "These guys have fought through, they've battled. They are humble, hard-working, low maintenance guys and I'm so proud of how focused they've been."
Lokombo, who studied kinesiology remotely in 2020/21 while training at home in Abbotsford, B.C., set a Huskie record in 2019 by racking up 197 return yards on four interceptions, returning two for touchdowns. After the 2020 U Sports football season was cancelled due to the pandemic, Lokombo ran a 4.66 in the 40-yard dash in pre-draft testing this year and quickly began moving up the draft rankings.
"As the night approached, I had a feeling that (the Roughriders) were interested, so I am glad it worked out," he said.
Lokombo hopes to play professionally this season, while continuing to work towards his Bachelor of Kinesiology degree in the off-season. Looking back, Lokombo said he is happy that he decided to study at USask and suit up for the Huskies.
"I am definitely happy with my choice," said Lokombo. "As a high school player, deciding to come to Saskatchewan for university was definitely a great choice for me and I'm glad that it worked out this way."
While Lokombo said he would love to sign with Saskatchewan, his agent is also exploring free-agent opportunities for him in the National Football League.
"Signing is the next step, but right now I am kind of taking a few weeks off here and I am going to see what my agent says and we will see what the (Roughriders') contract looks like," he said.
When the CFL resumes—pandemic permitting—Lokombo is poised to join three other Huskie first-round draft picks with the Roughriders. Lokombo's teammate Mattland Riley, an offensive lineman, was drafted seventh overall by the Roughriders in 2020 and signed his first contract in January. Meanwhile, the Roughriders also signed free agent former Huskies offensive lineman Evan Johnson in February after playing three seasons with the Redblacks, who drafted him in the first round (ninth overall) in 2017.