As the international student prepares for the final competition of the season, the first-year member of the Huskie wrestling team has also been trying to raise money to bring his family to safety in Canada. In a recent call, Titorenko's father Alexander told him that the family home in Zhytomyr – 200 kilometres away from the capital of Kyiv – was destroyed by Russian bombing a week ago, with Russian attacks on civilian housing, schools and hospitals now being investigated as war crimes by the international community.

Titorenko's mother Ireina, and younger brother David and sister Anfasa have fled to Poland – among the 2.3 million refugees who left Ukraine since the start of the invasion, according to the United Nations – while his father has remained in Ukraine as part of the civilian defence force. For Titorenko, it has been heartbreaking being separated from his family at this time.

"For sure, it is really difficult to not be there with them," said Titorenko. "There are attacks everywhere. It's terrible."

While his father remains on the front lines overseas, Titorenko is fundraising through GoFundMe to try to bring the rest of the family to Canada, with Huskie Athletics supporting the family by holding a Wrestle For Ukraine fundraising clinic this Sunday at USask to help pay for legal and travel costs.

"People are supporting. I am thankful," said Titorenko, who arrived in Canada on Nov. 27 and is wrestling for the Huskies and studying business administration on scholarship at USask. "I don't know how much we will need to bring them here."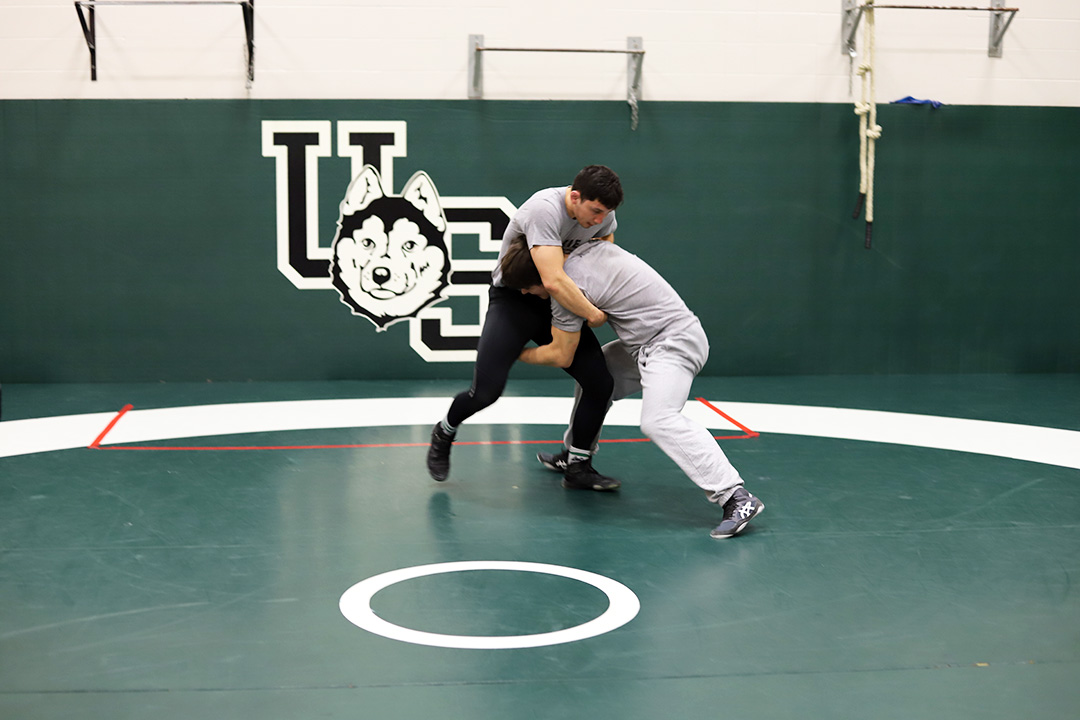 While he tries to support his family from afar, Titorenko is also trying to prepare for the season-ending Canada West conference wrestling championship – there are no nationals this year due to the pandemic – after qualifying to compete in the 76-kilogram weight class. While he has struggled with mentally preparing for the championship, Titorenko said he was encouraged by his father to complete the season and compete this weekend.

"It is very hard and I didn't want to compete, but my father said you must wrestle and show you are Ukrainian, you are powerful," said Titorenko, who first learned about USask when he trained with fellow Huskie wrestler Carson Lee two years ago in Ukraine when Lee was preparing to compete in the junior world championships overseas. "My father said, 'We are strong here and you have to be strong there.'"

Huskie wrestling coach Daniel Olver said his student-athletes and coaches, and others in Huskie Athletics are doing everything they can to help support Titorenko in training to compete, studying to complete his classes, and fundraising to reunite with his family.

"It is awful what is happening in Ukraine and this championship seems insignificant in the grand scheme of things, but that is what he can control right now and what is going to help him and his family down the road, showing that he is a community member in Saskatoon and at the University of Saskatchewan," said Olver. "That is what got him here and that is how he can best help his family right now."

The conference wrestling championships begin Saturday at the PAC at 10 am, with Huskies competing from 12:30-4 pm. On Sunday, the Wrestle for Ukraine fundraising clinic will start at the Education Building gymnasium at 12 noon.