Today, the outstanding student-athlete with the University of Saskatchewan (USask) Huskies is a rising track and field star who is preparing to compete for Canada in an international competition for the first time later this month. Remarkably, she has earned her spot on the national team without having taken part in Canadian university sports competition for two years due to injuries and the pandemic.

"Making the national team is something that a lot of athletes dream of doing and I have dreamed of it since I started doing track," said Ostertag, who will don Canada's colours to compete against future Olympians in the North American, Central American and Caribbean Athletics Association Combined Events Championship May 14-15 at the Terry Fox Athletics Facility in Ottawa. "Very few athletes get to that level, so it feels like an accomplishment for sure. And just being able to compete again after being injured for so long, it feels really good. And competing against athletes at that level will be a great experience."

Despite her lengthy layoff due to a lingering leg injury, Ostertag proved that she could race with some of the best young heptathlon athletes in the North America when she lined up against a field of top U.S. college competitors at the Bryan Clay Invitational in Azusa, California from April 13-16, clinching her spot on the Canadian team. The USask kinesiology student finished second out of 25 athletes in her division in the women's heptathlon by setting a new personal best of 5,443 points, including career-best performances in the long jump, shot put, javelin, 800 metres, and 100m hurdles.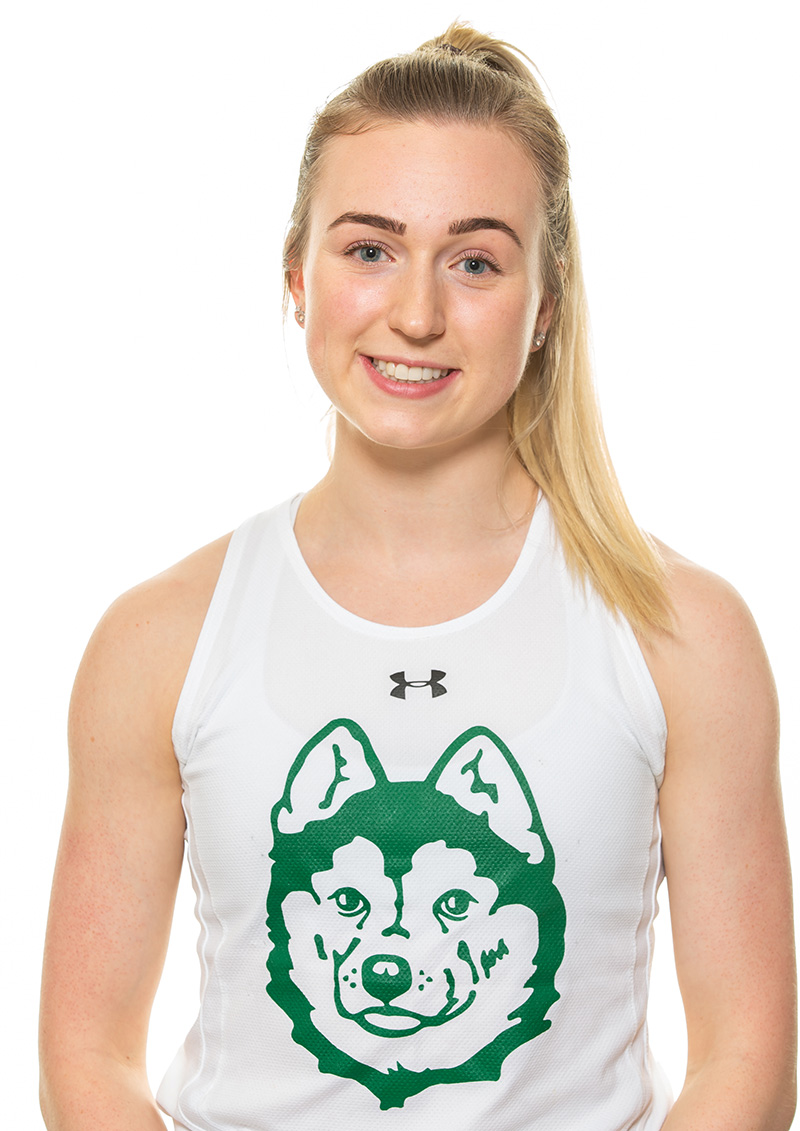 "I have had some issues with my lower leg and I didn't compete in the U Sports season this year because of it, so it has been a long haul to get here and I was finally healthy enough to compete and we kind of surprised ourselves with the results and it ended up qualifying me for the national team," said Ostertag, who earned a bronze medal in pentathlon in her rookie season and a silver in her second year at the national track and field championships, but did not compete in the last two U Sports seasons.

If competing for the first time after a long layout wasn't enough, Ostertag did it while also writing three final exams remotely from California, where she took part in elite spring track events in the month of April.

"I just finished my last exam (on April 26) so it has been interesting trying to write my exams down here in California while I have been training and competing and trying to balance it all," said Ostertag, who in addition to making the national team while south of the border also learned that she had earned her first perfect grade of 100 per cent in one of her kinesiology classes.

Of course, excelling in athletics and academics is nothing new for the four-time Academic All-Canadian (awarded to U Sports student-athletes who earn a minimum of 80 per cent in their classes while completing a full course load). In fact, Ostertag has been one of the top students in the College of Kinesiology throughout her time at USask, earning the college's undergraduate academic award as the top student in her third year of study with an impressive average of 96 per cent, and has followed that up with a 95 per cent average in the 2021/22 fall and winter terms.

"I've always had this drive to be the absolute best I can be in everything I do, so with school I go into every class with the goal of finishing with 100 per cent and I really push myself to do the absolute best I can, and that's the same thing with my training for track, too," said Ostertag, who is on pace to complete her Bachelor of Science in Kinesiology in spring of 2023. "It is a challenge to balance both (academics and athletics) and there are definitely some sacrifices that I have to make, but it is worth it."

Ostertag knows all about making sacrifices, after leaving home at a young age to pursue her passion for ballet for four years at top ballet schools from Calgary to Toronto to New York to Philadelphia, before deciding to return home to Saskatoon for her final year of high school.

"I had kind of reached a point where I knew I would have to choose between auditioning for ballet companies and going all in with ballet as a career, versus going to university and getting a degree," she said. "And I just knew that I was academically inclined, and university is something that I wanted to do, and my passion for ballet had kind of fizzled out. It was also hard being away from home at that age. I left home when I was 13, 14, so it was difficult being away from my family because we are very close. Not having that support through my ballet training and trying to balance school and being away from home, that was very tough."

After returning to Saskatoon for Grade 12, Ostertag played basketball at Holy Cross High School, and then tried track and field in the spring with instant success by winning a provincial gold medal in high jump and a bronze in hurdles, opening the door to her Huskie career. Now, she is following in the footsteps of her parents Dave and Lesia, both former Huskie student-athletes who also competed internationally for Canada in track and field, while her brothers Evan and Daniel both excelled in Huskie basketball.

"It was definitely a surprise when I decided to come home and completely switch gears into track," she said. "My family didn't expect that, but it was an easy transition for me, having their support, because they have all been through the student-athlete experience. And now it has ended up being a very large part of my life, so it is interesting how that happened."

Now as she prepares for her first national team competition, Ostertag is hoping this is the first step towards a new goal: no longer dancing on Broadway, but competing in the Olympics.

"That is the dream," said Ostertag, who still has three years of eligibility as a Huskie student-athlete. "I have a lot of work to do to get there first, but that would be the ultimate goal."
HUSKIE HIGHLIGHTS:
Three Huskie football players were picked in the May 3 Canadian Football League draft. Defensive lineman Nathan Cherry (third overall), offensive lineman Noah Zerr (12th overall), and defensive lineman Riley Pickett (41st overall) were all selected by the B.C. Lions. Zerr has also accepted a free-agent invitation to attend rookie mini-camp with the National Football League's New York Giants … Huskies star running back Adam Machart announced his retirement from football just days before the CFL draft. Machart was a two-time U Sports All-Canadian and set a record for most rushing yards (1,330) in a single season … Huskies spring football camp runs May 5-8 at Griffiths Stadium, kicking off following the return of the Dogs' Breakfast after a two-year hiatus due to the pandemic … Huskie men's basketball player Nervens Demonsthene was selected fifth overall by the Ottawa Blackjacks on April 19 in the 2022 Canadian Elite Basketball League U Sports Draft, after helping lead USask to the national final this season. The 6-foot-2 guard suited up for the Saskatchewan Rattlers last summer after being drafted first overall … Four Huskies will compete in the 2022 U Sports East-West Bowl, featuring the top university football players in the country. Huskies defensive back Charlie Ringland, running back Josh Ewanchyna, receiver Daniel Perry and defensive end Connor Delahey with suit up May 7 in Hamilton, Ont. Former Huskies coach Brian Towriss will lead Team West … Four members of the Huskie women's soccer team have signed on to play semipro soccer this summer in League 1 Ontario: goalkeeper Jadyn Steinhauer (London TFC), midfielder Taneil Gay (London), defender Hannah Zdunich-Costa (North Mississauga Panthers), and defender Kalli Cowles (Oakville Blue Devils).