The third-year running back is coming off back-to-back trips to the Vanier Cup national final and back-to-back-to-back awards as a three-time Academic All-Canadian as he continues to excel in the classroom and on the field for the University of Saskatchewan (USask) Huskies. Frank has become a conference all-star while also sporting an academic average that reached 97 per cent at one point, and currently leads the Huskies with 487 all-purpose yards (rushing, receiving and returning) while trying to help lead USask back to a third straight Vanier Cup national championship game.

"We have a lot of talent on our team and I definitely think we have what it takes," said Frank, who is coming off a monster 202-yard game that included a record-setting 105-yard kickoff return touchdown to help the Huskies knock off the previously undefeated UBC Thunderbirds 34-31 in a thriller at Griffiths Stadium on Sept. 29 to improve to 4-1 on the season. "Definitely, the goal every year is to win the Vanier Cup. Unfortunately we haven't been able to seal the deal yet, but hopefully this is the year."

Coming off an all-star season in the Canada West conference and sporting an academic average in the 90s in his engineering classes, Frank is one of the keys to the Huskies' offence on the field and a role model as a student-athlete for younger players in the locker room.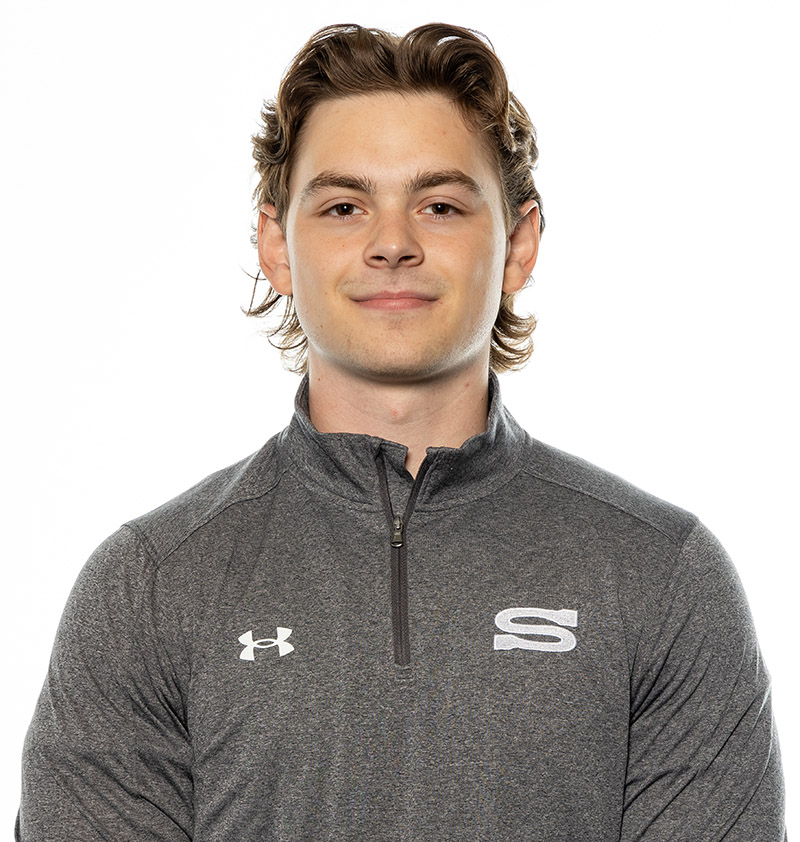 "My philosophy is whatever I am doing, I am going to give it my all, in both football and engineering, as the paths that I want to go down," said Frank. "I have found two things that I love and they are definitely both very important for me. I think for the most part it comes down to mindset. There are going to be times where you have to put your head down and grind, in practice and in class, and you have to embrace that and just put the work in."

For Huskies head coach Scott Flory, Frank is the ideal student-athlete, an award-winner in his courses and one of the horses that make the Huskies' offence run.

"We've got a lot of really good student-athletes on our football team, but with Ryker, it's just how exceptional he is at the student part and the athlete part," said Flory. "Carrying his 90-plus average in the College of Engineering is pretty remarkable. I have been through that college and it's not easy and it's a pretty select few who can maintain that kind of academic workload and academic success at the same time, and then obviously being able to balance that with excelling on the football field as well. He has embraced any role that we have given him, and he has done it with a smile on his face, not only on offence, but on special teams. And he would play defence if we asked him to, too."

Frankly speaking, Frank's commitment to both athletics and academics and dedication to hard work comes naturally, with his mother Deborah and sister Hana both engineers and his father Harry a heavy equipment operator.

"I always knew I was going to be an engineer," said Frank. "Just growing up, I have always built things with my dad and I have always been trying to invent things and in the past few years I have got into 3D printing and that sort of thing, so I have always been interested in building things. And mechanical engineering is a pretty broad field where I can explore all of that stuff."

Frank has felt right at home in the college despite the difficult demands of balancing courses with daily practices and weight training sessions, and weekend games with homework assignments. One of 122 Huskies honoured on Wednesday as Academic All-Canadians in 2022/23 (for posting an academic average of 80 per cent or better while completing a full course load), and one of 27 Huskie student-athletes who hold remarkable academic averages of better than 90 per cent, Frank recently sat down with a couple of younger teammates to offer advice on how to balance classes and passes, textbooks and tackles.

"We have a couple of young engineers on the team and one piece of advice that I gave them is you have to become efficient at studying because the whole thing with engineering is you have to put in the work," he said. "But I found if you are really honest with yourself, you can become efficient with study time and that opens up hours in the day that you can also focus on football and focus on the gym. So time management is important."

Despite the demands on his time, Frank also continues to commit to volunteering in the community, earning the Canada West conference Student-Athlete Community Service Award last season.

"I did a little bit of community service work in high school and then joining the Huskies our team is so involved with the community," said Frank. "We host a bunch of football camps for high school kids and (Saskatoon Minor Football) players, so I was lucky to be able to get involved in a lot of those camps and just help out. I even came to some of these Huskie camps when I was young, so I know what it is like to look up to these players and now I am in that role, and it is a good feeling. I have to give credit to our team. Our team as a whole is just really involved in our community here."

That community commitment is also a reflection of how close the Huskies are on and off the field, a camaraderie that has helped carry them to back-to-back Vanier Cups. Frank played a key role in the Huskies' run last year, racking up 757 total yards and five touchdowns in six games while sharing the ball with fellow running back Ted Kubongo after veteran Josh Ewanchyna went down with an injury in the first game of the season. With Ewanchyna now back, the Huskies' have a three-headed monster in the backfield that they can unleash on unsuspecting opponents.

"I wouldn't want to be a defensive player watching film because you have to prepare for all the styles that we present," said Frank. "You figure how to stop one of us and the other comes in and does something completely different. We all definitely have the ability to be starters, so it is good to give us all reps and share the duties. We get the job done in different ways and that is just a testament to our team and what we can do out there. I remember last year I would be so beat up and so sore, but my body is really fresh this year, so sharing the reps is really going to help us all."

Successfully recruiting Frank out of high school in Regina has given the Huskies as much depth at running back as any team in the country. And while he had plenty of offers from universities across the country, Frank knows he made the right decision heading to Saskatoon to study at USask and suit up for the Huskies.
"Looking back, it was definitely one of the best decisions that I have ever made," said Frank, whose Huskies are idle this weekend and return to action on Oct. 14 in Edmonton against the Alberta Golden Bears. "I definitely have found the best group of friends I could ever imagine here, great teammates, and great coaches."

Now in his third year of eligibility, Frank will be eligible for the CFL draft next year, and will likely draw interest from professional scouts. But Frank remains firmly focused on the task at hand: earning his engineering degree while helping the Huskies chase a national title.

"If I got the opportunity to take football further in the future, I would definitely explore that," said Frank. "But right now, I am just concentrating on my football season and my education, concentrating on my engineering classes. And we will see what happens in the future. We have high standards and we definitely have high expectations for our team and it will be exciting to see what we can accomplish this season."