As they begin the second half of the 2022/23 season, Huskies Chief Athletics Officer Shannon Chinn believes there are more memorable highlights and headlines ahead.

"It was remarkable what coach Scott Flory and our Huskies football team accomplished this season, and to say I am proud is an understatement," said Chinn, who made the trek east to watch the University of Saskatchewan (USask) Huskies football team advance all the way to the nationally televised championship game before dropping a heartbreaking 30-24 decision to the Laval Rouge et Or in the 57th Vanier Cup on Nov. 26.

"Obviously it wasn't the outcome anyone wanted, but they had a fantastic season and it was great to see Huskie fans support the team. Now, we just need to get a couple of teams on a winning streak in the second half and host some playoff games and get to a couple more national championships."

Historically one of the top athletic programs in the country, the Huskies brand helps bring national attention to USask. Last season, eight of the 15 Huskie teams advanced to Canadian university championships and Chinn is looking forward to more teams following in the footsteps of the football squad in 2023.

Two of the biggest events on the sports calendar this term will take place right on campus at USask, where the Huskies track and field teams – guided by head coach Jason Reindl – will host the Canada West conference championships Feb. 24-25 and the national championships March 9-11 at the Saskatoon Field House. The two competitions will help showcase the Huskies' powerhouse programs, with the women's track and field squad winners of four straight conference titles and finishing second at nationals last year, while the men's team placed second in Canada West and third at nationals.

"This will be a great opportunity for our track and field program," said Chinn. "Track and field has not always received the same attention as other sports because they don't have as many Canada West competitions as other teams, so they always seem a little bit removed. This is an opportunity for everybody to get to know our wonderful track and field athletes and coaches, so it is a really exciting this year."

Meanwhile, the Huskies' heralded wrestling teams – led by coach Daniel Olver – will be looking to impress again this season after both the men's and women's squads placed second in the Canada West championships last year, before the national competition was cancelled. The Huskies women's squad is currently ranked second in the country and the men ranked fourth, with the Canada West championships scheduled for Feb. 11, followed by nationals Feb. 24-25.

"They are both ranked very high for sure and Daniel has done a phenomenal job of growing wrestling in the community and being a part of the community," said Chinn.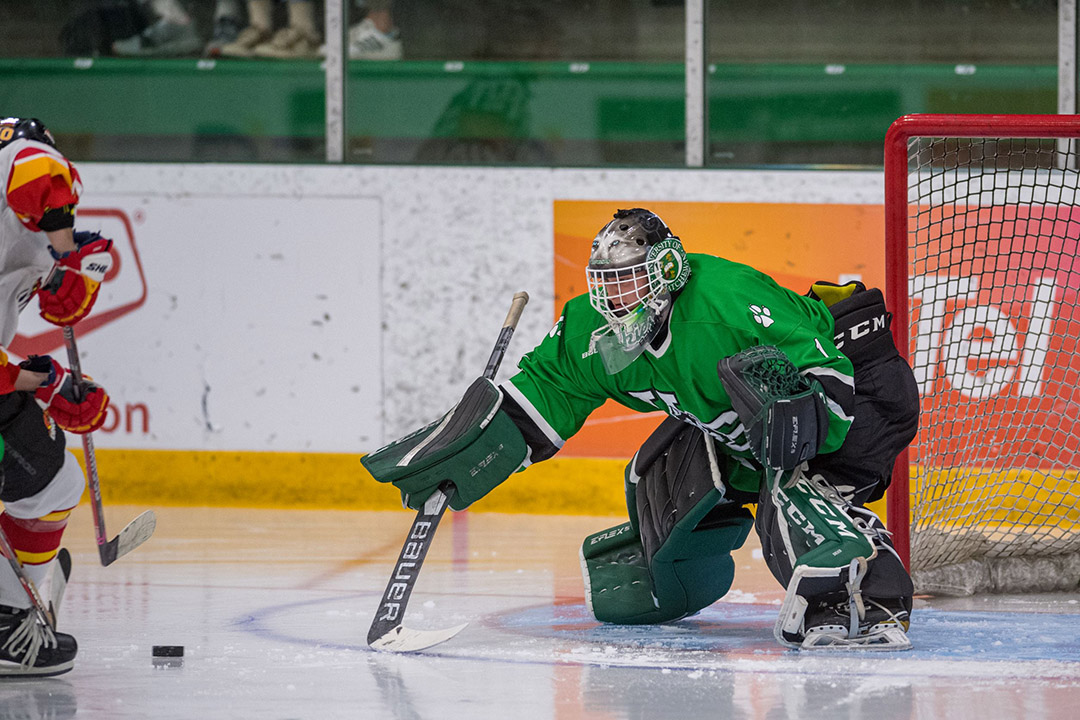 The Huskies' hockey programs have also long been a staple of the local sports scene, and bolstered that community connection over the holiday break when USask's men's hockey team hosted the Ukrainian national team at Merlis Belsher Place on Dec. 30. The game was part of the Hockey Can't Stop Tour, with all profits from the game going to Ukrainian refugees and communities affected by the war and to Ukrainian grassroots organizations across Canada.

The Huskie teams now return their focus to Canada West competition as the season resumes this weekend with the USask men's team (10-4-4) and women's squad (10-5-3) both in top-four playoff positions. The Huskie women's team is hoping to return to the national championships after finishing third last year, with the men's squad hoping to get back to nationals under new head coach Brandin Cote, who has taken over from former Olympic and Stanley Cup-winning coach Mike Babcock.

"I think we are going to see a big surge from both of those teams because both of those playoff races are very close and both of our teams want to host home playoff games," said Chinn. "So, they are very focused for the second half."

Meanwhile, the Huskies basketball programs are in a rebuilding year after both teams graduated the bulk of their all-star starters after advancing to nationals last year. After finishing second in the country, the Huskie men have struggled to a 1-7 start under new head coach Jamie Campbell, while the young women's squad has quickly reloaded under former Olympic coach Lisa Thomaidis to start the season 6-2 and are now back in the national rankings at No.7.

"It is always tough when you make it to nationals and graduate your top players," said Chinn. "But Lisa always finds those up-and-coming players and her coaching style and her ability with her staff to get those girls prepared is evident and they are really starting to shine and I think we are going to see some big wins from them in the new year.

"Unfortunately in the men's program, our new coach was hired a little late so Jamie didn't get a chance to complete a full off-season of recruiting and we have had a couple of season-ending injuries with a couple of starters. So, that has hurt, especially after losing a couple of our top players who moved on after going to nationals last year. But I am anxious to see how Jamie continues to build the program and the culture."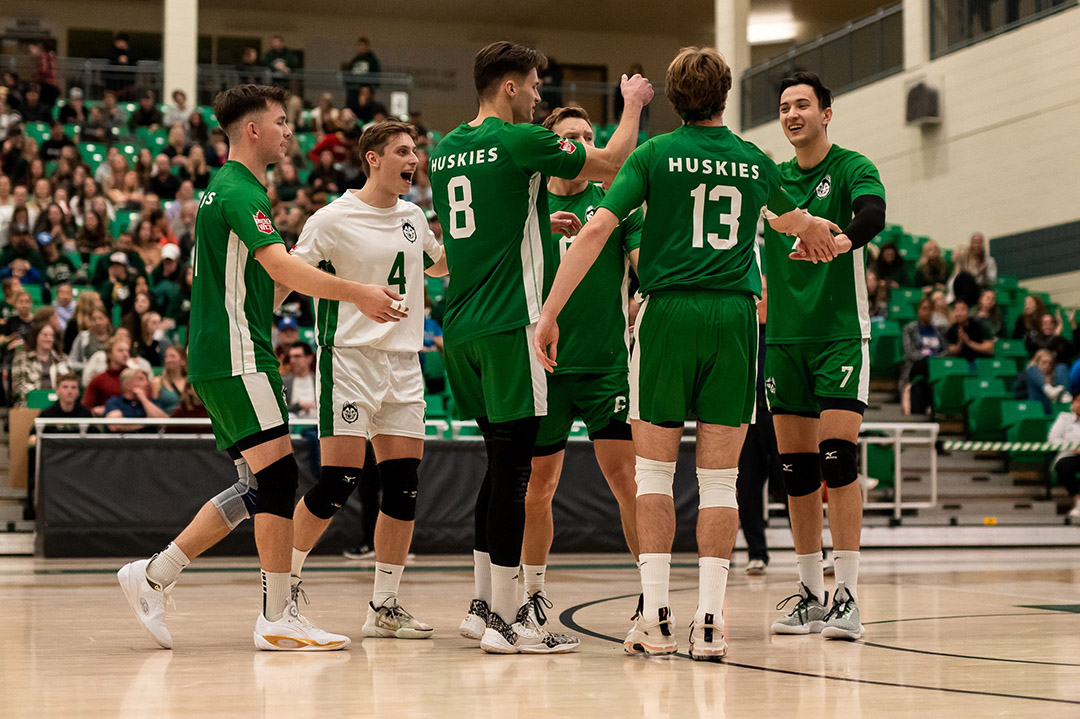 Over on the volleyball court, the Huskies men's team is turning heads with an 8-4 record and are currently ranked eighth in the country, while the women's team is in a tight playoff fight at 6-6 in the always-competitive Canada West conference.

"That men's volleyball team is playing incredible and they have a lot of power and look really, really strong, so it is really nice to see them banding together as a team and having success," said Chinn. "And the parity in women's volleyball is amazing. They have had so many matches go to five games, so it is really close and our women's volleyball team is right in the mix, too."

In addition to chasing conference and national titles, USask teams are also hoping to top their provincial rivals from the University of Regina in the first year of the new U-Prairie Challenge. The Huskies currently lead the head-to-head competition – 5.75 to 2.25 in points – with the series finale set for Feb. 5 when the Huskies host the Cougars in women's hockey at Merlis Belsher Place.

"It has been an exciting new competition for us and it is helping elevate both of the university athletic programs in the province," said Chinn.

The Huskies' success on the field and the track, and on the ice and the court, has also been matched once again by student-athlete achievement in the classroom this season. In October, the Huskies celebrated 114 student-athletes from 11 colleges who have achieved Academic All-Canadian status for having earned an average of 80 per cent or better while taking a full course load over the previous academic year.

"I think it really is a testament to our coaches," said Chinn. "They value holistic athletes and they value education and academics. They know our student-athletes are only here for four or five years and our coaches are invested in who those student-athletes are going to be when they leave here, and academics is a big part of that. The amount of hours that our student-athletes are putting in with classes and competition and in the community – with Ronald McDonald House, with Dream Brokers, KidSport, with different programs like that – is phenomenal."