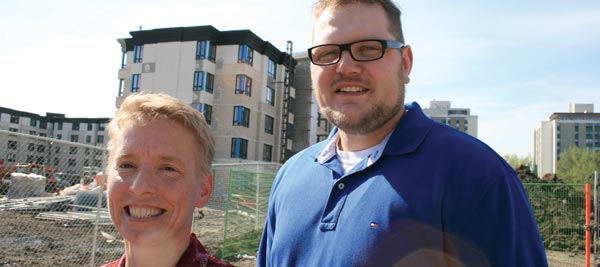 A total of 272 new beds in College Quarter have been added to the residence inventory for the fall with more to come in 2012. "We're in the process of sending out offers to students who have applied for residence," said Sylvia Cholodnuik, residence manager, "and having the new beds is going to be wonderful. It's very exciting."

When check-in day arrives Aug. 31, students will be moving into Spruce Hall and part of Aspen Hall, two of the four buildings that will make up the College Quarter residence complex. Birch and Pine Halls are currently under construction. When the rest of Aspen Hall opens in January, the number of new beds will total 400.

Cholodnuik said the majority of students will be moving into four-bedroom, two-bathroom furnished suites that include a kitchen and living room. The buildings will also provide 30 spaces for students with disabilities. Each of the five-storey residence halls has a number of lounge and study areas, laundry facilities and a limited amount of storage available to students. Other amenities like beverage machines will be added "but right now, the big push is to get the buildings ready and open," she said. "Things like drink machines will come."

The College Quarter buildings will accommodate both first-year and upper-year students, and Cholodnuik said the goal is to also create a mix of international and Canadian students to enrich residence life for all. Plans are also taking shape to enhance student life programming to support students who are often living away from home for the first time.

Mark Chambury, the assistant residence manager, said student life programming is offered in a variety of formats and is designed to help students develop skills like cooking, budgeting and even cleaning. "That's where we're focusing," he said, "on helping with that transition to independent living." Additional programming will provide students with tutoring and other academic support. "It's about building community," he said. "The stronger a community the better the experience is for students while they're here and the more affinity they feel when they leave the university."

With the additional residence inventory and with more to come, Cholodnuik said the residence office has had to upgrade its computer system and is creating a more streamlined application process. For 2011-12, undergrads wanting a residence spot had to submit individual applications, and the requisite fees, for Seager Wheeler, Voyageur Place and College Quarter accommodation. Under the new system, students will only have to complete one application that will include all the various housing options.

"With these new buildings comes the need for organizational restructuring (in the residence office) and rethinking what we're doing to ensure we're providing the best possible services for students," said Chambury. A seamless application procedure, a single card swipe check-in and an updated website to ensure that at the first point of contact students "get the information they need" are part of the effort "to alleviate the stress for students and parents," he said. "It all sets the tone for the rest of the year, and what we're doing is going to grow and evolve."

The four new undergraduate residence halls are only part of the ongoing development in College Quarter. Cholodnuik said landscape architects are working on the green spaces that surround the residences, there are plans for an amenities building to support residence life and future housing for students with families "is on our radar."

To address the need for graduate student housing, "plans for a graduate residence within College Quarter are also progressing and we expect to see some construction activity this spring," said Greg Fowler, direction of the Consumer Services Division. "A graduate residence is a critical part of attracting and retaining top graduate students, and the vision for this project is founded on principles of academic excellence and diversity."

With the addition of over 1,000 new beds for both graduate and undergraduate students, the percentage of the student population that  can be housed on campus at the U of S will approach 11 per cent, Fowler said, with the goal of eventually reaching 15 per cent.