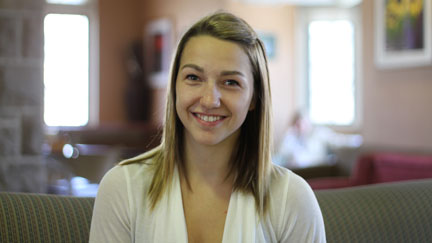 For Katie Dutchak, that meant re-establishing the U of S rodeo team so she and her trusty steed could compete at the intercollegiate level.

"There was a rodeo club at the university, but it disappeared a number of years ago," explained Dutchak. "Then, back in January I got a call from Shelby Clemens, a student in agriculture, and she asked if I wanted to help get a team started again."

Dutchak did, so the two of them—who knew each other from high school rodeos—decided to re-launch the team and organize a rodeo for September 22. "We were both surprised that this team didn't already exist at the university level since the high school competition in Saskatchewan is so strong. Not many people know about it yet because we just got it going, but I think it will really take off once we actually have the rodeo."

In order to hold the rodeo, Clemens and Dutchak—president and vice-president of the club, respectively—needed to secure membership in the Canadian Intercollegiate Rodeo Association (CIRA). This allows the U of S team to compete with Olds College and Vermillion College at future events. Vermillion has already confirmed their attendance at the U of S rodeo.

Next steps include roping in some teammates and sponsors, said Dutchak who just completed her first year in the College of Arts and Science. "We've been getting word out and recruiting other members. Right now we have about two or three guys and eight to nine girls able to compete in the fall on the team. We've had as many as 25 people come to meetings though, so there is definitely interest."

Dutchak and Clemens are now looking to secure sponsorship for the September event which will be held at the OK Corral in Martensville, Sask. "The event will follow standard rodeo format, consisting of 10 events including bull riding, barrel racing and calf roping, and will follow CIRA rules, conditions and regulations about animal treatment."

Because the team is part of the Stockman's Club in the College of Agriculture and Bioresources, members will also have the opportunity to take part in collegiate competitions as part of the judging team and range team in addition to the rode team.

"We have an amazing agriculture college, so this is a natural fit," said Dutchak. "It is 100 per cent run by students, so we are getting to learn about promotion, marketing and event planning. We are really excited about it."