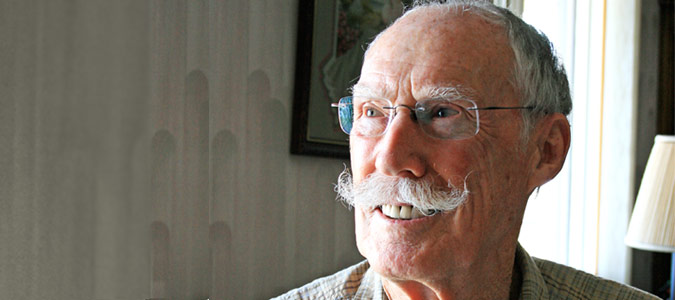 Martin is a true example of life-long learning. On June 5, the 82-year-old will walk across the stage during spring convocation to receive his Bachelor of Science honours degree in land use and environmental studies.
It is Martin's first university degree, and it is the culmination of nine years of work. Although he has enjoyed his studies, he admits there were times when he wondered "how in the world did I get myself into this? But once you start something, you pretty near have to finish it, don't you?"
Like many other students who will take part in convocation, he can summarize his feelings with one word: "Nervous."
"We've been teasing him about tripping over his gown," his wife, Jean, said with a laugh.
Martin enrolled at the U of S when he and Jean moved to Saskatoon after their son took over their Kindersley-area farm. Although Martin is pleased with their Saskatoon home, which has a great view of the South Saskatchewan River, he wanted to get out of the house and take on a new challenge. "I wasn't quite ready to put my feet up and spend the rest of my life looking out the window."
He decided to take a couple of classes at the U of S and from there, the experience "just sort of grew."
Martin, who continues to be involved with the family farm, chose to take land use and environmental studies through the College of Arts and Science, and he can recall some busy times when he was required to focus on farming and his university courses at the same time.
"Last fall wasn't so bad. We were through harvest, I think, in early October. But the two previous years we weren't due to finish harvest until into November, and finals come about the 10th of December," he said.
In some of his classes, Martin tried to dispel the myths he said some students held about farmers, such as that they are trying to "conquer nature. I don't keep my mouth shut. We don't try to conquer nature; we work with nature. I think we're very conscious of the environment," pointing to all the trees his family has planted over the years.
In addition to science and math classes, Martin also studied subjects from the social sciences and humanities, such as philosophy, anthropology and English. English 110 was his favourite class, and he admitted to having some struggles with linear algebra. Overall, Martin enjoyed his courses, as well as the 20-minute walk from his home in the Broadway area to the
U of S campus.
Martin has some advice for students who are starting university: stay on top of the homework from the beginning of the semester and don't fall behind.
"Start off learning everything right from the start, which I didn't do. I always said, 'Oh, I'll get this later on.' Well, all of a sudden it's exams coming up and I don't remember this stuff from the start."
Martin said his family, who are excited about his accomplishments, offered him encouragement along the way. Many of them could relate to his experiences, since all of his children attended university and four of them have at least one degree.
When asked if he would recommend that other retired people take classes, he replied, "I'd certainly think so, but everybody has different ambitions in life."
Martin, however, does not intend to stop with one degree; he is considering enrolling in additional undergraduate courses in the fall or applying for a master's degree program.
He speaks highly of the "beautiful" U of S campus and the "very interesting people" he has met throughout the course of his studies.
"It's been wonderful. I appreciated all the help—not only from the faculty but from the students, as well, and my family."
Shannon Boklaschuk is a communications co-ordinator in the Students and Enrolment Services Division