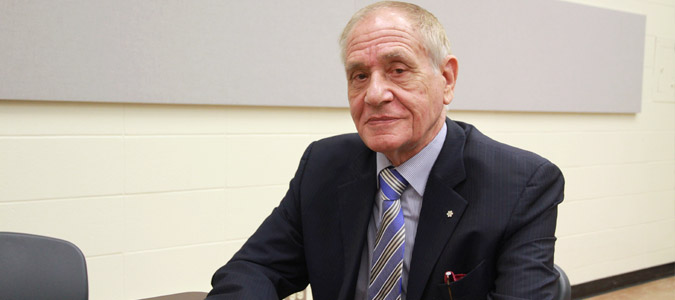 Architect Douglas Cardinal was at the event to share with the public how the centre will provide the necessary amenities and resources for Aboriginal students, while serving as a central space where all U of S students, staff and faculty can gather and learn from one another.

"The important thing is to have a presence architecturally for First Nations people on the campus, given there are many First Nations students here and in the future even more because of population trends," said Cardinal. "To me, this is an amazing opportunity to bring the president's (Peter MacKinnon) dream into reality because it takes a great deal of forward thinking to recognize the First Nations have a rightful place in society and a rightful place in all of our institutions."

Cardinal, who is of Métis and Blackfoot heritage, is a forerunner of philosophies of sustainability, green buildings and ecological design in community planning. His architecture springs from his observations of nature and his understanding that everything works seamlessly together.

He has designed a number of notable buildings including the Canadian Museum of Civilization in Gatineau, Quebec, the First Nations University of Canada in Regina and the Smithsonian's National Museum of the American Indian in Washington, D.C.

Cardinal shared the design theory, site plans and consultation process that will provide the U of S community with a state-of–the–art facility for lectures, celebrations and presentations as a way of promoting Indigenous culture.

The Gordon Oakes-Red Bear Student Centre will be built in Wiggins Court between the Arts Tower and the Murray Library. Its 1,884 square metres will house both the Indigenous Students' Council and the Aboriginal Students' Centre with additional space for learning and ceremonies.

When completed, the centre will be "a vibrant inclusive gathering place for all," said U of S President Peter MacKinnon.

Plans for the centre include tunnels connecting it to the Arts Building and a new link to the Health Sciences building.

The initiative was first considered in 1998 when NOVA Chemicals made a $1-million donation to the university specifically for Aboriginal student space. In 2006, the board approved hiring consultants to proceed with the design of the centre, and Douglas Cardinal Architect Inc. was chosen.

The design Cardinal produced for the U of S was described by the president as "a stunning piece of Aboriginal architecture."

While the centre will be a celebration of Aboriginal culture and history, the president said the centre "will also be a place that encourages Aboriginal students to think of the University of Saskatchewan as their university too."

The building in named for the late Gordon Oakes (Red Bear) was born in 1932 in the Cypress Hills on what is now called the Nekaneet First Nation. Throughout his life, he was a spiritual and political leader within his community and across the province.

Construction on the centre is expected to begin in the fall.