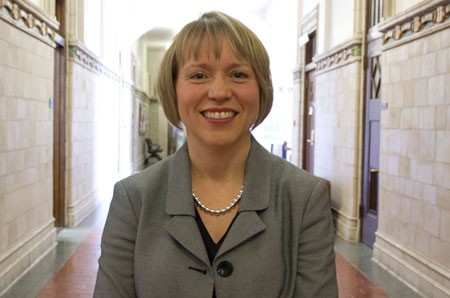 In just her first month as the new university secretary, Williamson provided administrative support to meetings of the General Academic Assembly (GAA), University Council, University Senate and the Board of Governors. "That's all four of the major meetings," she said with a smile. "I started April 8 and the GAA was day three for me."

Having survived the crash course in university governance, Williamson is settling in to learn all she can about how the U of S operates and her role as secretary. "I don't have work experience at the university so I expect the learning curve to cycle through a whole year."

As secretary, Williamson's job is varied, from the meeting support she has already experienced to participation at convocation ceremonies, oversight of Council and Senate elections, and administration of student academic, student non-academic and faculty appeals. She also has administrative oversight of audit services.

When asked what drew her to the job, she laughed. "It was advertised in the paper, and I applied."

Born into a large family in Outlook where her father was a physician, Williamson is a graduate of Aden Bowman Collegiate in Saskatoon. She spent a year overseas in bible school before enrolling at the U of S and earning a commerce degree in 1987. She gave up her effort to become a chartered accountant in favour of a work visa in Australia. Upon her return, Williamson enrolled at the University of British Colombia where she graduated with a law degree in 1992.

Williamson spent her articling year in Toronto before taking a position with the law firm MacPherson Leslie and Tyerman in Saskatoon. After that, she eventually moved to Cameco where, as in-house counsel, she worked directly with its board.

"What I really liked was seeing decisions being formulated," she said, "seeing high-level decision makers from different backgrounds and how they approached issues, challenged management, or didn't, and how it all came together. It was a very good learning experience."

After more than 12 years with Cameco, Williamson felt it was time for a change and, with an interest in the social sector, was attracted to the idea of moving to a non-profit, an organization more focused on its contribution to the province. "Corporations do that as well," she added, "but it's not their main focus. I was looking for a change, but I still want to bring something to the table."

And what she brings to the table, she said, are analytical and writing skills along with the ability to break down issues, to get to the root of the problem, "all complemented by my experience as a lawyer. When people work with me, they're not terribly surprised to learn I'm a lawyer."

While Williamson admitted she does not yet know what her biggest challenge as secretary will be, she has identified a couple of areas where her particular skill set could be brought to bear. One is clear communication in all aspects of her office's mandate.

"In an academic environment, we may have the tendency to over-complicate things and if what we're telling people is not understood as we've meant it to be, that's our mistake."

She also sees Senate "as an opportunity we may not be capitalizing on the way we could.This is a group of people who are volunteering, who are putting their names forward, coming to meet with us and saying, 'how can we help?'." Williamson wants to explore how to better use this important conduit for information to communities the university serves.

Williamson added one other observation, and it was that her predecessor, Lea Pennock, "developed this office into a really well-oiled machine. The staff is knowledgeable and extremely capable," she said, "and the office has a lot of respect throughout the community. That's really helpful."