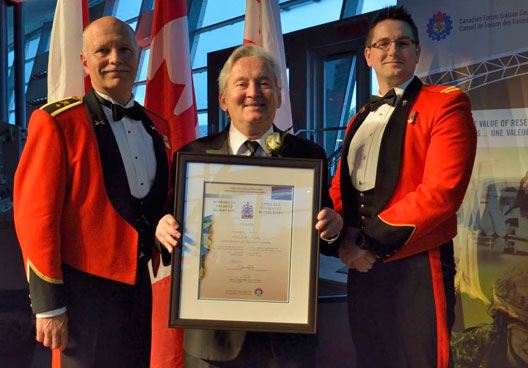 At a ceremony held at the Canadian War Museum in Ottawa, the college was presented with the Special Award for Support to Student Reservists, the result of a nomination by Captain Luke Coupal of the 38 Signal Regiment, 4 Squadron Saskatoon and a law student since 2009. A 10-year reservist, Coupal said the people in college helped make it possible for him to balance both his education and his service to Canada.

"The faculty and staff were very supportive in making whatever scheduling changes were necessary to allow me to lead my unit on exercises without causing detriment to my legal education," said Coupal in a media release. "They gave me extensions on assignments, rescheduled my final exams, and even gave me an entire year leave of absence so that I could deploy to Afghanistan."

Professor Norman Zlotkin accepted the award on behalf of the college. Dean Sanjeev Anand said in the release the College of Law is proud to support reservists. "Allowing our students the opportunity to serve Canada is important not only to the country, but also to the student experience, adding diverse perspectives and real-life examples to class discussions," he said.

A total of 19 organizations, including businesses and other academic institutions from across the country, were recognized by the Canadian Forces Liaison Council (CFLC) at its biennial awards ceremony. The CFLC is a group of civilian business leaders and educators who volunteer their time to promote the primary reserve force, Canada's part-time military, by highlighting the benefits of reserve force training and experience to the civilian workplace. Its vision is that all organization leaders in Canada actively support reservists.