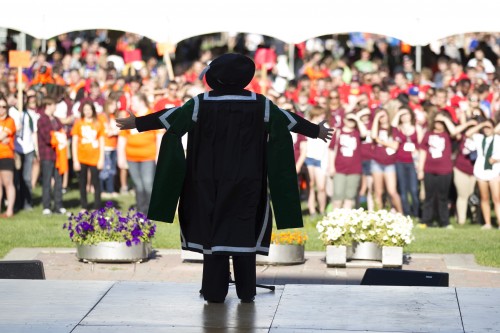 Compared to last year, this year's enrolment figure of 20,726 is 0.38 per cent, or about 80 students, lower than the previous fall in all degree and non-degree programs, explained Russell Isinger, university registrar.

"We expect variation year to year, and while we've seen a slight decrease this year, we do consider this year's enrolment figure to be quite stable," said Isinger. "This provides us with a snapshot of enrolment to give us an idea of trends prior to our October census day when we gather official numbers."

Some of the trends that the numbers reveal are that while total undergrads (16,937) is down this year—1.14 per cent compared to last year—the number of graduate students (2,795) is up close to five per cent.

The overall numbers of international and out-of province undergraduate students are up 1.44 per cent and 3.84 per cent respectively, Isinger said.

"We have recruited more actively in western Canada and internationally over the last five years, and that helps to explain those increases."

But there was a decrease, a little over five percent, in the number of first-time international undergraduates in direct entry colleges, which Isinger attributes in part to the foreign service strike that is delaying some international students from getting study visas.

"The full extent of this won't be known until census day as more international students may have to withdraw if they cannot secure visas shortly."

Students from closer to home here in Saskatchewan, he continued, declined as well, by almost two per cent.

"First-time students in the direct entry colleges from Saskatchewan are also down, so we are checking with government to see if the total number of high school graduates is down so as to explain this decrease." One area that Isinger called positive has to do with self-declaration of Aboriginal students.

"Over the past year, we introduced new business processes to better collect Aboriginal self-declarations," he said. "There are already 1,728 self-declared Aboriginal students—one of our highest totals ever—and this number typically increases by census day."

This, he cautioned, does not necessarily mean that the U of S is attracting more Aboriginal students, just that the university is making it easier for Aboriginal students to self-declare.

"The numbers look pretty comparable to last year, but we will have more and better information with census day in October."