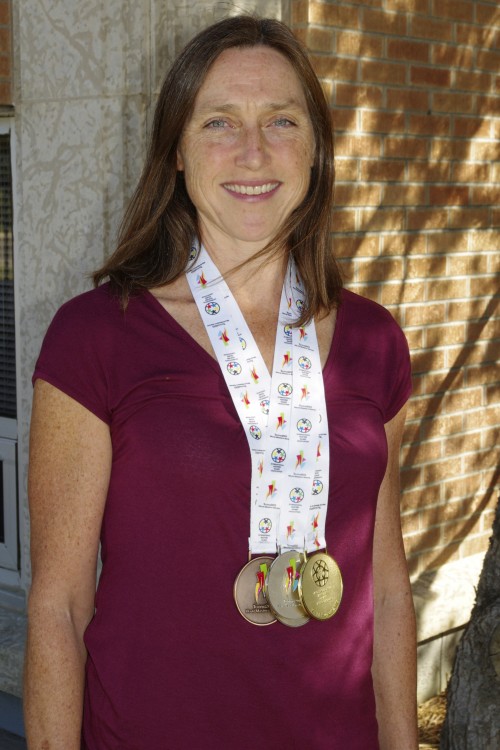 "I have to exercise to stay grounded and focused. I know that about myself," says Colleen Walker, administrative co-ordinator in the Division of Audit Services.
In August, Walker competed at the World Master Games held in Turin, Italy. She won one gold medal in the 100-metre butterfly, two silvers in the 200-metre butterfly and the 50-metre freestyle, and one bronze in the 100-metre freestyle. She turned 50 this year.
"That was a bonus," says Walker, happy to compete in the 50-to-54 age category.
Swimming at the competition was a bonus in itself. Walker was enlisted to participate in the games as a soccer player. She, along with several other university employees, played on the team that competed in the 50+ women's division. Another women's team, in the 45+ division, and a men's team in the 55+ division from Saskatoon also competed. Walker's soccer team made it to the playoffs, but lost in the first round.
After she decided to go to Turin as a soccer player, Walker learned that she could compete in individual sports as well. Her three children encouraged her to sign up for the swimming events.
"They were the ones to put me over the top. They said, 'Why not?' and I thought, 'What do I have to lose at this point?'" recalls Walker. "I just love to swim. I'm a fish."
Walker didn't train per se. She has been swimming with the university's masters swim club for the past 17 years. She's in the pool a couple of times a week. She rides her bicycle to work, plays soccer and runs regularly.
Being active and staying fit takes effort; it just doesn't happen. Walker's three children live at home: one is a student at the U of S, one is working and the youngest is in high school. She also has a niece who lives with them. In addition to running a busy household, Walker works half-time at audit services and one day a week at St. Andrew's College as the co-registrar. She is also a student herself, working on a master's in theological studies at St. Andrew's.
"I really have to balance well to make that all fit," she says.
Using her lunch break as an exercise break is one way she makes time to stay in shape.
"I'm not a sit still kind of person. I focus so much better when I've exercised. I think then I can be calmer. If I can get out and move my body, I can come back and sit and do the work that I do. My mind space is that much better. I think better and work better when I've exercised."
Now that she has tasted the excitement of competition, Walker has set her sights on the 15th Federation Internationale de Natation (FINA) World Masters Championships to be held in Montreal in next summer. She plans to compete with fellow university employee Janis Shirriff who earned five swimming medals a year ago at the 14th FINA World Masters Championships.
Lana Haight is a Saskatoon freelance writer.