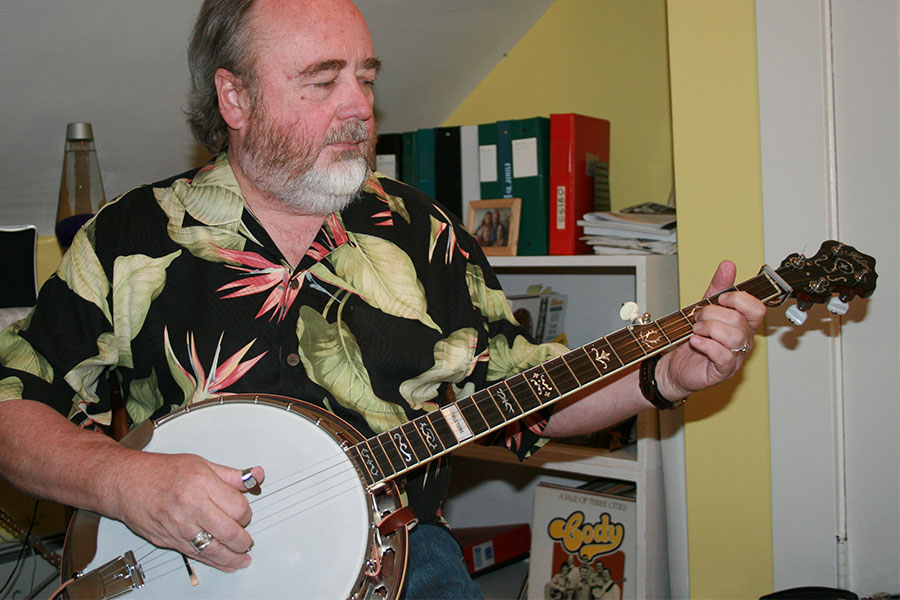 "Okay, I guess we'd better do this right," he said, as he slips on his finger picks and launches into a quick toe-tapping bluegrass riff.
By day, Corcoran is a professor in the Department of Anatomy and Cell Biology in the College of Medicine, where he has worked for years to understand neural plasticity, or how the brain and nervous system adapt to experience.
After work, much of his time is devoted to his avocation – the banjo – and rare is the day that he doesn't pick up the instrument. He even dreams of music, and at least once has awoken in the middle of the night with a song in his head that he had to get up and play a few times to capture before it vanished from memory.
Corcoran is well known in Saskatoon and Saskatchewan music circles and has brought the banjo's distinctive sound to several bluegrass bands. He has also played and taught at the Northern Lights Bluegrass and Old Tyme Music Festival at Ness Creek, and occasionally hosts the once-monthly bluegrass program on CFCR community radio.
While the banjo may be most closely associated with bluegrass, the instrument has a long history in popular music, from The Eagles and the Doobie Brothers to Big Wreck and Nellie Furtado.
"There's been a tremendously productive communication between popular music and bluegrass," Corcoran said, giving as example Manfred Mann's
Fox on the Run
, which is likely more well-known as a bluegrass standard rather than its original rock version.
"I mean, bluegrass is just hillbilly music—it's country music in a certain context, a certain style, but you should be able to poach good material from wherever you can find it."
Corcoran's own love affair with the banjo began in high school in the early 1960s listening to the Kingston Trio. The sound of the instrument drew him in and made him a fan.
His mother drove him around Chicago in search of someone to teach him, eventually finding a classical guitarist who played a little banjo on the side. That first teacher passed Corcoran on to another player, a "real clone of Pete Seeger's banjo playing," where he learned more.
"But the heavens didn't open up until one of those guys gave me a tape of a Flatt and Scruggs album – literally, a reel-to-reel tape. I heard Earl Scruggs and I thought, 'that's it! That's what I want to do with my life,' at least, this part of my life."
Corcoran went to extraordinary lengths to figure out how Scruggs produced his sound. He bought albums, played them on his parent's basement stereo with a microphone in front of one of the speakers and recorded them on reel-to-reel tape. Then he slowed down the tape and de-tuned his banjo to compensate for the distorted playback. With no formal musical training, he had to learn entirely by ear.
"I probably spent about four hours a day when I was in my second year of high school, when I should have been studying geometry and Latin and French, but no, I was studying the five-string banjo—the gospel according to Earl Scruggs."
Fortunately Corcoran did not totally neglect academics, doing well enough to be accepted into medical school. By that time, he was teaching others how to play the banjo to supplement his student income. But he still had not nailed down his career.
That changed with a third-year university psychology course on motivation and emotion. "
The heavens parted once again, and I said, 'this is what I really want to do with my life.'" Corcoran said. "He (the professor) was talking about the hypothalamus and receptive fields and plastic synapses and all the stuff that just really spoke to me."
Corcoran completed his undergraduate degree in psychology at Northwestern University in Chicago before moving to Montreal to finish his master's and doctorate at McGill. From there, he went to the University of Victoria where he eventually became head of the Department of Psychology. He continued to teach banjo at the Victoria Folklore Centre, and helped found the bluegrass band the Clover Point Drifters, which is still recording. Between work and gigs, he also juggled the demands of a young family.
"It was a very busy time, but the banjo has always remained part of my life," he said. "In those days, it wouldn't surprise me that I would spend an hour or two hours a day just noodling by myself when I could. And I still do that. It might be 20 minutes or half an hour, but I try to play it every day."
After more than 40 years in academia—including a stint as U of S vice-president research— Corcoran has wrapped up his research career to devote more time to academic pursuits. He graduated his last student two years ago, and is concentrating on a book—a history of behavioral neuroscience in Canada, beginning with the man who founded the field, McGill scientist Donald Hebb.
"That's going to be my kind of capstone of my career project, that book. I just hope I can live up to it."
At home, he and his wife Jan are already enjoying a growing focus—their three grandchildren.
"That's been a wonderful development in our lives, to have these grandkids, it's just terrific —and to have all three daughters here in town (but) nary a banjo player among them—yet. It's a little early, but I'm hoping eventually, one of them…"