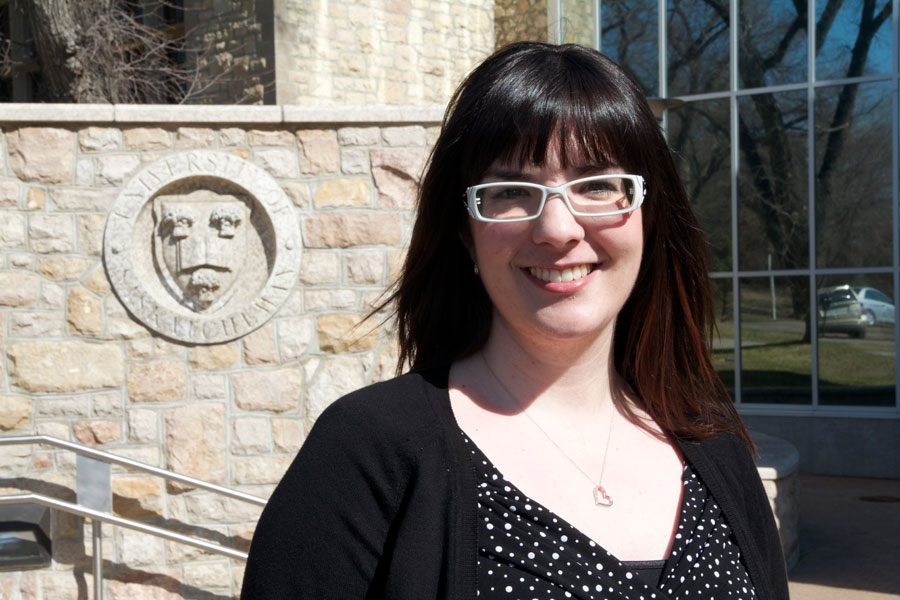 This year, she will be one of those smiling students.
Rudulier, the co-ordinator of registration and convocation in Student and Enrolment Services Division (SESD), has completed the requirements to obtain a Master of Educational Administration degree from the U of S College of Education. On June 5, she will officially receive her parchment during one of the 
seven spring convocation ceremonies to be held 
at TCU Place from June 3 to June 6.
For her, the convocation ceremonies symbolize a time to come together as a community to celebrate our students' academic achievements.
"I find convocation is all about the atmosphere," she said. "Yes, it is a long ceremony with lots of students crossing the stage, but I think it is definitely worth attending for those two minutes that you get to be on stage, be hooded with your degree colours and shake a hand while receiving that valuable piece of paper that is going to hang on a wall for years to come."
While Rudulier is excited about receiving her own degree, she is more focused on ensuring the hundreds of other graduates have a great convocation experience.
She works tirelessly year round on the many details associated with the annual spring and fall ceremonies, such as providing information to the graduating students, sending out the invitations, organizing the ticket distribution, collaborating with co-workers on producing the program and printing the parchments. She also works with staff from TCU Place to make sure the stage is set up and the decorations are ready. There are many other tasks, too: "everything else in-between," she said.
"One of the challenging aspects is that the ceremonies are live, so everything has to be in place before the curtain goes up for the first ceremony, at which point there is no going back."
While juggling all those details may sound stressful to some, Rudulier thrives on them. As the adrenaline get pumping, the tasks get done.
"Call me crazy, but I love all the little details and the need to be precise, especially in convocation planning."
Attending this year's spring convocation will admittedly be a little different for Rudulier; after all, it's the first time she's planned her own ceremony. Like any other student, she had to order her gown. Now she is feeling a growing sense of excitement each time she sees her own name on the graduation list.
"I like coming across my name on the graduation list. I will also get to see my parchment early, too, but I will have to wait until the ceremony to get my hands on it. There are some perks to being in the know."
But once Rudulier receives her parchment, it will be back to business as usual.
"I am excited to be the busybody backstage like I always am, step in line, cross the stage and go back to my behind-the-scenes work. I think it will be unique experience to have the inside scoop; I just have to make sure I don't miss my chance to cross."
Rudulier has worked in her job for nearly five years, and this year's spring ceremony will mark the 10th convocation cycle she has organized. It will also be the last one that will she do for a while; in the fall, she will welcome her first child with her husband, Adrien, so she will be on leave from her job for a year.
Rudulier will miss co-ordinating all of the convocation details while she is away, but she knows she is leaving the ceremonies in good hands. Her co-workers, who pitch in to make the ceremonies a success each year, will pick up the torch. Like Rudulier, those co-workers will continue to work to enhance the student experience.
"I want family and friends to have the chance to celebrate their graduates, and I also want graduates to feel a sense of accomplishment as they hear their name and cross the stage," she said. "A university degree is no small feat. It is about celebration of years of hard work."
Shannon Boklaschuk is a communications co-ordinator in Student and Enrolment Services Division. She will be attending a convocation ceremony on
June 4 to receive her Master of Public Administration degree from the Johnson-Shoyama Graduate School of Public Policy
at the U of S.