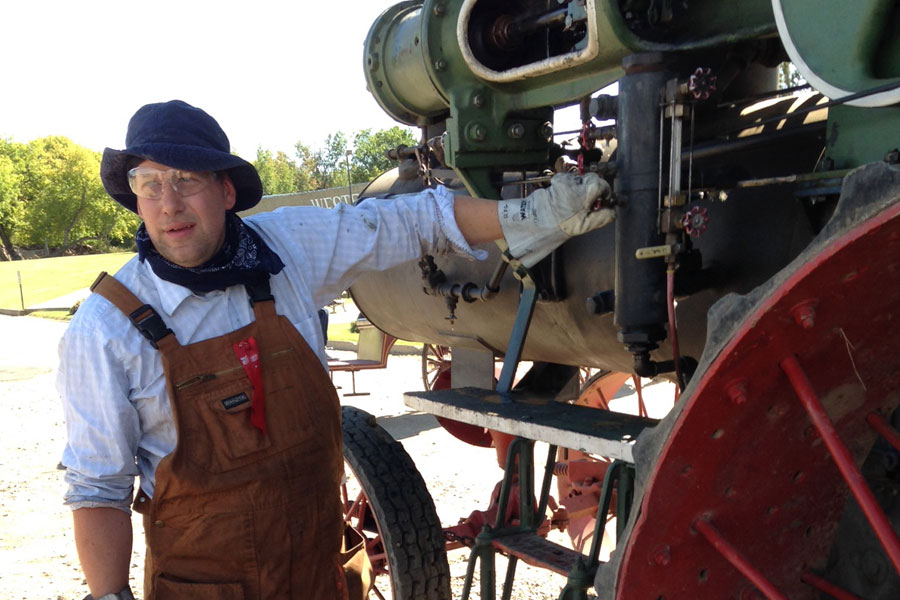 After a nine-day course at the Western Development Museum (WDM) this summer, Grosse, who provides unit support in Information and Communication Technology (ICT), is certified to operate antique steam equipment. It's an unusual hobby but he comes by it quite honestly.
"My dad was a steam engineer; he built and engineered steam engines as a hobby and then fit those into quarter-size cars. I was his test pilot," said Grosse with a laugh. "He built one car with reverse steering. Dad explained the steering to me before I tested it, but as soon as I started, I promptly ran the car into an oak tree."
Among his father's inventions, Grosse continued, was a steam bike that received local, provincial and national attention as the first of its kind in Canada. While Grosse never got the chance to pilot the bike— it is on permanent display at the WDM—he does count it among his most valued childhood memories.
"As a kid I remember falling asleep to sound of a lathe and milling machine running in dad's shop. Dad machined everything from scratch. Add to that memory the subtle odour of pipe tobacco; I still love that smell to this day."

Rob Grosse, above, on his dad's steam-powered car (circa 1980).
Growing up, Grosse was surrounded by "steam engineers who were always tinkering and building. It was a culture of steam professionals and engineers. I was even a junior member of the Saskatoon Model Engineering Society into the '90s."
Grosse went to school and other things became priorities— a degree in history, another in biology and a certificate in computer support and networking, which led him to his first position at the U of S in 1998 in the Department of Geology. He moved to ICT two years later.
So how does one go from antique steam technology to the high-tech world of desktop computing, networks and smartphones?
"I have always been fascinated with anything that has buttons or levers; basically any mechanical or electronic device," said Grosse. "People think of 100-year-old technology as primitive, but in reality when you work with it you realize just how complex it was. The process of research, engineering and continuous technological refinement is fascinating to me, and this is the same process used when computers are developed. Both these areas show technological refinement over decades."
While it seemed that Grosse made the transition from steam to circuits—he was, after all, the curator of the U of S Computer Museum for 10 years, from its inception in 2002 until 2011— steam culture wasn't behind him yet.
"On campus I would frequently run into a fellow U of S staff member named Merlin Hansen. He was a member of the model engineering society back in its heyday. Earlier this year, Merlin mentioned a steam tractor course being offered this summer at the WDM."
Hansen, part of the technical staff in the Department of Computer Science, had taken the course some time ago, Grosse explained, and has been involved with it since the '90s. Grosse was interested, but he had just started a young family. Life was busy.
In 2006, his father passed away and at that point "I knew it was just a matter of time until I got involved in the WDM steam program."
And in July, Grosse completed the course, passed an exam and paid a provincial licensing fee, making him certified to demonstrate antique steam equipment.
"I can operate anything from small steam engines to the largest of the mass produced steam traction engines. Next year, I will take a two-day supplementary course so I can operate the small steam locomotive that pulls passengers at the WDM in Moose Jaw," he said, adding that that particular line is actually a registered railroad in Canada.
"As a kid I was surrounded by all these brilliant engineering minds and a little bit of that rubbed off on me," he said. "The plan is to carry this forward with my son Cameron."