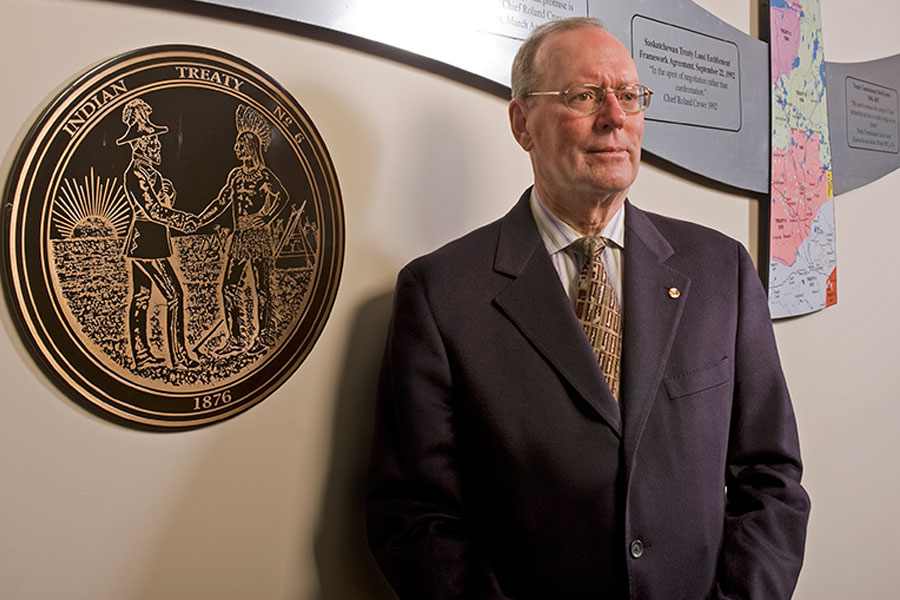 Miller is the second Saskatchewan recipient of one of these prestigious national awards. The first, Feroze Ghadially of the U of S, received a Killam Prize in Health Sciences in 1981, the program's inaugural year.
Widely considered Canada's leading expert in the field of Native-newcomer relations, Miller was chosen for the award on the basis of his exceptional research career and lifetime of contributions to public service.
"Surprise and disbelief" were his first reactions upon hearing the news, Miller said. He added, "I consider it a wonderful, if unexpected, honour."
In 1989, Miller authored 
Skyscrapers Hide the Heavens
, the first comprehensive history of Native-newcomer relations in Canada. His research and writings have played an essential role in bringing to light the history of the country's Aboriginal residential schools. He is a respected consultant to both government and First Nations organizations on treaty and residential school issues, as well as a regular commentator for national and international media.
Miller has been Canada Research Chair in Native-Newcomer Relations since 2001.
This area of study has been a fruitful one for Miller, who said his research was always driven by a desire to understand the poor relations that exist between Native and non-Native people today.
"My efforts to find an explanation took me back to the earliest days of contact between Europeans and Aboriginal people," Miller said. "All my research for the last 30 years has tried to explain how and why relations went sour sometime after Europeans came to the northern part of North America."
The Killam Prizes are among Canada's top awards for scholars and scientists. Issued by the Canada Council for the Arts, they acknowledge outstanding researchers who have made contributions with national or international impact. Five prizes—one each in the humanities, social sciences, natural sciences, health sciences and engineering/interdisciplinary studies—are issued each year. A $100,000 award accompanies each prize.
"No one could be more deserving of this honour than Dr. Miller, who has given so much insight into one of the defining topics of Canadian history," said Peter Stoicheff, dean of the College of Arts and Science.
The Killam Prize is a capstone in Miller's distinguished career. He retires this spring from the U of S.