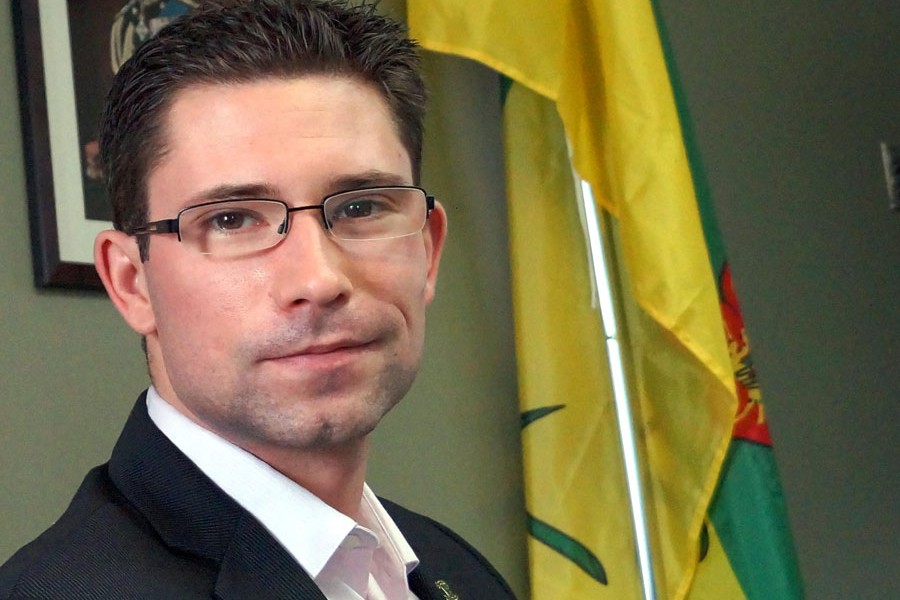 Born and raised in La Ronge by his Polish immigrant parents, Sierzycki's family formed a deep connection to northern Saskatchewan and forged close bonds to the community. The family lived and worked in La Ronge and vacationed just 80 kilometres north in picturesque Missinipe, one of Saskatchewan's best-kept secrets.
After completing high school, Sierzycki undertook a Bachelor of Education from the University of Regina via the Northern Teacher Education Program (NORTEP). NORTEP's distance delivery model meant that Thomas could continue to live in La Ronge while studying. Reluctant to leave La Ronge to pursue his degree to begin with, Sierzycki had definitively ruled out leaving when his mother became seriously ill. When she passed away a few years later, he said his commitment to the North had only grown stronger.
"The support I received when mom was sick was only further evidence that this is where I belong," said Sierzycki. "They took care of me and my family, and I knew I wanted to be able to repay that in some way."
He began his career by taking a shared teaching position that allowed him to split his time between the community and band high schools. The community had also elected him as city councillor a few years prior, and he decided to see if they would support his bid for mayor despite being only 21 years old. They did and in 2009, Sierzycki became the youngest elected mayor in Canada.
"It's important to me that I build on my experiences but still feel like I'm growing and accessing new challenges and opportunities," said Sierzycki. Through his work teaching and governing in those years, he was gaining different but complementary knowledge about education and community building.
At the start of his second term as mayor, Sierzycki was approached with an opportunity he couldn't resist; AREVA Resources Canada Inc. and Cameco Corporation had joined together to create a position that would help industry and northern communities gain a better understanding of ways to work together. Sierzycki decided to take a step back from teaching to gain some insights into the private sector as the Areva-Cameco Community Vitality Co-ordinator.
"It was then that I became aware of the Master of Northern Governance and Development program," Sierzycki recalled. "I didn't think it was something I'd pursue initially, but this program was so aligned with my interests and the things I care about. It was an opportunity to study northern governance and development issues while continuing to live and work in La Ronge. It definitely had me thinking."
But the timing could not have been worse, what with a new term as mayor and a new private-sector job. He consulted with faculty members in the program and determined that, while he was indeed intrigued, the timing was not right to embark on graduate studies. By the following fall however, Sierzycki knew it was that time and he was accepted into the program. He said the MNGD has exceeded his expectations.
"I've had such a good experience with the program. You get to study northern economics, communications, and policy planning—all courses that have real-world applications here at home."
When asked about the highlights from his graduate study experience, Sierzycki pointed to a few things. He appreciated that the program attracted students with very different backgrounds and ways of seeing the world. He called the 10-day international field school "a tremendous and transformative" experience that made him look beyond traditional answers and approaches. He referenced the quality of the teaching and the northern expertise of his professors. But overall, it was the opportunity to consider the North's future in a way he hadn't before.
"Everyone going into the MNGD program has pre-existing ideas about what the North needs. The program makes you evaluate that thinking and to consider the repercussions of short-term thinking. As mayor, you're so worried about issues like water and sewer; seldom do you get the chance to think about the dozens of longer-term ideas and solutions. This program was my chance."
As he approaches graduation day, the question of what's next arises.
"I'm going to continue to govern responsibly, and to ask myself how I can best serve my family, friends and community. This program has reignited my passion for education and planted an awareness of its critical importance."
Colleen Cameron is communications specialist in the International Centre for Northern Governance and Development.