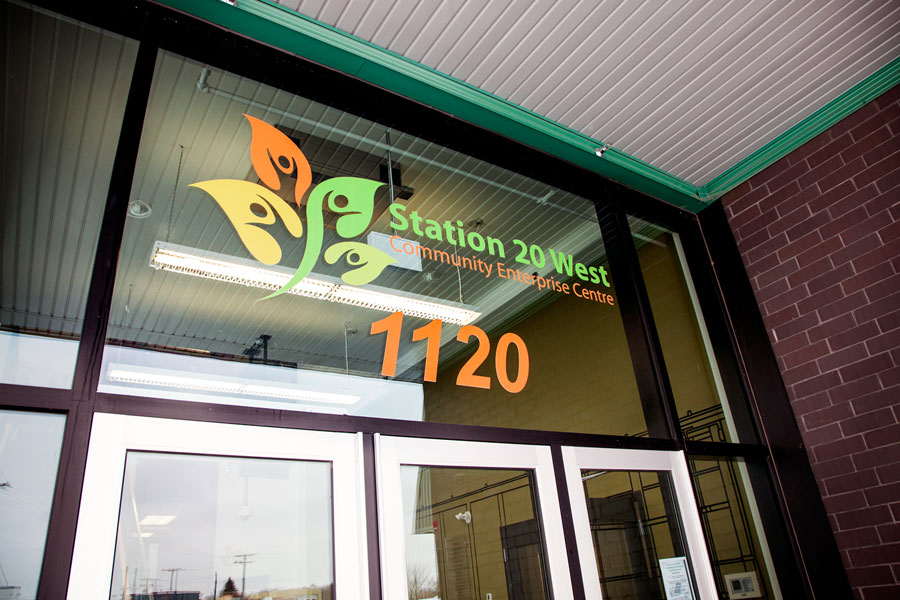 The story begins with a run-down corner of the city beside the railroad tracks at the intersection of 20th Street and Ave L. The spot was occupied by a pawnshop, bar, old warehouse, weeds and two guard dogs, according to one report. It likely would have remained unchanged had it not been for the raised voices from the neighbours and other city citizens who refused to give up on their goal of building something better for the community.
These same people grew in number, collaborated, and took action, and that corner got something better—Station 20 West.
Today, within its two storeys are a number of community-driven organizations and
programs as well as a tight-knit group of volunteers, workers and visitors. The occupants of the building call themselves co-locators and include the CHEP Good Food Inc., Quint Development Corp., Good Food Junction Co-op, the Saskatoon Health Region's Mothers' Centre and Kids First, and the U of S Community Outreach and Engagement office.
One year after opening its doors, the building continues to define its present and promises to drive its future.
For one of the co-locators, Station 20 West serves as a jumping off point for collaboration, community participation and action in research and teaching.
Anthropology professor Natalia Khanenko-Friesen with St. Thomas More College has used the U of S engagement office to connect with local people and to teach undergraduate students. It is all part of her five-year research project titled Oral History of 20th Street: Many Faces of a City Core Neighbourhood.
"I knew that there was more to this street than there appeared to be," said Khanenko-Friesen. "In this particular project, I want to generate a bigger perspective on urban landscapes."
Her project involves collecting the history of the Riversdale neighbourhood around 20th Street through interviews with local residents. She draws on undergraduate students from her third-year anthropology course to do the interviewing.
"I expect them to come with some field work, but often times it's the first time they learn to go into the real world and talk to real people," said Khanenko-Friesen.
Courtney Black is one of these students. She is in her fifth year of university, majoring in both psychology and anthropology.
When Black signed up for Khanenko-Friesen's course, she thought she would be learning about oral history and storytelling from a historical perspective with a focus on creation stories. She did not imagine she would be learning how to collect 'living memory.'
"I expected PowerPoint slides of story origins and underlying meanings, not group projects and interviews," said Black. "I may not end up being an oral historian, but learning how to build rapport, put yourself out there, and ask good questions are now skills I can utilize."
The students' work is documented through audio and video, which then becomes part of the recorded oral history of 20th Street. A video on YouTube developed in collaboration with local residents, students and production company Bamboo Shoots showcases some of the stories and living memories.
In the video, one long-time resident takes a walk down her street with a student interviewer, recalling "two babas" used to live on the street, both survivors of the same concentration camp. Two other residents talk of the more recent past and how they learned to stay "arms length from negativity," primarily through their love of music.
The neighbourhood history is not all that is documented; people in the video also talk about their hopes for the future, which sometimes involves conflicting visions.
The hidden aspect of engaging in this type of research is that student interviewers often learn a lot about themselves and their own lived memories, said Khanenko-Friesen; just as the corner underwent a transformation, she often sees positive change in her students.
"I ask them to write a short blurb every two weeks on what they have learned. As we move out through the course, I modify requirements—has anything changed within yourself? Sincerely, a transformation takes place in many of them."
A naturally shy person, Black said the class has pushed her out of her comfort zone and positively affected the way she views herself and social situations. It has also changed her perspective of the Riversdale area.
"To me, 20th Street always conjured up negative images. I assumed it was just a dangerous area and that it was crazy for us to go down there and seek out interviews," she said. "As we learned about the interviews other classes have collected and about Station 20 West, I realized that it's a part of town that has a diverse community and is full of interesting people. Every neighborhood has good and bad and Riversdale is judged just on the bad and the good is ignored."
Kathy Walker is manager of student programs and services in the International Centre for Northern Governance and Development.