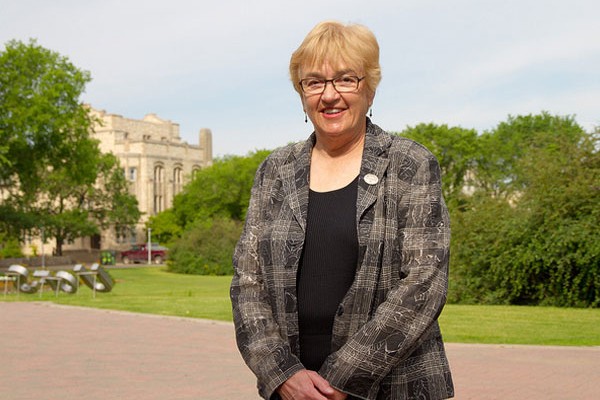 Pezer earned her undergraduate and graduate degrees from the U of S and has held a number of roles at our university throughout her career, from part-time instructor, to assistant professor, assistant dean and associate vice-president (student affairs and services). She became the university's chancellor—an unpaid position—in 2007 and held that position until 2013.
Throughout her life, Pezer has been actively involved in her community and held volunteer and leadership roles with a number of organizations in our city and province. An accomplished athlete, Pezer continues to contribute widely to professional and amateur sports organizations, and has previously served as an advisor and trainer to Canadian curling teams in two Olympic Games.
For over four decades, Pezer has given generously to the U of S as a volunteer and a donor and is the patron member of the Greystone Circle, which honours individuals who will be supporting the university through their estate plans.
"The beauty of philanthropy is that it multiplies," explained Pezer in a
Star Phoenix
article earlier this year. "One generous contribution that's managed really well has the potential to multiply down the road. If I give scholarship money toward a student, the benefit down the road is that then that student goes on and does beneficial things - through teaching others, or wherever their career takes them. It just carries down from there."
The Saskatoon community celebrates National Philanthropy Day at a luncheon hosted by the Association of Fundraising Professionals where Chancellor Emerita Pezer will receive an Honoured Supporter Award.
For more information, please contact:
Christy Miller, director, Alumni and Development Communications
University of Saskatchewan
(306) 966-8917
christy.miller@usask.ca