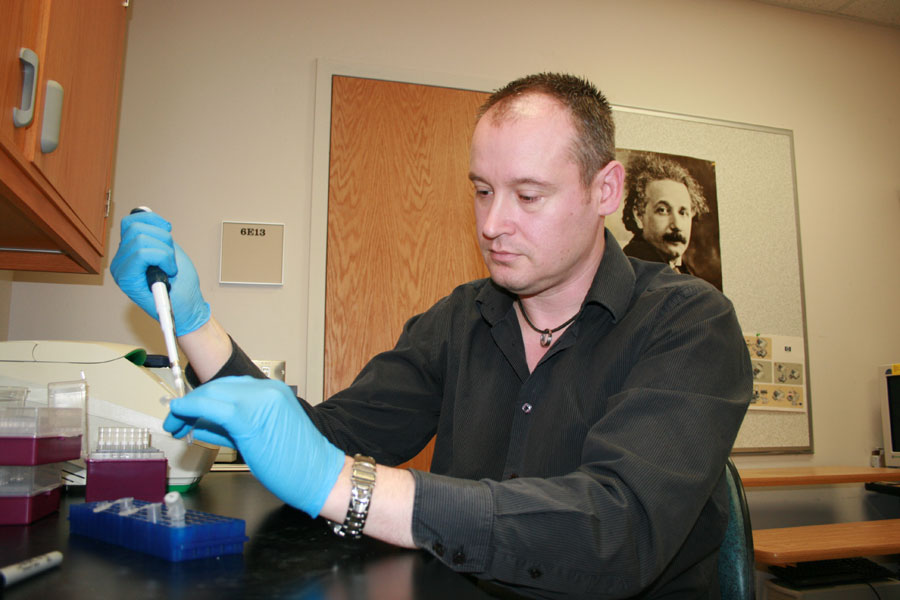 Can what we eat and how much we eat affect how long we live?
Food and Bioproducts Science assistant professor Christopher Eskiw said the answer is yes. But why this is true is an extremely complex question whose answers are locked within our genes and how they are affected by environment and diet.
For example, research shows that caloric restriction - eating a nutritious diet with fewer calories - is good for you.
"There is a large accumulation of research showing that when you restrict calories, you increase not only life span but health span," Eskiw explained.
A native of Fort MacMurray, Eskiw did a bachelor's degree at the University of Alberta before coming to the U of S to finish his master's. Doctoral studies took him to the University of Toronto. He did postdoctoral fellowships at England's Oxford and Cambridge universities, then took up a position in London.
After 10 years away, Eskiw felt the pull of his home. Research funding opportunities were better in Canada, Saskatoon is his wife's hometown, and he had fond memories of the U of S from his graduate studies. He arrived at the College of Agriculture and Bioresources in July 2013.
"One of the things I remember about the U of S that has held true in they want you to succeed," Eskiw said. "They're really supportive and want you to do well."
Nutrigenomics, a field that examines the interplay among diet, genes and environment is Eskiw's specialty and his passion.
"It wakes me up in the morning and it keeps me awake at night," he said. "What I'm doing, I don't really consider this a job. This is what I love, and I'm very fortunate to be doing it."
It's an enthusiasm Eskiw hopes to impart to his students.
"I get really excited about what I'm doing. If I can pass on that kind of enthusiasm to the students, they'll get excited about it. And when you're excited and passionate about a subject, it's easy to learn."