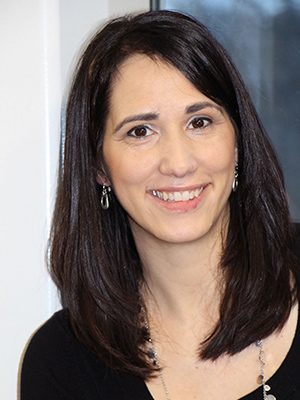 "That magic is still so rewarding for me," said Orosz, a theatre designer and assistant professor in the Department of Drama. "Every time I see a show I've designed on stage, and I hear the audience gasp when an actor comes on in my costume, I think, 'yes! I did it! I opened their eyes to something and had an effect on people.'

"People assume if you're in the theatre, you're acting," she continued. "I design sets, costumes, lighting and manage the whole event."

Her work has adorned the actors and provided the backdrop for numerous Persephone Theatre and Shakespeare on the Saskatchewan productions, and it will do so again when the Shakespeare tent goes up on the Saskatoon riverbank this summer. Orosz's work is also an integral part of the university's Greystone Theatre, both as a hands-on teaching environment and foundation of theatre productions for the public to enjoy.

It is also the basis for her very popular classes; she received a Teaching Excellence Award from the USSU last year, something she viewed as an honour.

"I truly believe in making it fun," she said, "I always remind them that we're here putting on a play, and being a play, we're going to have fun."

Orosz said it is not unusual for students, having no prior interest in drama before taking her elective course, to ask what else she teaches. "I have an engineering student in my class, and she told me 'I can apply everything I've learned (in engineering). I understand the physics behind it.'
"I think there could be a lot more potential collaborations between art and science because people are learning what the other does," she said. "That means if I have the knowledge over here, I can apply it over there."

Theatre design is a profession that requires an uncommon fusion of knowledge in art and stagecraft with a set of technical skills more familiar to the trades, all aimed at creating that special illusion to transport audiences into a world of make believe. Orosz's skills allow her to design and sew costumes, build sets, set up lighting and manage the whole production.

"I started my training (as a theatre designer) back when I was doing fashion design," Orosz said. "I've learned sewing skills since the age of eight from my mom. It's necessary as a fashion designer, as you can't usually afford to pay someone to do it."

Orosz grew up on a farm near Prud'homme, northeast of Saskatoon. She studied fashion design and merchandising at Lethbridge Community College with the hope of returning to Saskatoon to open a store selling her creations. When this proved unfeasible, she found herself staging fashion shows for other designers, essentially doing theatre design. It was a career track she formalized with studies first at the U of S and then at the University of Victoria, where she eared her Master of Fine Arts degree.

Her teaching is supported by skilled staff in the department, such as longtime costumer Beverley Kobelsky. Orosz picked up construction skills under the tutelage of master carpenter Iain Rose, who has been building sets for Greystone Theatre productions for more than 20 years.

"In the land of set design, if you don't know how to construct something, you don't know how to tell someone else how to get to the finished design," Orosz said. "The way you construct for a set is different than a regular carpenter with a house. You have to build it and then take it apart; it's not for a lifetime. This means for example that a lot of times you need to have screws exposed to disassemble and reassemble."

Likewise, handling stage lighting involves training both in the electrician's trade and in workplace safety, as work on ladders and scaffolds requires safety harnesses to guard against falls.

"For lighting, there's also a lot of technical information to know. Now you're dealing with power, which is the land of the electrician, and you'd better know how many volts is running through something before you overload it."

Classes are typically hands on, with Orosz working side by side with students using saws, hammers, nails and drills. Students also learn the art of theatre—things like the rehearsal process, cues and blocking. The camaraderie of building something together is blended with the stress of putting on a production for a paying audience.

"It's pretty intense, so I remind them to play. We're just playing; have fun with it."

Her enthusiasm spills over into her personal life. She relates how her husband sometimes tells her she may be physically at home with their children, but mentally at the theatre.

"I love my job so much. It's so addictive; you can't help but focus everything into it. An artist's job doesn't stop when you leave the shop or the theatre."