It's been a long process, but for College of Medicine student Josh Butcher, winning a national Youth Indspire Award was as much of an inspiration as it was an honour.
"We were given the opportunity to sit down at each table at the Suncor Luncheon and speak to the youth," Butcher explained when asked about his trip to Ottawa for the award ceremony and several affiliated events. "(And) I think that's where I can cause change, and create my biggest impact.
"The purpose of the award is to identify positive role models for Indigenous youth. In saying that, I get really excited to talk to kids because I feel like that's where I can evoke change and create my biggest impact. I think it's hard for kids to aspire to be something when they can't always identify with or relate to anyone in the positions they'd like to be in."
And a positive role model is exactly what Butcher, a member of the Métis Nation of Alberta, is: a third-year medical student; a walk-on offensive lineman with the Huskies; a former Academic All-American football player; an avid volunteer, and founder of Athlete Allies - a program to support LGBTQ2-identified athletes.
It's no wonder the Indspire Award committee saw him as the personification of their award honouring Métis youth who are outstanding role models for Indigenous and non-Indigenous students alike.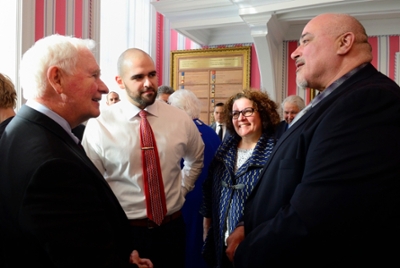 And a lot of what Butcher wants Indigenous youth to see is that not every route to success is the same, a message he was able share at the Suncor Luncheon in Ottawa, where he and the other Indspire award winners had the opportunity to talk with local Indigenous youth. It was an opportunity, Butcher stressed, that gave him the best chance to make a positive impact.
"I hope that by being in the CoM, I can help other Indigenous youth realize that it's certainly something within reach," Butcher continued. "By creating my own path, we start to show how there are more diverse paths to medicine, (that) it's an achievable goal for Indigenous youth, and letting them know that there are resources there to support them to achieve those goals."
It was Val Arnault-Pelletier, the CoM's aboriginal coordinator, who nominated Butcher for the Indspire Awards this year, after seeing first-hand his dedication to being a leader.
"He's someone who really stands-up, speaks-out, and speaks his mind in terms of who he is," Arnault-Pelletier explained. "Not only as an athlete and medical student, but as an Indigenous student. And even as he's learning on his own journey, he does it with such heart, grace, warmth and empathy.
"Hearing him talk about his journey to find his identity means a lot to him because it's more than just a piece of paper, it's who he is as an Indigenous medical student who is really, in a quiet humble way, being an incredible leader."
Butcher will be taking part in the Canada 150 Indspire Youth Laureate Cross Canada Tour panel at the University of Saskatchewan on May 30. For more information, visit the event page.